Movie Review
Here Comes the Boom
No one will fight for his students like Mr. Voss.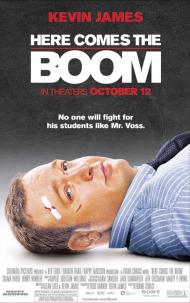 US Release Date: 10-12-2012
Directed by: Frank Coraci
Starring
▸
▾
Kevin James

,

as

Scott Voss
Salma Hayek

,

as

Bella Flores
Henry Winkler

,

as

Marty Streb
Greg Germann

,

as

Principal Betcher
Joe Rogan

,

as

Himself
Gary Valentine

,

as

Eric Voss
Charice

,

as

Malia
Bas Rutten

,

as

Niko
Reggie Lee

,

as

Mr. De La Cruz
Mark DellaGrotte

as

Himself

Reviewed on:
October 14th, 2012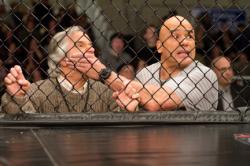 Henry Winkler and Bas Rutten in Here Come the Boom
Kevin James not only stars, but also helped write and produce Here Comes the Boom. Although the script does not completely succeed on all levels, he still manages to create a likable enough character and gets you rooting for him. It is screen writing 101, but it works.
Kevin James plays Scott Voss, a bored high school science teacher who does the bare minimum to keep his job. He is late for class and when he does show up he makes like Cameron Diaz in Bad Teacher, sleeping instead of educating. Apparently he used to be a concerned teacher, having won teacher of the year, "That was ten years ago." His principal adds when Scott uses that as a means to defend himself for being unconcerned about his job.
When the principal announces major budget cuts, which would end the music program, Scott half heartedly challenges the school to raise money to save it. This is the weakest aspect of the plot. At one point he acts as if he has no interest in what happens to the school or the students but when one girl gets emotional over the loss of band, he changes his mind. Scott is not even friends with the music teacher, played by a scene stealing Henry Winkler, but is inspired by hearing the band play and a quote from Friedrich Nietzsche, "Without music, life would be a mistake."
Although his change of heart is not entirely convincing, just accept that he is suddenly willing to do anything to save the school's music department. He starts by taking on a second job teaching a class on American citizenship to a bunch of foreigners. One is Niko, a Dutch former cage fighter. With his help, Scott starts fighting and donates all of the money he makes, even if he loses, to the school.
In typical underdog style, he gets his butt kicked early on and then slowly starts to do better. With Winkler and Niko at his side he gets beat up in one fight after another. Meanwhile he attempts to charm Salma Hayek, the school's nurse, but she plays hard to get. He also starts to take a vested interest in his student's education, and they in kind root for him to succeed as the predictable plot leads to a big televised UFC cage fight.
Here Comes the Boom has its moments, and most of the laughs are provided by the supporting players. Bas Rutten makes Niko a likable, laughable character. His victory dance is ridiculous coming from such a big guy. When someone else uses Scott's entrance music, Winkler finds another song. Just as the three are about to enter the arena, over the loud speakers can be heard Neil Diamond's "Holly Holy". Niko and Scott look at Winkler, who responds, "It picks up."
This is a family friendly, pro-America film that can be enjoyed by everyone. Sure, it is as generic as they come, as we have seen this plot countless times before, but it still entertains. I credit the cast for keeping things lively and although you always know what is coming, you can still enjoy the ride.
Photos © Copyright Columbia Pictures (2012)