Movie Review
Herbie: Fully Loaded
Rev it up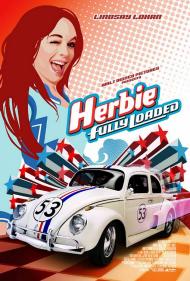 US Release Date: 06-22-2005
Directed by: Angela Robinson
Starring
▸
▾
Lindsay Lohan

,

as

Maggie Peyton
Michael Keaton

,

as

Ray Peyton Sr.
Matt Dillon

,

as

Trip Murphy
Breckin Meyer

,

as

Ray Peyton Jr.
Justin Long

,

as

Kevin
Cheryl Hines

,

as

Sally
Jimmi Simpson

,

as

Crash
Jill Ritchie

as

Charisma

Reviewed on:
June 20th, 2005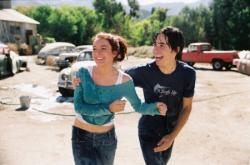 Lindsay Lohan and Justin Long in Herbie: Fully Loaded.
For no good reason, I actually somewhat enjoyed Herbie: Fully Loaded. Don't get me wrong, it's a pretty bad movie and I probably shouldn't have enjoyed it, but call it nostalgia or whatever, but I was able to overlook enough of its flaws to guiltily enjoy this movie.
The movie opens with Herbie, the 1963 Volkswagen Beetle having fallen on hard times. His racing career has wound down and he's been carted off to a scrap yard. Fortunately for Herbie, Maggie Peyton (Lohan) has just graduated from college and her dad (Keaton) has decided to buy her the car of her choice. She can have any car at Dave's Scrap Yard. Although at first she picks a different car, Herbie, on his way to the crusher, 'accidentally' falls and crushes that one and so she takes the bug instead.
Maggie, who's on her way to a job with ESPN in New York in a month, comes from a long line of stock car racers. And although she has always secretly longed to race, her brother (Meyer) has inherited the mantle, despite not being a very good driver. But now that Herbie has entered her life, suddenly her dream is within her grasp. And she gets a chance to prove herself almost against her will when after insulting the local racing champ, Trip Murphy (Dillon), Herbie helps her to beat him in a street race.
As I said, maybe the reason I was able to enjoy this movie was the nostalgia factor. I remember seeing Herbie Goes to Monte Carlo when I was eight and loving it. I even bought the tie-in books for the movies in the series from my elementary school's Weekly Reader program.
One of the problems with this movie though, and the problem was probably there in the earlier movies (I just didn't notice as a kid), is how easily everyone accepts the fact that Herbie is alive. Personally, if a car came to life I'd be questioning the nature of the universe, right after I stopped flipping out, but here everyone reacts with the same calm aplomb. But, since this is a kids' movie, and the level of most of the jokes is aimed at the very young, I guess its best not to ask too many questions.
The cast is made up of likable actors, which helps glide over the sillier aspects of the script, although Matt Dillon, who has to behave the silliest as the 'villain', should really be looking for a new agent. Remember when that guy had a serious career? Actually, neither do I.
Herbie: Fully Loaded will probably best be appreciated by very young children, although nostalgic adults might get a kick out of seeing old number 53 race one last time.

Reviewed on:
July 5th, 2005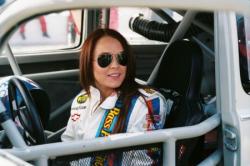 Lindsay Lohan in Herbie: Fully Loaded.
My nine year old loved this movie. My eleven year old had no interest in even seeing it. Like Scott, I enjoyed this movie. It is harmless fun, and who hasn't, at one time or another, dreamed of racing a car?
Herbie: Fully Loaded continues Disney's tradition of promoting single parenting. Like most of Disney's movies, Maggie's dad is a single parent. Her mom is dead. You can read my opinion on that.
The dramatic tension comes from Maggie wanting to be a race car driver and Dad forbidding it. There is nothing original here. Dad, of course, comes around and Maggie drives in the big race. I am really not giving anything away that cannot be easily predicted.
Photos © Copyright Buena Vista Pictures (2005)