Movie Review
Henry V
The great adventure of a king who defied the odds to prove himself a man.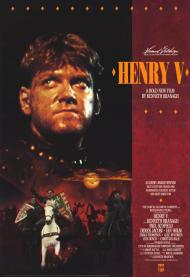 US Release Date: 11-08-1989
Directed by: Kenneth Branagh
Starring
▸
▾
Kenneth Branagh

,

as

Henry V
Ian Holm

,

as

Fluellen
Richard Briers

,

as

Bardolph
Judi Dench

,

as

Mistress Quickly
Paul Scofield

,

as

King Charles VI of France
Michael Maloney

,

as

Dauphin
Robbie Coltrane

,

as

Falstaff
Christian Bale

,

as

Boy
Emma Thompson

as

Katherine

Reviewed on:
September 15th, 2009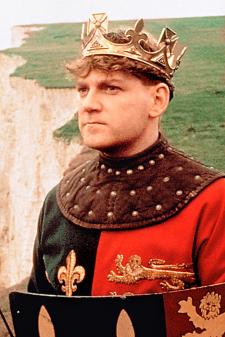 Kenneth Branagh as Henry V.
This past summer I had the chore of reading William Shakespeare's Henry V. It was my son's summer reading homework. However, it is pretty much unreadable. The publishers understood this as the bottom of every single page has definitions of words and phrases used on that page. Only an extremely devoted student of Shakespeare could honestly say they enjoy it. Not only does it feature archaic terminology, but the book is just dialogue. Without any description, you never really know what is going on unless you have some previous knowledge.
To help us understand the plot, we rented Branagh's film adaptation. It helped in that we saw who was talking to who in a room full of people, and what the emotions were behind the flowery words.
Branagh stars as the title character, King Henry of England. He goes to war with France. He has to deal with traitors among his nobility. He gives lengthy speeches to motivate his troops into battle. The story also deals with some common men who start the story as friends but change as the war goes on.
The movie is very faithful to the book. You can read along with nearly every line. The best decision Branagh made was to edit some of the many lengthy pieces of dialogue. It runs 137 minutes as it is.
The all star cast added some fun to the watch. It is practically a whose who of famous British actors, before they were famous. Many actors in small roles here, would go on to appear in some of the most successful movie series of all time.
I understand that the beauty of Shakespeare is his way with words. He takes forever to say so little. As I read the book I recognized it's most famous line, "Once more unto the breach, dear friends, once more; or close the wall up with our English dead!" The book however, does not describe what is going on as it is spoken. Branagh says it astride a horse as they are laying siege to a French castle. Shakespeare did not write his plays to be read, but acted out on a stage.
I always judge a movie by my emotional reaction to it. Did the comedy make me laugh? Did the drama make me sad? Did the action thrill me? Henry V is a drama with Branagh adding some action. The drama did not make me sad nor did the action thrill me. The one intended humorous scene, with Emma Thompson, was not funny. How can I give a high rating to a movie that did not cause an emotional reaction.
As an aid to helping with homework, I give this movie three stars. As a piece of entertainment I only give it one. Never, ever do I want to watch a movie and spend the entire time straining to figure out what the hell anyone is saying. Movies should be enjoyable, not frustrating.
Photos © Copyright Curzon Film Distributors (1989)