Movie Review
Hearts in Atlantis
What if one of lifes great mysteries moved in upstairs?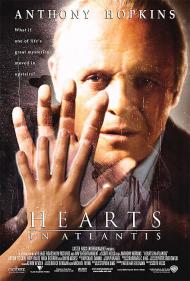 US Release Date: 09-28-2001
Directed by: Scott Hicks
Starring
▸
▾
Anthony Hopkins

,

as

Ted Brautigan
Anton Yelchin

,

as

Bobby Garfield
Hope Davis

,

as

Liz Garfield
Mika Boorem

,

as

Carol Gerber
David Morse

,

as

Adult Bobby Garfield
Alan Tudyk

as

Monte Man

Reviewed on:
June 4th, 2009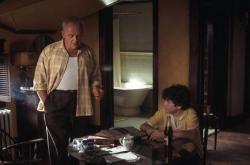 Anthony Hopkins and Anton Yelchin.
Hearts in Atlantis tries hard to have the same sentimental feel of Stand by Me, but never quite captures it. The film opens on middle aged Bobby attending a childhood friends funeral. He narrates such lines as, "It's funny how when you're a kid, a day can last forever. Now, all these years seem just like a blink." Afterwards he goes to the now abandoned house he lived in as a child, "Why do we always expect home to stay the same? Nothing else does."
In flashback we are told the story of middle school Bobby. One summer, he and his two best friends, Sully and Carol, are having a carefree time hanging out and playing in the woods. An older man, Ted, moves in upstairs. Bobby soon befriends him while his single mother finds him suspect. Bobby wants a bike and Ted pays him to read him the newspaper. Ted constantly looks out his window. "You're a strange person." Bobby tells him. "Shhh, Tell no one." Ted smiles. He tells Bobby that one day men will come for him, but does not say why.
Ted seems to like telling Bobby things, such as how he will one day kiss Carol. "It will be the kiss by which all others in your life will be judged... and found wanting." It seems Ted knows many private things about the people he encounters and soon Bobby is able to do the same.
The movie comes to an emotional climax as Bobby deals with a bully, his mother gets raped and the men, Ted warned him about, show up. Hearts in Atlantis is a drama about an innocent boy surrounded by things he does not always understand. It contains a hint of science fiction. The heart of the story though, is Bobby and Ted's friendship.
Bobby's mother has only bad things to say about his nowhere to be seen father. She would rather spend lots of money on dresses than buy Bobby a bike. Ted treats Bobby with respect, in a way his mother never does. Ted is a temporary, surrogate father figure for Bobby. The supernatural angle of the movie was not needed, and in fact distracts from what could have been a great sentimental memoir of youth. Growing up has enough real mysteries, see Stand by Me, without adding fantasy. "Sometimes when you're young, you have moments of such happiness, you think you're living in someplace magical, like Atlantis must have been? then we grow up and our hearts break into two." Ted morosely states.
Photos © Copyright Warner Bros. Pictures (2001)