Movie Review
The Heartbreak Kid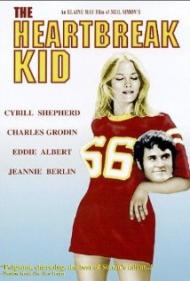 US Release Date: 12-17-1972
Directed by: Elaine May
Starring
▸
▾
Charles Grodin

,

as

Lenny Cantrow
Cybill Shepherd

,

as

Kelly Corcoran
Jeannie Berlin

,

as

Lila Kolodny
Audra Lindley

,

as

Mrs. Corcoran
Eddie Albert

,

as

Mr. Corcoran
Mitchell Jason

,

as

Cousin Ralph
Doris Roberts

,

as

Mrs. Cantrow
Erik Lee Preminger

,

as

Pecan Pie Waiter
Neil Simon

as

Wedding Guest
Reviewed on:
June 25th, 2013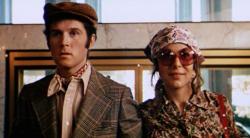 Charles Grodin and Jeannie Berlin in The Heartbreak Kid.
The Heartbreak Kid is a dark comedy from 1972. Directed by Elaine May and written by Neil Simon (adapted from a short story by Bruce Jay Friedman) it stars Charles Grodin, Cybill Shepherd, and Jeannie Berlin (May's look-a-like daughter). It tells the story of a newlywed Jewish couple honeymooning in Miami. The groom falls in love with a WASPY blonde goddess he meets on the beach and begins inventing excuses in order to get away from his bride and pursue his new found dream girl.
The movie alternates between a lighthearted situation comedy and a somewhat more jaded humor featuring a decidedly cynical view of humanity. The first 30 minutes it's a bedroom farce then things turn darker in tone. Before the newlyweds (who are driving from New York to Florida) even arrive at their destination their marriage is already on shaky ground. The bride sings songs off key incessantly and seems in constant need of emotional reassurance. After watching her eat an egg salad sandwich -most of which ends up on her face- her husband wants nothing more than to be as far away from her as possible. When she gets a bad case of sunburn on their first day in Miami, he jumps at the chance to leave her in their hotel room and pursue his blonde fantasy girl.
The cast is terrific. Charles Grodin is masterfully funny as Lenny Cantrow. The scenes where he invents completely outlandish lies to tell his bride are hilarious. He is such a snake. But at the same time he is human and flawed enough that it almost makes you like him. Jeannie Berlin steals all of her scenes, whether she's annoyingly asking her husband if he loves her or crying in the restaurant when he tells her it's over, she is a comic revelation. I wonder why she didn't go on to make more comedies?
Cybill Sheperd as Kelly has less to do. She simply has to exist as one of the most stunningly beautiful women who ever lived. She is a vision and Lenny's ultimate prize but she isn't given much of a personality. Although clearly she has her father wrapped around her little finger. Eddie Albert plays her father. He hates everything about Lenny. But then as he says in the movie, what kind of man courts another woman on his honeymoon for god's sake? Both Berlin and Albert were Oscar nominated in the supporting category for their work here. Two faces that would later become familiar on television can be seen in small roles. Kelly's mother is played by Audra Lindley who is better known as Mrs. Roper from Three's Company and Doris Roberts (Everybody Loves Raymond) has one scene as Lenny's mother.
Elaine May proves herself adept at directing comedy. She makes the most of the script but also allows her actors freedom to improvise. As a woman she brings a slightly different sensibility to the movie. Her offbeat kookiness perfectly suits this story. It's a shame she didn't make more movies. She directed only four of them; the last one being the notorious flop Ishtar in 1987.
In 1972 The Heartbreak Kid was making a statement about being Jewish in America. Lenny sees Kelly as the perfect all-American girl and her wealthy Protestant Midwestern family as the pinnacle of societal acceptance. But then, by the end of the movie, it becomes clear that Lenny Cantrow is a man who doesn't really know himself. He makes impulsive decisions based on superficial qualities without actually thinking them through. The final scene, which I won't give away, is brilliantly ambiguous.
This is an original and unique love story. It takes a few twists and turns along the way and I really wasn't sure just how it was going to play out until the final scene. The Heartbreak Kid is quite simply a dark comedy masterpiece. It was remade by Ben Stiller in 2007 but was poorly received by both audiences and critics alike. Skip that version and check out the original if you can get your hands on a copy of this hard to find classic. There is a full-length version available on YouTube but it isn't a very good print.
Photos © Copyright Twentieth Century Fox Film Corporation (1972)