Movie Review
The Heart of Me
Two sisters....One man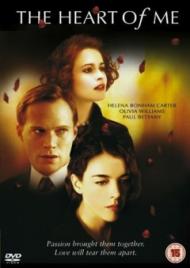 US Release Date: 06-13-2003
Directed by: Thaddeus OSullivan
Starring
▸
▾
Helena Bonham Carter

,

as

Dinah
Olivia Williams

,

as

Madeleine
Paul Bettany

,

as

Rickie
Eleanor Bron

,

as

Mrs. Burkett
Luke Newberry

,

as

Anthony
Gillian Hanna

,

as

Betty
Andrew Havill

as

Charles
Reviewed on:
June 15th, 2003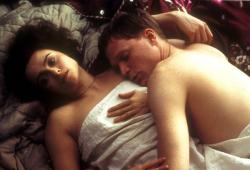 Helena Bonham Carter and Paul Bettany in The Heart of Me.
The Heart of Me is a beautifully textured and emotionally resonant film. Director Thaddeus O'Sullivan creates an atmosphere that is intimate almost to the point of claustrophobia. Helena Bonham Carter and Olivia Williams are spot on as two sisters in love with the same man. Paul Bettany shows his range as the husband/lover. Having only seen him in A Knight's Tale and Beautiful Mind before this I was pleasantly surprised by his dramatic talents as well as his screen presence as the romantic lead. Set in London, specifically Montagu Square, during the nineteen-thirties with a few scenes taking place ten years later shortly after WWII, The Heart of Me is like a Merchant Ivory production on a fixed income. Yet without large scale production values it manages to exquisitely conjure up a time and place.
Bonham Carter is Dinah, the slightly bohemian sister of the married with a son Madeleine (Williams). After the death of their father Madeleine invites Dinah to stay with her family in their house in Montagu Square. When Dinah meets Madeleine's husband Rickie (Bettany) there is an immediate but unspoken attraction between them. So much so that when Dinah announces her engagement to one of the many suitors Madeleine has been trying to set her up with, Rickie sneaks into her room that evening and tells her to break it off. Dinah agrees without an argument.
Soon, the husband and the sister are having a passionate affair. Rickie even leaves his wife's side at a party on New Years Eve to have sex with Dinah outside. The camera goes from them having sex on the ground outside to Madeleine back inside looking around uncomfortably for her husband as the oblivious party guests countdown to midnight deliriously all around her.
The story evolves from here with several expected (and a few unexpected) plot twists. What makes The Heart of Me work, in addition to the fine acting and the look of the movie, is the intelligent and morally complex script. I found my sympathies going out to different characters in different scenes. One minute I found Rickie to be an absolute pig and the next I was blaming one or the other of the sisters. As in real life there are no easy answers and very few black and white moral stands.
In spite of the seriousness of the mood, there are a few moments of levity, usually when one of the characters is using humor in an attempt to diffuse a sad or angry situation.
The Heart of Me is, in the end, about forgiveness, and the fact that it is possible to love someone even though they may have caused you an incredible amount of pain and grief.
Photos © Copyright ThinkFilm Inc. (2003)