Movie Review
Headhunters
The hunt is on.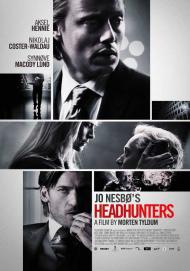 Norway Release Date: 08-26-2011
Directed by: Morten Tyldum
Starring
▸
▾
Aksel Hennie

,

as

Roger Brown
Nikolaj Coster-Waldau

,

as

Clas Greve
Synnove Macody Lund

,

as

Diana Brown
Eivind Sander

,

as

Ove Kjikerud
Julie R. Olgaard

,

as

Lotte
Kyrre Haugen Sydness

,

as

Jeremias Lander
Reidar Sorensen

,

as

Brede Sperre
Nils Jorgen Kaalstad

,

as

Stig
Joachim Rafaelsen

,

as

Brugd
Mats Mogeland

as

Sunded

Reviewed on:
September 2nd, 2012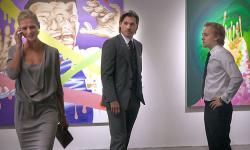 Synnove Macody Lund, Nikolaj Coster-Waldau and Aksell Hennie in Headhunters
Headhunters (Hodejegerne) is based on the popular thriller by Norwegian author Jo Nesbo. The anticipation in Norway for this film adaptation was so great that it had the second largest box office opening of any Norwegian film. The first was Max Manus (2008), which also stars Aksel Hennie, clearly the biggest movie star in Norway of recent years.
As the story begins, we meet Roger Brown. He is a headhunter, which is someone who recruits businessmen for lucrative employment. He is married to a tall beautiful art gallery owner, whom he considers out of his league. Roger is insecure about his size. He mentions several times that he is 5' 6". As a result he compensates by buying her expensive gifts that he cannot afford. To make up the difference, he is also an art thief. With the help of a friend, he breaks into homes and replaces the originals with forgeries.
At his wife's gallery opening he meets Clas Greve, a former mercenary turned business executive. At first Roger is interested in him for a job, but later learns from his wife that Clas has a rare painting in his home. Roger arranges an interview for Clas and uses the chance to sneak into Clas's apartment, but what he finds there sets him on a path that proves life threatening and has him wondering whom to trust.
Headhunters is very fast paced, racing along one twisted road after another. You never know what is coming next and how it will all play out. I do not want to give away plot details but it is one of the best mystery thrillers I have seen in a long time. Nesbo keeps everything tense and exciting. The ending wraps up everything very tightly, almost too much so.
Another aspect that I give kudos to is that Roger Brown is a very real person. He is insecure. He and his wife have normal problems. She wants a baby while he has no interest in having children. He is a very flawed protagonist. You may not like him at first but he will garner your sympathy before too long.
Reportedly an American remake is already in the works. Like the Swedish made The Girl with the Dragon Tattoo (2009), which Roger's wife is briefly seen watching, I doubt an English version will be any better. Sure, subtitles can be annoying but when a movie is this good you put up with them.
Photos © Copyright Nordisk Film (2011)