Movie Review
Head
What is HEAD all about? Only John Brockman's shrink knows for sure!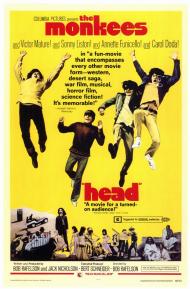 US Release Date: 11-20-1968
Directed by: Bob Rafelson
Starring
▸
▾
Peter Tork

,

as

Peter
Davy Jones

,

as

Davy
Micky Dolenz

,

as

Micky
Michael Nesmith

,

as

Mike
Annette Funicello

,

as

Minnie
Timothy Carey

,

as

Lord High 'n Low
Logan Ramsey

,

as

Off. Faye Lapid
Abraham Sofaer

,

as

Swami
Victor Mature

,

as

The Big Victor
Vito Scotti

,

as

I. Vitteloni
Charles Macaulay

,

as

Inspector Shrink
T.C. Jones

,

as

Mr. and Mrs. Ace
Charles Irving

,

as

Mayor Feedback
William Bagdad

,

as

Black Sheik
Percy Helton

,

as

Heraldic Messenger
Sonny Liston

,

as

Extra
Carol Doda

,

as

Sally Silicone
Frank Zappa

,

as

The Critic
Teri Garr

,

as

Testy True
Rona Barrett

,

as

Herself
Toni Basil

,

as

Daddy's Song Dancer
Dennis Hopper

,

as

Long haired guy at filmshoot in restaurant - extra
Jack Nicholson

,

as

Movie director at filmshoot in restaurant
Bob Rafelson

as

Himself
Reviewed on:
July 3rd, 2012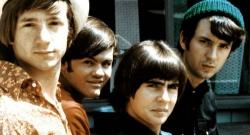 Peter Tork, Mickey Dolenz, Davy Jones and Michael Nesmith in Head.
Shortly after the run of their successful television series the pop band the Monkees made this psychedelic cinematic romp. It was written and produced by Bob Rafelson and Jack Nicholson (both of whom appear in cameos) with Rafelson directing. Like their television series, this movie has been described as a cross between the Marx Brothers and the Beatles. Like both of those groups, the Monkees each had a distinct personality, which is an essential ingredient for any succesful group.
Head has only the loosest of storylines. It is really just a series of set pieces paying homage to nearly every genre of film you can think of including westerns, musicals, war movies, action spoofs, horror films, boxing movies and even silent comedies. There are cameos by such diverse talents as Victor Mature (he plays a giant upon whose head Davy, Mickey, Mike and Peter are dandruff), Annette Funicello, Teri Garr, Frank Zappa, Sonny Liston, Dennis Hopper, Rona Barrett, Toni Basil and even a waitress drag queen doing Bette Davis. She makes several snide remarks to the boys such as, "Well, if it isn't God's gift to the eight-year-olds." and, "Are you still paying tribute to Ringo Starr?"
None of the Monkees hit songs are heard but the soundtrack does contain some decent tracks including the groovy "Can You Dig It" and the trippy "Porpoise Song" among several others. There are also several vintage movie clips interspersed throughout the film including a couple of brief shots of Rita Hayworth in Gilda and news clips of then California Governor Ronald Reagan.
Head has been interpreted as a statement on free will. The Monkees keep trying to walk off the set of different movies only to find that everything they do and say was anticipated by the director and camera crew. The concept was agreed upon during a drug infused weekend the four band members spent with Rafelson and Nicholson. Legend has it that Nicholson completed the script while tripping on LSD.
Some of the dialogue supports this theory. At one point Peter makes the following cosmic-consciousness infused statement. "We were talking with the Master regarding the nature of conceptual reality. Psychologically speaking, the human mind, or brain or whatever, is almost incapable of distinguishing between the real and the vividly imagined experience. Sound and film and music and radio. Even these manipulative experiences are received more or less directly and uninterpretive by the mind. They are cataloged and recorded and either acted upon directly, or stored in the memory, or both. Now this process, unless we pay it tremendous attention, begins to separate us from the reality of the now. Am I being clear? For we must allow the reality of the now to just happen, as it happens. Observe and act with clarity. For where there is clarity, there is no choice. And where there is choice, there is misery. But then, why should I speak, since I know nothing?" Huh?
Not surprisingly, this movie bombed at the box office. It was a bit too out-there for young fans of the television series and not hard core enough for the counter culture movement. If it had been a success and a sequel had been made it could have been promoted as, "From the people who gave you Head."
Today Head can be viewed as a wonderfully vivid time capsule of the late 1960s. It is an enjoyable and original bit of celluloid. Davy, Mickey, Mike and Peter were four talented and charismatic young men. They were a television creation that morphed into a real band. For fans of the Monkees it's a surrealistic treat. Head will leave you scratching yours.
Photos © Copyright Columbia Pictures (1968)