Movie Review
Have Rocket -- Will Travel
They're blasting off in their first full-length feature film!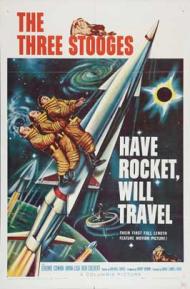 US Release Date: 08-01-1959
Directed by: David Lowell Rich
Starring
▸
▾
Joe DeRita

,

as

Curly-Joe
Larry Fine

,

as

Larry
Moe Howard

,

as

Moe
Jerome Cowan

,

as

J.P. Morse
Anna-Lisa

,

as

Dr. Ingrid Naarveg
Robert Colbert

as

Dr. Ted Benson

Reviewed on:
March 19th, 2015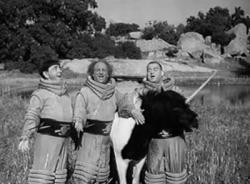 The Three Stooges and an alien unicorn in Have Rocket...Will Travel
By the late 1950s The Three Stooges careers seemed to have run their course. Their shorts had become routine and the weakest of their career. Shemp Howard, who replaced his brother Curly, died in 1955 and was replaced by Joe Besser, the least known of the six stooges. He quit the group in 1959. Although things looked bleak for Moe and Larry, television had created renewed interest in their work after their shorts were regularly shown. Bessner was replaced Joe DeRita in 1959, who went by the name of Curly Joe.
This also marked the beginning of a series of feature length films starring the Three Stooges. Their first effort was Have Rocket -- Will Travel. Its title is a reference to the popular 1950s television show,"Have Gun…Will Travel."
Moe, Larry and Curly Joe play janitors at a rocket test site. As would become a staple with their feature films, there is also a young couple in love. He is a psychiatrist and she is a rocket scientist. He asks her for her hand in marriage but she is too involved in her work for such things.
Before the three stooges can help in the love department they find themselves in a rocket. These three idiots must corral an excited monkey and, of course, end up launching themselves into outer space where they deal with zero gravity and the problem of finding their way home to Earth. Their biggest problem comes when they land on a strange planet and must do battle with a giant flame throwing tarantula. And by battle I mean run away, of course. They also get some help from a childish voiced talking Unicorn.
Their trademark slaps and eye pokes seem too few and far between. In fact, Moe eye pokes Curly Joe for the first and last time. As their shorts had become popular with a new generation of kids on television, there came an outcry from parents whose kids were poking each other in the eye and getting hurt. This caused the stooges to do a commercial demonstration where they showed that they actually poked each other in the forehead and not the eyes. They would never again feature the act in any of their films.
This is not the strongest of the three stooge's features. Perhaps it was that they were merely getting acquainted with their new member but I blame it on a script that is stretched far too thin. It is only 76 minutes long but seems to last much longer. Luckily, they would continue to work and make better feature length movies.
Photos © Copyright Columbia Pictures Corporation (1959)