Movie Review
Haunting of Molly Hartley
This Halloween her past is yet to come.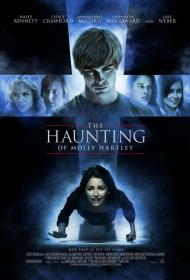 US Release Date: 10-31-2008
Directed by: Mickey Liddell
Starring
▸
▾
Haley Bennett

,

as

Molly Hartley
Jake Weber

,

as

Robert Hartley
Chace Crawford

,

as

Joseph Young
Shannon Marie Woodward

,

as

Leah
Shanna Collins

,

as

Alexis
AnnaLynne McCord

,

as

Suzie
Marin Hinkle

,

as

Jane Hartley
Nina Siemaszko

as

Dr. Emerson

Reviewed on:
November 3rd, 2008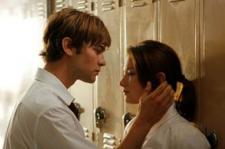 Chace Crawford and Haley Bennett, hoping this movie does not damage their careers.
Every year I see at least one movie that makes me wonder who in the hell thought to make such a crappy film? This year that honor goes to The Haunting of Molly Hartley. First time feature film director, Mickey Liddell, takes a formulaic plot and goes absolutely nowhere with it. The entire plot arc could have been done in 15 minutes, but gets needlessly dragged out for an hour and a half.
The movie opens with a flash back scene of a father killing his daughter just before she turns 18. The movie then jumps to "present day." Molly is a new girl in school having just moved with her father. Her mother is in a psych ward for having tried to kill her. Molly keeps hearing voices and having visions of her mother trying to kill her. Her Dad has her see the school counselor and a Doctor. Neither help. The popular, rich boy at school wants to be her boyfriend as soon as he lays eyes on her. She befriends a Christian evangelical, who keeps wanting to help her.
Anyone who has seen any amount of horror films can see where this is all going. I will spoil the plot for you, but it really is not much of a plot so it hardly matters. Molly was going to die at birth. The devil showed up and said that he will save her, but he gets her when she turns 18. The parents agreed and now the mother wants her dead.
Molly is constantly being told that, "You have a great power in front of you." That sounds interesting, but do not stick around expecting to find out what that means, because it never shows us. This movie has the worse ending I have ever witnessed. The devil wins. He gets Molly, and we never see her get and or use any great power. The only revelations in the movie, and they are pretty obvious ones, are when it is revealed which characters Molly trusted, are actually working for Satan.
The only good thing about this movie is Haley Bennett. She does what she can with a pathetic script. She was good as, the Britney Spears inspired, Cora in Music and Lyrics. She can next be seen in Marley and Me. She may very well have a good career ahead of her in spite of this movie.
Photos © Copyright Freestyle Releasing (2008)