Movie Review
The Haunted Mansion
It has a living room . . . And a dying room.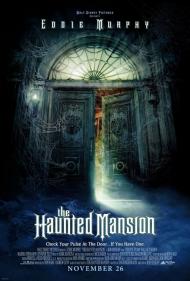 US Release Date: 11-26-2003
Directed by: Rob Minkoff
Starring
▸
▾
Eddie Murphy

,

as

Jim Evers
Terence Stamp

,

as

Ramsley
Nathaniel Parker

,

as

Master Gracey
Marsha Thomason

,

as

Sara Evers
Jennifer Tilly

,

as

Madame Leota
Wallace Shawn

,

as

Ezra
Dina Spybey

,

as

Emma
Marc John Jefferies

as

Michael


Reviewed on:
November 28th, 2003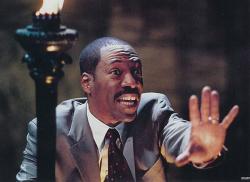 Eddie Murphy in The Haunted Mansion.
A movie must do at least one thing to be good. It must earn some sort of an emotional response from its audience. The audience should laugh at a comedy. It should be warmed by a love story. It should be exhilarated by an action movie. It should be scared by a horror film. The Haunted Mansion generates no emotional response. I can't even say that I hate it. I didn't like it either. It is colorfully bland.
Eddie Murphy plays a realtor, Jim Evers, whose family gets stuck in a haunted mansion. Ever's wife is a likeness to a ghost's long dead fiancée. He attempts to, as Evers says, "get jiggy with my wife." It's actually more about love than sex.
While the ghost is romancing his wife, Jim and his two kids run about the estate meeting ghosts and running from zombies. Jennifer Tilly is a talking crystal ball that spouts advice. This may sound like fun to you but it really is not.
Murphy and his kids take to the idea of ghosts so quickly that there is very little suspense. They drive through a graveyard full of visible spirits and barely bat an eye. If the actors on screen have little reaction to the supernatural goings on, how can the director expect the audience to?
Marsha Thomason plays Jim's wife, Sara Evers. She is completely lousy. Her reading is so bad that every time she had a line I thought I was watching a high school production with really good sets. The movie had a chance at a bit of depth and emotion, but political correctness screws it up. Sara Evers is African American and the ghost pursuing her is white. He believes that his fiancée killed herself due to their racial difference. The movie doesn't actually say it. This film uses the term that they were "from different worlds." It was an interracial love story that went bad. This movie could have created a spark of emotion had it just decided to elaborate on it, instead of glossing over a major plot point.
This is supposed to be a comedy. I did not laugh once. It is not funny or scary or romantic or controversial. The Haunted Mansion has a great comedian who does nothing funny. He plays around in some wonderful sets. Watching him explore them are the movies best scenes.
The only emotion this movie generated in me was a longing for a better movie.
Reviewed on:
April 2nd, 2005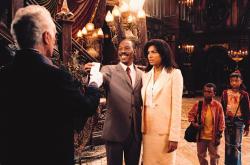 Eddie Murphy in The Haunted Mansion.
Eric paints the picture a bit bleaker than it needs to be, but I agree this is not a very good movie.
Early on, in the scenes Eric mentioned of Eddie Murphy exploring the mansion (which itself is over-the-top in a Charles Foster Kane sort of way), there is a certain whimsical charm that works. I liked the homage to The Wizard of Oz during the scene where Murphy meets Jennifer Tilly's talking crystal-ball gypsy. The chair he's sitting on spins him around the room like a cyclone while he repeats, "There's no place like home." Even the music underscoring the scene sounds like the Wicked Witch theme music.
Later at the entrance to the crypt the barbershop quartet of sculpted busts that echoes everything Eddie Murphy says in harmony is fun and creative.
But Eric is right that the movie has an uneven tone. It is not scary enough to be a horror movie, funny enough to be a comedy, or romantic enough to be a romance. It is like those Walt Disney movies of the seventies. Rather bland and generic. And Eddie Murphy's career today is similar to Bob Hope's in the sixties, at the very end of his span as a movie star. Both of their movies were slightly out of date and corny as hell but sold on the charms of the star. While it's true that Murphy is coasting here, his talents are still obvious.
It beats Daddy Day Care by a mile.
Photos © Copyright Walt Disney (2003)