Movie Review
The Harvey Girls
See How The Fairer Sex Conquered The Old West!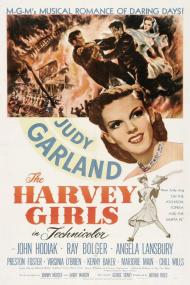 US Release Date: 01-18-1946
Directed by: George Sidney
Starring
▸
▾
Judy Garland

,

as

Susan Bradley
John Hodiak

,

as

Ned Trent
Ray Bolger

,

as

Chris Maule
Preston Foster

,

as

Judge Sam Purvis
Virginia O'Brien

,

as

Alma
Angela Lansbury

,

as

Em
Marjorie Main

,

as

Sonora Cassidy
Cyd Charisse

,

as

Deborah
Chill Wills

,

as

H.H. Hartsey
Kenny Baker

as

Terry O'Halloran
Reviewed on:
January 18th, 2001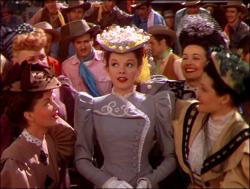 Judy Garland in The Harvey Girls.
Like Oklahoma and Annie Get Your Gun, The Harvey Girls is a big, splashy, Technicolor, musical-western brimming with snappy tunes. Like many MGM musicals from the nineteen-forties this one stars Judy Garland, who remains to this day the undisputed queen of the genre. Here she reunites with her Wizard of Oz costar, the rubber-faced, gangly dancer Ray Bolger. Also on board are Angela Lansbury, John Hodiak, Marjorie Main, Virginia O'Brien, Chill Wills and a very young Cyd Charisse.
The plot is simple, the dialogue corny and the sets fake. In other words it's a typical forties musical.
Judy Garland is Susan Bradley a mail order bride. On the train heading west she meets a spunky group of women called 'Harvey Girls' who are headed to the same town to open its first restaurant. Once they arrive Susan discovers that the man she has been exchanging love letters with is not the man she is engaged to. In an act of desperation she gives up on the marriage idea and becomes a Harvey Girl instead.
Unfortunately the restaurant they open is right across the street from a saloon. Before you know it there is escalating tension between the tough Saloon gals and the no nonsense Harvey Girls. And the owner of the saloon turns out to be the man with whom Susan's been romantically corresponding. If you can't see where this plot is heading then you haven't seen many musicals. The climax comes in the form of a sprawling bar fight. With Judy Garland squaring off against Angela Lansbury while the rest of the women brawl around them.
The most memorable moment in the movie is the song 'On The Atchinson, Topeka and the Santa Fe'. This is a rousing, show stopping number that occurs when the Harvey Girls first pull into town. When Judy calls out 'All Aboard!' in her inimitable voice you know you are in for a treat. The song builds to a stunning conclusion and will have you singing along before the final chorus. Other songs range from the whimsical 'In the Valley Where the Evening Sun Goes Down', to the catchy 'Oh You Kid' and the comical 'Wild, Wild West'. There is also an energetic number that gives dancers Ray Bolger and Cyd Charisse a chance to shine.
This movie is dated and shamelessly corny but it still has the power to enchant as long as you know what to expect going in.
Photos © Copyright MGM (1946)