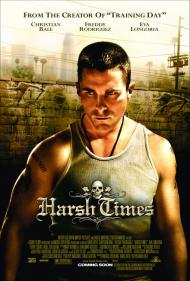 US Release Date: 11-10-2006
Directed by: David Ayer
Starring
▸
▾
Christian Bale

,

as

Jim Davis
Freddy Rodriguez

,

as

Mike Alonzo
Tammy Trull

,

as

Marta
Eva Longoria

,

as

Sylvia
J.K. Simmons

as

Agent Richards

Reviewed on:
June 1st, 2007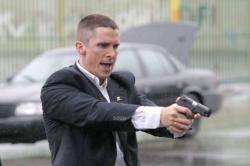 Christian Bale in Harsh Times.
With movies like Batman Begins, The Prestige and American Psycho, Bale has created some very intense, sometimes psychotic, characters. In Harsh Times, Bale plays one of his most down to earth roles, but his intensity is at full throttle, and yeah, his character is a bit unsteady.
Mike and Jim are two best friends in South Central Los Angeles. Jim is recently out of the military and back from Iraq. Mike just lost his job to outsourcing. Together, they head out to find new jobs. Jim is hoping to become a policeman and Mike is desperate to find a job to make his live-in girlfriend content. The problem is that neither has any amount of sense. They are both such street thugs that neither one is actually prepared to deal with the responsibility and discipline a job requires. Moments after getting into Jim's car they each crack open a beer and go looking for some weed.
As the next few days roll by , they lie to Mike's girlfriend about looking for a job, get into a fight, come across a gun that they try to sell, witness a murder, and so much more. Most importantly, Mike slowly learns that Jim is nuts. The movie wants you to believe that he is shell shocked. But Jim grew up around violence and death. He went to war and then came back to live around it some more. Death and violence did not make him crazy. He thrives on it. He marinates in it. When he is finally offered a job with Homeland Security it is because they recognize him for what he is.
Harsh Times plays like a tragedy. You know that there is only one real ending to this story. Sure, you learn to understand the characters and want good things for them, but they make nearly every possible mistake on the way to that fateful last scene. In Pan's Labyrinth, a little girl suffers at the hands of other people. She did not deserve her fate as she was a victim to other people's choices. Jim and Mike are in control of their lives and they constantly screw them up. They deserve their fate just as if they had ordered it at a restaurant.
Harsh Times wanders a bit, like two bored drunks looking for something to do. But the performances, especially Bale's, keep you riveted. The last scene, although a bit over the top, is one of the most intense moments I have seen in a movie in years.
Photos © Copyright Bauer Martinez Studios (2006)