Movie Review
Harold and Kumar Escape From Guantanamo Bay
This time they're running from the joint.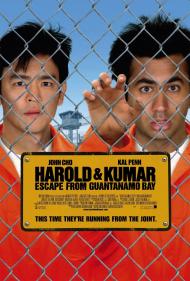 US Release Date: 04-25-2008
Directed by: Jon Hurwitz
Starring
▸
▾
John Cho

,

as

Harold Lee
Kal Penn

,

as

Kumar Patel
Rob Corddry

,

as

Ron Fox
Jack Conley

,

as

Deputy Frye
Roger Bart

,

as

Dr. Beecher
Neil Patrick Harris

,

as

Neil Patrick Harris
Danneel Harris

,

as

Vanessa
Eric Winter

,

as

Colton
Paula Garcés

,

as

Maria
Jon Reep

,

as

Raymus
Missi Pyle

,

as

Raylene
James Adomian

,

as

George W. Bush
David Krumholtz

,

as

Goldstein
Eddie Kaye Thomas

,

as

Rosenberg
Christopher Meloni

as

Grand Wizard

Reviewed on:
May 7th, 2008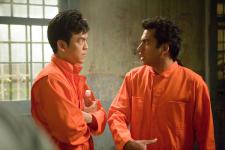 Pot smoking college buddies, Harold and Kumar, are back in this sequel to the 2004 cult favorite Harold & Kumar go to White Castle. The movie picks up mere minutes after the first one ended. The boys are cleaning up from their night of munchies and hallucinations.
The movie starts with some crude humor. While Harold is showering, Kumar comes into the bathroom to take a crap. Then the boys prepare for their trip to Amsterdam. They pack their bags and Kumar jerks off to a copy of Vagina magazine. The movie contains some more body fluid jokes but most of the laughs are supposed to come from jokes about stereotypes.
Kumar gets stopped in the airport and screams racism. The boys get mistaken for terrorists on the plane, after people think Kumar's bong is a bomb. They get sent to Guantanamo Bay by an overzealous Homeland Security officer. After avoiding having to suck an American soldiers cock, they escape and make it back to Florida with some illegal immigrants. They run into Neil Patrick Harris in an amazingly ridiculous coincidence.
The movie proceeds to make fun of everyone. The Homeland Security Officer tries to get a black guy to talk by bribing him with grape soda pop. Off to the side someone yells, "Ask if they got any koolaid." He tries to get a couple of Jewish guys to talk by shaking a bag of coins and spilling it onto the table. One of the Jews knows instantly how much it is. They then run into a hillbilly couple, who are both siblings and married. They meet some KKK member's, who sit around in the woods drinking beer and telling each other what mean things they did to a minority.
Most of the jokes did not work for me. Making fun of stereotypes is almost a worn out routine. Black people like sugary drinks? The KKK are ignorant bigots? Southerners have inbred children? Jews like money? Is any of this even remotely original?
This is not to say that I did not laugh a few times. After getting recaptured by the Feds, Kumar apologizes to Harold in an emotional scene, and tells Harold that he loves him. This prompts one of the nearby guards to cough into his hand and say, "Queers." I laughed the most during the scene where Harold and Kumar get high with George W Bush. "That makes you a fuckin' hypocriticizer too!" W says to the boys after he tells them an analogy about getting a hand job but not giving one.
Photos © Copyright Warner Bros. Pictures (2008)
Related Reviews