Movie Review
Hard to Handle
Hey, Folks!... I'm back!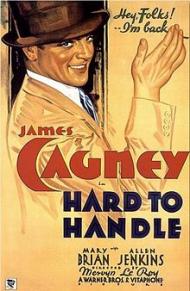 US Release Date: 01-28-1933
Directed by: Mervyn LeRoy
Starring
▸
▾
James Cagney

,

as

Lefty Merrill
Mary Brian

,

as

Ruth Waters
Allen Jenkins

,

as

Radio Announcer
Ruth Donnelly

,

as

Lil Waters
Claire Dodd

,

as

Marlene Reeves
Robert McWade

,

as

Charles Reeves
Sterling Holloway

,

as

Andy Heaney
Douglass Dumbrille

,

as

District Attorney
G. Pat Collins

,

as

Dance Judge
Mary Doran

as

Dance Contestant
Reviewed on:
July 24th, 2014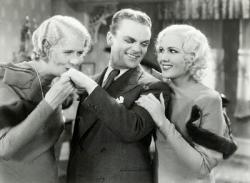 Ruth Donnelly, James Cagney, and Mary Brian in Hard to Handle.
Hard to Handle found James Cagney in new cinematic territory. Although there had been comedic bits in his earlier pictures, most notably Blonde Crazy with Joan Blondell, this was his first true foray into romantic comedy. To be sure Cagney is still Cagney. He's as tough and irrepressible as ever, but, though he's not always on the up and up, he's no gangster either. He displays a deft touch for comedy that probably surprised some members of the audience back in 1933. Jimmy charges through the picture at breakneck speed like a younger version of C.R. MacNamara in One, Two, Three. He talks a mile a minute and practically gallops from one end of the film to the other.
He plays Lefty Merrill, a quick thinking -and even faster talking- promoter who, over the course of the film, gets involved in one shady enterprise after another, most of them based on exploiting suckers out of their hard earned bucks. He promotes marathon dances (where the picture opens), fad diets, treasure hunts, and fat reducing lotions. Several of his schemes end with him running from an angry mob. In fact I've never seen Cagney do as much running as he does here. He's in love with a girl too and needs the dough in order to marry her. Mary Brian plays the girl and she does what the part requires without making much of an impression.
Ruth Donnelly steals a few scenes as the girl's mother. Mostly forgotten today she was once a well-known star. She could rattle off one-liners as well as handle physical comedy like a pro. She plays a schemer like Lefty, and like Lefty, she also has a heart of gold. She's against her daughter marrying Lefty at first but soon changes her mind (when Lefty gets rich) and then works to bring them together.
Cagney had just demanded -and received- a hefty raise from Warner Bros. The Great Depression was at its most depressed, the domestic box office had recently seen one of its worst weeks in movie history. That gives you an idea of just how valuable Cagney had already become to his studio by late 1932, when Hard to Handle was shot.
During the brief dispute with his bosses Cagney missed out on the chance to star opposite the studio's up and coming new female star, Bette Davis. Spencer Tracy would take his place in 20,000 Years in Sing Sing. Cagney and Davis fans would have to settle for just two pictures, Jimmy the Gent, and The Bride Came C.O.D. But I digress.
Back to the picture at hand. The story is all over the place, although the frantic direction by Mervyn LeRoy never lets the blistering pace slow down for a second. It's really just a series of adventures wherein Lefty tries to make good to win his girl, and impress his future mother-in-law. It's a plot that was creaky 15 years earlier in silent pictures.
Cagney, as usual, rises magnificently above the material. The Public Enemy had made him a star just one year before Hard to Handle was shot, yet they were already spoofing his image from that movie. In one scene Lefty is asked to promote grapefruits. The punchline is when Cagney says, "What do I know about grapefruits? I never even saw one."
Hard to Handle is a lesser known Jimmy Cagney picture. And for good reason. Of the 60-something movies he made in his career it certainly ranks near the bottom of the list. But Cagney was an incredibly unique, charismatic, and wholly entertaining performer, and here proved he also possessed a light comedic touch. He alone makes Hard to Handle worth watching.
Photos © Copyright Warner Bros.Vitaphone Corporation, The (1933)