Movie Review
A Hard Day's Night
Soaring in their first, full-length, hilarious, action-packed film!
US Release Date: 08-11-1964
Directed by: Richard Lester
Starring
▸
▾
John Lennon

,

as

John
Paul McCartney

,

as

Paul
George Harrison

,

as

George
Ringo Starr

,

as

Ringo
Wilfrid Brambell

,

as

Grandfather
Norman Rossington

,

as

Norm
John Junkin

,

as

Shake
Victor Spinetti

,

as

T.V. Director
Anna Quayle

,

as

Millie
Deryck Guyler

,

as

Police Inspector
Richard Vernon

as

Man on Train

Reviewed on:
May 8th, 2012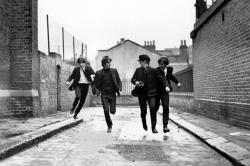 Paul McCartney, George Harrison, Ringo Starr and John Lennon do a lot of running about in A Hard Day's Night.
The Beatles' career is divided into two parts. Their early work, features their moptop haircuts, suits and incredibly catchy pop songs. Their later work is more artistic as the group shed whatever clean cut image they had left, grew their hair and their beards out, stopped touring and began experimenting, both musically and with other less legal substances.
This movie, A Hard Day's Night, was released in the middle of the early phase of their career when Beatlemania was at its height. It epitomises the group during this period, capturing the joyful innocence of these four lads from Liverpool, who were living the dream, still innocent enough to enjoy it, before the drugs, the cynicism and the infighting would take their toll. It's a lighthearted movie that shows these group of friends having so much fun that it's impossible for the audience not to enjoy themselves as well.
I have an early memory from the 1970s of my mother, who was never much of a Beatles fan, talking about seeing this movie when it was in theaters. She said (and I'm paraphrasing because it's been almost 40 years) something like, "I didn't like their movies. It was just the Beatles running around and being chased." While it's not necessarily the most detailed synopsis, it is almost an accurate one. The Beatles do, in fact, do a lot of running around and being chased in this movie. That's not all they do, but there is a bit of that. The plot is simply an imagined day in their life and a portion of their days were spent avoiding their screaming, mostly female fans.
Of course, all that running around is accompanied by some of the greatest pop songs of all time. Along with the title track, there's "Can't Buy Me Love", "All My Loving", "She Loves You", "I Wanna Be Your Man" and "I Love Her", among others. Richard Lester, the director of this movie is often credited as the father of the modern music video and watching the way he films the songs here, it is easy to see why. His inventive camera angles, surreal visuals and quick edits are all recognizable to the MTV generation.
While I enjoy and can sing along to all the songs, the real joy to me is the zany, British humor. Each member of the group is given a distinctive personality and a scene or two of their own. John Lennon is the scene stealer of the group. Supposedly, many of his dry, sarcastic zingers were improvized by him on the set. I'm sure the group as a whole had fun with the scene where they're being interviewed by the press and are asked all the predictable questions, with several revolving around their hair. Reporter: What would you call that hairstyle? George: Arthur.
Reporter: How did you find America? John: Turned left at Greenland.
Reporter: Are you a mod or a rocker? Ringo: No, I'm a mocker.
Paul is asked repeatedly about his relationships, to which he always replies, "No, actually, we're just good friends."
Along with the Fab Four, the supporting cast manages to get in some laughs as well.
Wilfred Brambell is particularly funny as Paul's grandfather. He likes to stir things up in the group and gets Ringo riled up at one point. There's a dated running joke about him being a clean old man that requires some explanation these days. At the time Brambell was well known for playing junkman Steptoe on the BBC's Steptoe and Son (which would get remade in America as Sanford and Son) where a common catchphrase was, "What a dirty old man" in reference to his character.
Victor Spinetti, the fussy television director also gets a few laughs as does Norman Rossington and John Junkin as the band's managers and handlers. Rossington has a running verbal spat with Lennon throughout the film.
The Beatles songs of this early period were bubblegum pop of the very highest order. They are infectious and impossible not to sing along to. Like this movie, they will leave any but the most stony hearted feeling good.
Reviewed on:
May 24th, 2012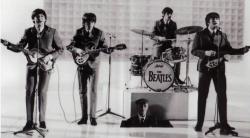 Paul, George, Ringo and John (and Paul's very clean grandfather) in A Hard Day's Night.
A Hard Day's Night is one of the most groundbreaking and entertaining musicals ever made. It was filmed in the style known as Cinéma vérité. Wikipedia defines this as, "A style of documentary filmmaking, combining naturalistic techniques with stylized cinematic devices of editing and camerawork, staged set-ups, and the use of the camera to provoke subjects." Add in music, jokes and legions of screaming fans, and you have an apt description of this film.
As Scott wrote it captures the four lads from Liverpool right as Beatlemania was sweeping the world. It shows that beyond their musical genius they were four down to earth and very witty young chaps. They seem well-grounded and unfazed by their unprecedented success. The art form known as the music video certainly owes a huge debt to this film as does The Monkees television show, which pretty much emulates everything about it.
The songs are all catchy and melodic pop confections that have long since passed into the realm of legend. Apparently the title track was written after A Hard Day's Night had been chosen as the title of the movie, not the other way around as I had always assumed.
It was filmed in roughly sequential order during the months of March and April, 1964. One of my favorite scenes takes place at Thornbury Playing Fields, Isleworth, Middlesex. While "Can't Buy Me Love" plays, the four Beatles run, dance and chase each other around the field. The camera work during this sequence is particularly creative, often showing these silly blokes from an overhead angle. At the end of the song they get kicked off the field by a surly older gentlemen to whom George remarks, "Sorry we hurt your field, mister."
So much has been written about John and Paul, but Ringo steals the movie away from them both. Not only does he utter the most famous line, the one Scott quoted about being a mocker, but he gets the most solo screen-time and shows a bit of emotional range in the scene where he walks forlornly along a riverbank. He was the funniest Beatle as well, as he demonstrates with his comic delivery in this exchange between him and George...
George: "What's the matter with you, then?" Ringo: "It's his grandfather. I can tell he doesn't like me. It's cause I'm little." George: "Ah, you've got an inferiority complex, you have." Ringo: "Yeah, I know, that's why I play the drums - it's me active compensatory factor."
Ringo also gets the best slapstick sight gag when he lays his coat over a puddle for a girl to walk over and it turns out to be a deep hole in the ground, shades of Laurel and Hardy.
In addition to the iconic pop songs, A Hard Day's Night is quite funny and remains surprisingly fresh after all these decades, proving that some things are indeed timeless.

Reviewed on:
June 9th, 2012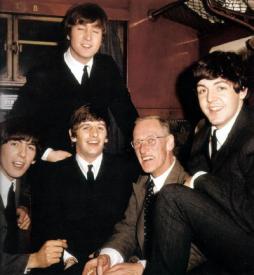 George Harrison, John Lennon, Ringo Starr, Wilfrid Brambell and Paul McCartney during the filming of A Hard Day's Night.
What is so timeless about this film is its depiction of the typical young western male. The Beatles, as shown here, are the epitome of free. They muck about, doing a lot of nothing. They flirt with girls and enjoy their attention. What really marks them as western youth is their behavior. They question authority figures. When Ringo is told by his manager to watch Paul's grandfather, he asks if he has to. The manager responds, sounding much like a parent, "Do I have to raise my voice?" At another point John says, "We know how to behave! We've had lessons."
They often make fun of Paul's grandfather and act disrespectful to older men. They tease an old man on the train, who snaps back to them, "Don't take that tone with me, young man. I fought the war for your sort." Ringo comes back with, "I bet you're sorry you won."
Ringo's dramatic moment comes after he talks to Paul's grandfather about being unappreciated. Ringo says to him, "Funny, really, 'cause I'd never thought of it, but being middle-aged and old takes up most of your time, doesn't it?" He then decides he had better enjoy himself before it is too late. Just prior to walking off, John mocks him by saying, "Here he is, the middle aged boy wonder." Ringo then walks off, and spends part of his time away with a ten year old boy.
Their acts of rebellion are gentle and harmless, yet there is an underlying sense of something else just under the surface waiting to emerge. This can be seen in such scenes as when John jokingly sniffs the pop bottle of Coca Cola. Think about it.
A Hard Day's Night is a celebration of youth and its natural rebellion against the previous generation. It has been part of our culture since at least the turn of the last century and nothing has better presented it than films and music. The Beatles, whose ages ran from 21 to 24 in 1964, represented their generation in all its optimistic youth.
Photos © Copyright United Artists (1964)
Related Review