Movie Review
Happy Feet Two
Every step counts.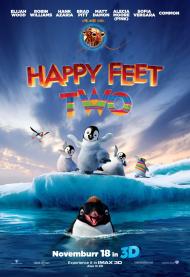 US Release Date: 11-18-2011
Directed by: George Miller
Starring
▸
▾
Elijah Wood

,

as

Mumble (voice)
Pink

,

as

Gloria (voice)
Ava Acres

,

as

Erik (voice)
Robin Williams

,

as

Ramon / Lovelace (voice)
Brad Pitt

,

as

Will the Krill (voice)
Matt Damon

,

as

Bill the Krill (voice)
Hank Azaria

,

as

The Mighty Sven (voice)
Richard Carter

,

as

Bryan the Beachmaster (voice)
Sofia Vergara

,

as

Carmen (voice)
Common

,

as

Seymour (voice)
Magda Szubanski

,

as

Miss Viola (voice)
Hugo Weaving

,

as

Noah the Elder (voice)
Anthony LaPaglia

as

The Alpha Skua (voice)

Reviewed on:
November 21st, 2011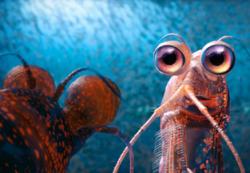 Bill and Will Krill
Considering how much I hated Happy Feet, I had zero expectation for this sequel. The environmental message is a bit less this time around but so is the plot. I give this a half star over the first film just because Matt Damon sings "Wake Me up Before you Go Go."
Mumble, the dancing outcast penguin of the first film, is now a daddy. His son Erik is having growing pains as he does not know how to dance as well as everyone else. Sound familiar? Dear old dad reassures him to not worry about it and that he will find out what he is good at one day. Not impressed with that advice, Erik and some friends run away and find another colony of penguins.
Erik pursues them to bring the wayward penguins home. Meanwhile an iceberg has slammed into the ice shelf near Mumble's home, blocking the entire Emperor penguin colony in a huge ice hole. The last half hour of the film is just the attempts to rescue the trapped penguins.
Mumble gets the other penguin colony to help. They get some humans to help, until they are chased off by bad weather. Yes, George Miller uses real live action actors in these scenes just as he did in the first film. It makes no sense for him to do it as it creates a huge contradiction in every aspect of the movie. They should have been animated or not included at all. Mumble eventually gets some elephant seals to help. Thus the message of different creatures coming together to help those in need. Once again, dancing saves the day.
The entire rescue aspect is long, drawn out and not in the least interesting. Thankfully there is some humor to help get through it. Robin Williams has some moments. When Carmen says he is beautiful, he responds in a shy way, "Only on the outside." My favorite parts were Brad Pitt and Matt Damon as Will and Bill, a couple of krill, who decide to leave the swarm. Will says he wants to leave all the other thousands of krill and be free. Bill tells him there is no such thing as "...free, Will." They attack a sea lion, although the sea lion never knows it. Their storyline has next to nothing to do with the penguins, although in a convoluted way Will ends up with the trapped penguins.
Happy Feet Two opens with Janet Jackson's "Rhythm Nation" and one of the last songs is Erik singing opera. Yeah, he discovers what he is good at. Other than Damon doing George Michael and a little Rick Astley, I cared for none of the songs as performed. Pink's ballad nearly put the theater audience of nine people to sleep.
Lest I forget, Miller slips in a topical scene of a burning oil rig and a penguin covered in oil. He does not dwell on the subject, but like Bill and Will, it seems like filler for a plot that could have been told in a half hour. Happy Feet Two is a scattered, boring mess.
Photos © Copyright Kennedy Miller Mitchell (2011)
Related Review