Movie Review
Hannah Montana The Movie
She has the best of both worlds... now, she has to pick just one.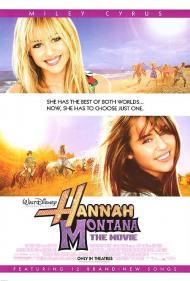 US Release Date: 04-10-2009
Directed by: Peter Chelsom
Starring
▸
▾
Miley Cyrus

,

as

Hannah Montana / Miley Stewart
Billy Ray Cyrus

,

as

Robby Ray Stewart
Emily Osment

,

as

Lilly Truscott
Jason Earles

,

as

Jackson Stewart
Mitchel Musso

,

as

Oliver Oken
Moises Arias

,

as

Rico
Lucas Till

,

as

Travis Brody
Vanessa L. Williams

,

as

Vita
Margo Martindale

,

as

Ruby
Barry Bostwick

,

as

Mr. Bradley
Tyra Banks

as

Herself

Reviewed on:
April 26th, 2009
Billy and Miley, the country Frank and Nancy.
Disney has a history of making teen girls, such as Hilary Duff, Lindsay Lohan and Hayley Mills, into big stars. With Miley Cyrus, you would have to go all the way back to Disney's premiere female teen star, Annette Funicello to find a comparable multi faceted star. Like Cyrus, Funicello started on a Disney show, had hit songs and branched out into kid movies.
For those who do not know, Miley Stewart is a teen girl living with her single father and older brother in Malibu. Her mother, played in flashback on the television show by Brooke Shields, died a few years ago. Miley's alter ego is pop star Hannah Montana. As the theme song to the show goes, she has the best of both worlds. As Hannah she has all of the advantages of being a pop culture icon, but as Miley she can be a normal teen with normal teen issues.
As the movie starts, Hannah is becoming a nuisance to Miley. She misses her best friend's birthday party, and gets into a cat fight with Tyra Banks, over some designer shoes, "In my defense, I totally saw those shoes first." Dad steps in as soon as she attempts to avoid her Grandmas birthday. Miley ends up in Tennessee, where her dad tries to get her feet back on the ground.
The movie focuses on Miley, and her Dad. Each fall in love with someone. Most of the television cast make appearances, but some have little more than one scene. My son's favorite character, Miley's brother Jackson, only has a few scenes that have nothing to do with the actual plot. Country singing stars Rascal Flatts and Taylor Swift make cameos.
At worst, the movie contains some of those ridiculous kiddy gimmicks, popular in her show. In one scene Miley switches the mild and hot salsa on a nosey reporter so he burns his mouth. Cue the laugh track. At best is the moment right after Miley does the Mrs Doubtfire rapid costume change scene. As Hannah, she walks slowly through a revolving door and pulls off her wig. She is obviously tired of playing her alter ego.
The charm of Hannah Montana is the relationship between Miley and Billy Ray Cyrus. Not since Frank and Nancy Sinatra, has a father/daughter relationship been so milked for success. This is best demonstrated when they share a moment on a hill singing a song. Miley looks quite natural, as well as adorable, while her Daddy looks on proudly. The movie was filmed on location in Tennessee. In real life, Billy Ray and his wife raised Miley and their other kids on a ranch their. Hopefully Dad and Mom can keep Miley grounded, and perhaps she will have a career that goes beyond adolescence.
Photos © Copyright Walt Disney Pictures (2009)