Movie Review
Halloween H20: 20 Years Later
20 years ago, HE changed the face of Halloween. Tonight, he's back!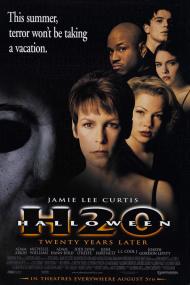 US Release Date: 08-05-1998
Directed by: Steve Miner
Starring
▸
▾
Jamie Lee Curtis

,

as

Laurie Strode / Keri Tate
Adam Arkin

,

as

Will Brennan
Josh Hartnett

,

as

John Tate
Michelle Williams

,

as

Molly Cartwell
Adam Hann-Byrd

,

as

Charles 'Charlie' Deveraux
Jodi Lyn O'Keefe

,

as

Sarah Wainthrope
Janet Leigh

,

as

Norma Watson
LL Cool J

,

as

Ronald 'Ronny' Jones
Joseph Gordon-Levitt

,

as

Jimmy Howell
Branden Williams

as

Tony Allegre

Reviewed on:
October 29th, 2012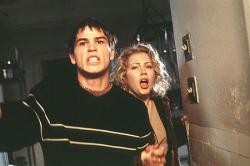 Josh Hartnett and Michelle Williams in Halloween H20
Twenty years after Michael Myers terrorized his sister in Halloween (1978), he returns in an attempt to finish her off. Although Michael has not changed much in the past two decades, Laurie has. She is now a divorced single mother living under the assumed name of Keri Tate. She works as a teacher at a private school that her teenage son, John, attends.
Laurie is tormented by memories of her brother's actions and as such, has become a very protective parent. At one point, John's girlfriend Molly asks why he has never celebrated Halloween before, and he answers, "Oh, we've got a psychotic serial killer in the family who loves to butcher people on Halloween, and I just thought it in bad taste to celebrate."
Even Laurie's boyfriend Will, does not know who she is or the details of her past. While trying to get Laurie naked and horizontal they discuss her past. Laurie tells Will, "My brother killed my sister... when she was 17." A confused Will responds, "Well, that's... suck-y. How'd he do that?" A very serious Laurie states, "With a really big, sharp kitchen knife." The horny Will says, "That's terrible. Take off your clothes."
In fact, the best thing about Halloween H20 is the history of the characters. This film starts with Michael breaking into the home of the nurse who formerly worked with Dr. Sam Loomis, who treated and hunted Michael. Her home has headlines and photos from the first two films. At the end of the scene where Laurie tells Will her story, she notes that her son has just turned 17.
Besides the film's legacy, it is noted for the cast. This was Josh Hartnett's film debut. Michelle Williams and Joseph Gordon-Levitt were both a decade away from the A-list. Also, look for a cameo by Jamie lee Curtis's mother, Janet Leigh. They share this dialogue, "Oh. Miss Tate. I didn't mean to make you jump. It's Halloween. I guess everyone's entitled to one good scare." Laurie responds, "I've had my share."
The history of the story is fascinating for fans, but it really does not get good until the final half hour when Michal starts killing people off at the school. The best moment comes when Laurie is alone with Michael. She grabs an ax and yells, "MICHAEL!" She decides to be the hunter instead of the hunted.
Halloween H20 is not the scariest horror film but it would have been a decent way to end the series. However, the powers that be decided to milk this dead horse and brought Jamie Lee Curtis back in 2002 for Halloween: Resurrection.
Photos © Copyright Dimension Films (1998)
Related Review