Movie Review
Hallelujah!
A DRAMA OF SOUTHERN NEGRO LIFE! ALL-TALKING AND SINGING!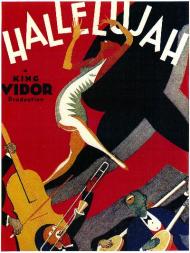 US Release Date: 08-20-1929
Directed by: King Vidor
Starring
▸
▾
Daniel L. Haynes

,

as

Zekial 'Zeke' Johnson
Nina Mae McKinney

,

as

Chick
William Fountaine

,

as

Hot Shot
Harry Gray

,

as

Pappy 'Parson' Johnson
Fanny Belle DeKnight

,

as

Mammy Johnson
Everett McGarrity

,

as

Spunk Johnson
Victoria Spivey

,

as

Missy Rose
Milton Dickerson

,

as

Johnson child
Robert Couch

,

as

Johnson child
Walter Tait

,

as

Johnson child
Dixie Jubilee Singers

as

Group performers

Reviewed on:
April 2nd, 2012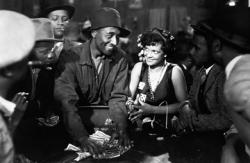 Daniel L. Haynes and Nina Mae McKinney in Hallelujah!
Hallelujah! was a groundbreaking motion picture. It was the very first big-budget, full-length, all-black talkie ever made in Hollywood (it was preceded in theaters by a few months by the low budget all-black Fox talkie Hearts in Dixie). This musical drama was directed by King Vidor from his own story idea. It was a project he felt strongly about. In order to convince MGM to take a chance on a big-budget musical with an all-black cast he had to agree to forgo his salary and he even put up half of the movie's production cost from his own pocket. The result is a powerful, if dated, musical melodrama.
This is the story of Zeke, a cotton picker living in rural Tennessee with his elderly parents and numerous younger siblings. Accompanied by his brother Spunk, he goes to town to sell the families' cotton crop. Zeke makes the fatal mistake of being led astray by a woman he encounters dancing on the street. She takes him to a juke joint where he gets involved in a crooked game of craps and soon finds himself parted from his money. A bar fight ensues and Spunk is fatally wounded by a gun shot. Zeke finds religion and turns preacher, but when the sultry Chick once again crosses his path will he be strong enough to resist temptation?
Hallelujah! was originally shot silent and the voices were dubbed in later. Some of the dialogue is hard to make out as many of the actors seem to mumble their lines, and there is quite a bit of screeching by the womenfolks as well. It is glaringly noticeable that the actors mouths don't always sync with their words. Despite these technical problems the direction is otherwise inspired. Vidor sets up many interesting camera shots, especially memorable is a riveting chase through a swamp at the movies' climax.
The majority of the songs are movingly sung, traditional spirituals including "Sometimes I Feel Like a Motherless Child", "Go Down Moses (Let My People Go)", "Old Folks at Home", "Swing Low, Sweet Chariot" and "(Gimme Dat) Old Time Religion" among several others. The exceptions are two Irving Berlin songs included at the studio's insistence. The first of these was called "Waiting At The End Of The Road" and was sung by a group known as the Dixie Jubilee Singers in a scene at the cotton marketplace. The other Berlin tune was called "Swanee Shuffle" and was song by the flapper vamp named Chick that seduces Zeke.
Chick was memorably played by the 17-year-old Nina Mae McKinney, making her movie debut. Although some of the acting seems amateurish by today's standards, the central performance by Daniel L. Haynes is quite good, and more natural than some movie acting of the 1920s. The adult subject matter is handled in a frank manner, befitting the pre-code status of the movie. It was re-released in 1939 by MGM to capitalize on the success of Gone with the Wind. They added newly designed opening and closing credits for the occasion and this is the version currently being shown on TCM.
Hallelujah! Features a cast of hundreds and was a surprise box office success in the summer of 1929. King Vidor garnered an Oscar nomination for Best Director (he would lose to Lewis Milestone for All Quiet on the Western Front). From today's standpoint it can be viewed as filled with racist stereotypes, but at the same time Hallelujah! shows an honest depiction of the hardships and realities of life in rural black communities in the early decades of the 20th Century. An historically important motion picture.

Reviewed on:
December 10th, 2013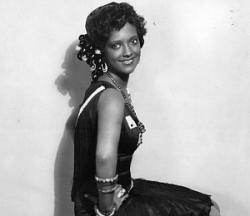 Nina Mae McKinley in Hallelujah!
Hallelujah! is indeed a historically important film. Hallelujah! was added to the United States National Film Registry by the Library of Congress in 2008 for being deemed, "culturally, historically, or aesthetically significant." Being, as Patrick wrote, one of the first talking films featuring an all-black cast, it deserved to be remembered and noted but to remember it only for that would not do the film justice.
King Vidor set out to make a film accessible to all audiences with a universal story of temptation and redemption. Other than depicting a segment of society not often seen on film, the story offers little in originality. Vidor was hailed for his accurate portrayal of the black sharecroppers. He filmed in Tennessee and Arkansas.
With the exception of Daniel L. Haynes, the acting is nothing to brag about. Everyone overly emotes and enunciates, loudly. This may have as much to do with this being such an early sound film as it does the lack of acting experience. Although filmed on location, much of the dialogue was re-recorded in Hollywood.
The most memorable and influential scene of the entire film is when Nina Mae McKinney performs "Swanee Shuffle" in the dance hall. It was a rare glimpse into black jazz music of the time. It is easy to see how that scene inspired Steven Spielberg's dancehall scene in The Color Purple (1985). Also, look closely at McKinney's dance moves. The way she bends her legs in when dancing are moves that Elvis Presley would steal and make his trademark.
McKinney was a bit of a break out star after this film. Her blatant sexuality was crass yet enticing. She purrs to Zeke, "Let ya baby sit on yo' lap and make you (takes a breath) feel so good,". MGM saw her potential and signed her to a five year contract but had no idea how to exploit her talent.
Following the European success of Josephine Baker, Europe seemed eager to embrace African American performers. McKinney later toured European concert halls, where she was even nicknamed "the black Garbo." She filmed a couple of films in England. Eventually her career was reduced to the Hollywood stereotypical role most available to black actresses, that of a maid. She broke ground for the likes of Lena Horne but died from a heart attack at the age of 55 a mostly forgotten celebrity.
Reviewed on:
November 6th, 2015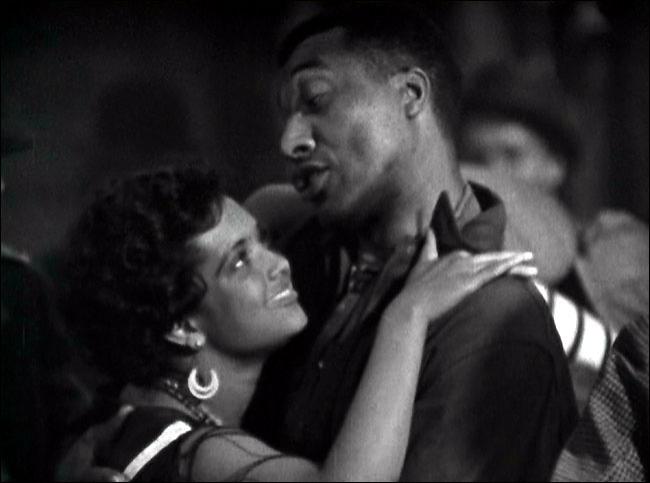 Nina Mae McKinney and Daniel L. Haynes in Hallelujah!.
I agree that Hallelujah is historically important. As an early talking film by a major director that features an all black cast, it can't help but be. Surprisingly, it's actually pretty watchable as well, but much of your enjoyment will be dependent upon your appreciation of the music.
Some of the acting is poor, especially among the supporting players. Their already weak acting skills are weakened further by attempts at putting on a southern accent when very few of them were actually from the south. The main trio who form the "love" triangle aren't that bad however and certainly Nina Mae had a great deal of sexual chemistry to help her smooth out the rough spots. Daniel Haynes as Zeke seems to improve as the film progresses.
My biggest problem with the film are all the songs, which drag out the running time. This is a simple morality tale that could be told in about a quarter of the running time, but the songs comprise a good chunk of the film and although they do add to the atmosphere and sense of time and place, I myself had difficulty appreciating any of them, with maybe the exception of Nina Mae's seduction song in the bar. The running time of the film is 100 minutes, but if you trimmed it down to just the story you'd be stretching it just to get to 30 minutes.
Like Patrick I though Vidor filmed some interesting scenes. He shot the crowd scenes particularly well. There are several long sequences that are almost without dialogue, most noticeably when Zeke comes riding into town on the donkey, right through to the baptism. There are moments of dialogue here and there during this sequence, but much of the action is purely visual. I also agree with Patrick that the chase in the film's climax is one of its best scenes.
Part of the reason MGM didn't want to produce the movie is because they didn't think it would play in the south and they were right. It was rejected by nearly ever theater below the Mason Dixon line. Jacksonville Florida was a rare exception. The amount of money it subsequently earned is even more remarkable when you consider it earned it in far fewer theaters than other films of the era. In many theaters, Vidor pledged to make up any losses if the box office didn't turn a profit. Reportedly he never once had to make up the difference as every theater that showed it made money during its run.
It's interesting that normally in Hollywood when any movie makes a profit, there will be a dozen clones released in the next couple of years to capitalize on its success. This movie though, didn't lead to a renaissance of all black films. In fact, to this day, some 85 years later, Hollywood, despite its liberal reputation, is still lacking in diversity. Tyler Perry makes millions with his nearly all black casts and still no one is rushing to emulate him. Hallelujah wasn't just one of the first major movies with such a cast, it remains one of the few. For that reason too, it is an important film.
Photos © Copyright MGM (1929)
Related Reviews