Movie Review
Hall Pass
One week. No rules.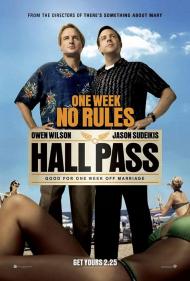 US Release Date: 02-25-2011
Directed by: Bobby Farrelly, Peter Farrelly
Starring
▸
▾
Owen Wilson

,

as

Rick
Jason Sudeikis

,

as

Fred
Jenna Fischer

,

as

Maggie
Christina Applegate

,

as

Grace
Nicky Whelan

,

as

Leigh
Richard Jenkins

,

as

Coakley
Stephen Merchant

,

as

Gary
Larry Joe Campbell

,

as

Hog-Head
Bruce Thomas

,

as

Rick Coleman
Tyler Hoechlin

,

as

Gerry
Derek Waters

,

as

Brent
Alexandra Daddario

,

as

Paige
Alyssa Milano

,

as

Mandy
Rob Moran

,

as

Ed Long
Zen Gesner

as

Passenger Cop


Reviewed on:
February 27th, 2011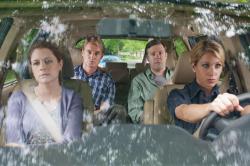 The husbands riding in the back seat like scolded children.
The past decade has been filled with "men never grow up" comedies. Apatow and the Farrelly Brothers have made many films where men of all ages act like college freshmen. Hall Pass attempts to have a message about aging, but it gets lost in the bathroom humor.
Rick and Fred are two married buds whose wives have turned cold in the bedroom. Both men are portrayed as decent guys, whose only indiscretion is noticing an attractive woman on the street. It is only human nature.
For very flimsy reasons they are granted a Hall Pass by their wives to have all the affairs they want for a week, while the wives are away. The clueless men head out for a Hangover week, but really have no clue how to even approach a strange woman, let alone have sex with one. The wives meanwhile meet a baseball player and his coach, and find themselves wanting to enjoy the Hall Pass themselves.
As a middle aged married father, this movie rang true several times. I liked when he was showing his kids pictures of him and their mom when they were dating, and the kids made disparaging remarks. One scene between Rick and Fred was almost word for word a conversation I once had with a friend. Fred said he never knew he would still have to masturbate after marriage. Rick agrees, "I never saw that coming." All of you married men out there know exactly what I am talking about.
It also shows the absurdity of a middle aged married woman's approach to sex. Early in the movie Maggie pretends to sleep to avoid having sex with her husband. Later she complains to the baseball coach that her lack of interest in having sex with her husband has to do with her not feeling he desires her. What? He wants to have sex with her. He obviously desires her. Does a wife really expect her husband to have to seduce her with candy and poems before they have sex? Men get married to avoid that nonsense.
The real problem with the adult males in this film is that they never act accordingly. They never discuss politics or current events. Hell, they never even talk about movies or sports. They talk about sex and their youth. Like all men in Apatow and Farrelly films, they are a bit pathetic.
It has a few funny scenes. My favorite is when Rick and Fred are walking around a "friends" mansion and are bad mouthing them, not knowing every word is being over heard by their friends and wives. The biggest laugh in the theater involves feces all over a wall.
The movie ends on a gooey sweet note and a slam on Kathy Griffin. Yeah, it is that uneven. At one point the Farrellys are making a point about being middle aged but wanting to feel young, and the next we have a penis size joke. Those poor Irish.
Reviewed on:
June 19th, 2011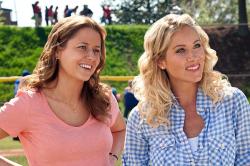 Jenna Fischer and Christina Applegate in Hall Pass.
Like you say Eric, according to this movie and nearly every other frat boy comedy released in the past decade, all men are immature children whose wives act more like their mothers than their significant other. These men only act like grown-ups because they're forced to. The wives are generally shown as shrewish, with no sense-of-humor, who are constantly exasperated with their husbands. It's a cliche that has long since out lived its humor potential and Hall Pass does nothing to reverse the trend.
Oh sure, there are a couple of funny moments. My favorite scene comes just before the credits when Gary's (Stephen Merchant) wife offers to give him a hall pass and he imagines what that would be like. There are a few of the Farrelly brothers patented 'shock' jokes, several of which involve shit (the one you mention Eric and another on the golf course). There's also a masturbation joke where Fred is caught jerking off in his min-van. It would be funnier if it didn't feel so forced, like why is he parked on the street while he's doing it, except so he can get caught for the joke. I did laugh at the Kathy Griffin joke, even if it is undercut by having her actually show up in the next scene.
The plot even betrays the main theme of the story for the sake of some jokes. The idea behind the plot is that these middle-aged guys all think that if it weren't for their wives they could be having sex with a bunch of hot, young women. The joke being that this is so obviously untrue. These clueless, chronically unhip guys are lucky to have the wives they have let alone find other women who would be willing to have sex with them. Except, wait a minute, it turns out the men, or at least Rick (Owen Wilson), could be having lots of sex with hot women if it weren't for his wife. The 21 year old co-ed who babysits his kids is lusting after him and the sexy Australian barista is willing to fuck him too. Exactly why this is so, isn't really explored, they just do. So is this a film about men as the butt of jokes or is it a male fantasy?
It wants to be both a gross-out comedy and a heart-warming film about marriage, but it would take a much stronger and more sophisticated script than this one to pull that off. It barely manages the occasional laugh-inducing joke. Asking it to generate an emotional response is well out of its reach. Maybe its time for the men in these films to grow up, or at least time for Hollywood's attitude towards them to.
Photos © Copyright New Line Cinema (2011)