Movie Review
Hairspray
Get ready for something big July 20th!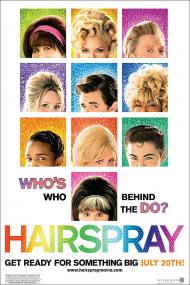 US Release Date: 07-20-2007
Directed by: Adam Shankman
Starring
▸
▾
John Travolta

,

as

Edna Turnblad
Michelle Pfeiffer

,

as

Velma Von Tussle
Christopher Walken

,

as

Wilbur Turnblad
Amanda Bynes

,

as

Penny Pingleton
James Marsden

,

as

Corny Collins
Queen Latifah

,

as

Motormouth Maybelle
Brittany Snow

,

as

Amber Von Tussle
Zac Efron

,

as

Link Larkin
Elijah Kelley

,

as

Seaweed
Allison Janney

,

as

Prudy Pingleton
Nikki Blonsky

,

as

Tracy Turnblad
Jerry Stiller

as

Mr. Pinky


Reviewed on:
July 25th, 2007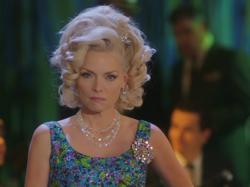 Michelle Pfeiffer in Hairspray.
My son and I were practically dancing in our seats during You Can't Stop the Beat, at the end of Hairspray. Neither of us knew any of the songs prior to seeing this movie but so many of them are infectious enough that you can't help but feel the beat. From Tracy opening the movie, belting out Good Morning Baltimore, to the big finale, featuring John Travolta doing a Tina Turner impersonation, you will enjoy the musical numbers whether you know the songs or not.
Hairspray tells the story of a fat girl who dreams of being on a local dance show in 1962. Think of it as American Bandstand. Not only do they not want a fat girl on the show, they only let black kids dance on a once a month Negro episode. Tracy makes her way onto the show and ends of being an activist for integration and acceptance.
Much has been made about John Travolta playing Tracy's mom in a fat suit. He is good, but we always knew he could do great things in musicals. I was most surprised and impressed with Michelle Pfeffier and James Marsden. They each surprised me with their singing and both have some of the best lines.
At one point, Marsden, as the dance show host Corny Collins, casually announces that one of the dancers will be leaving the show for a while,"Becky, will be taking a momentary leave of absence from the show! How long you gonna be gone Becky?" Becky nervously responds, "Oh, just nine months." At the end of singing a song about hairspray, Collins says to one stuck up dancer,with tongue firmly placed in cheek, "You could use a stiff one." Pfeiffer likewise has some of the best lines. Corny says to her, "The kids dig the rhythm & blues." To which Pfeiffer remarks, "Of course, they do! But someone has to steer these kids in the white direction." At another point a policeman tells her that Tracy would not risk trying to get into the studio too win a contest. Pfeiffer responds, "I risked communicable diseases. She'll risk jail."
Hairspray is a feel good movie that reminded me of those old time MGM musicals. It is a bit tamer than the 1988 version. Penny's mom is less over-the-top this time around and Travolta's Edna is far more pleasant in appearance than Divine. Waters, who does a cameo as a flasher, has written, directed and acted in dozen's of movies, but this is his most recognized piece of work and it deserves to be.
Reviewed on:
August 8th, 2007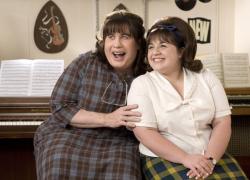 John Travolta and Nikki Blonsky in Hairspray.
Musicals have been back in vogue in Hollywood for the better part of a decade now. Hairspray is the most entertaining one thus far. Like Eric said the songs are nearly all infectious and up-tempo and will have you singing along after only one listen. Also like Eric said, it is a throw back in style to those old MGM musicals. The dance numbers are much less edited here than the ones in Chicago, to use an obvious example.
The cast are all excellent. Nikki Blonsky is a true find. It's as if she were born to play the role of Tracy Turnblad. Everyone else involved gives a great performance as well. One essential ingredient for a musical to succeed is for the cast to perform with enthusiasm. Well this cast seems the most eager than any other I've seen since Grease. Clearly John Travolta needs to make more musicals.
I loved the 1988 original version and am a huge John Waters fan. But I have no qualms in saying this version is better. The pacing is smarter for one thing. And the original always felt like it wanted to be a musical but just didn't have the guts to go for it.
Gel, mousse or aerosol Hairspray is pure entertainment in the most joyous sense of the word.
Reviewed on:
November 25th, 2007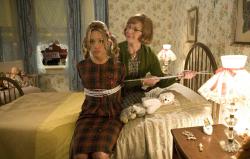 Amanda Bynes in Hairspray.
I was not a fan of the original and wasn't at all enthusiastic about seeing this updated musical version. I'd seen a couple of the songs performed live by the cast around town and found them pleasantly catchy enough, but certainly nothing so special that I wanted to race out and see the stage version of this movie. So after reluctantly throwing the DVD into the player, I was very surprised to find myself caught up in the movie's beat.
The songs, while there might be a bit too many of them, are all so fucking catchy that you're feet will end up moving on their own. And yes, the whole cast is terrific, with one caveat. Travolta is okay as Edna, but I didn't think anything special. It's such a gimmick having him play her. Why not just cast a woman in the role? And what accent was he trying to use? Am I the only one who thought he sounded a little Canadian? But that minor quibble aside, everyone else is terrific and, like Patrick said, throws themselves into their parts with an enthusiasm that is infectious.
Like Eric I thought Pfeiffer was great as Velma Von Tussle. With this and her role in Stardust she's been making quite a showing as a villain this year. She takes too it well and maybe playing villainesses could be an entire second career for her.
After just watching Margot at the Wedding yesterday and being thoroughly depressed by it, this movie was the perfect antidote. It'll plaster a smile on your face and then leave it there over the course of the whole movie.
Photos © Copyright New Line Cinema (2007)