Movie Review
Hail the Conquering Hero
MIRACLES DO HAPPEN!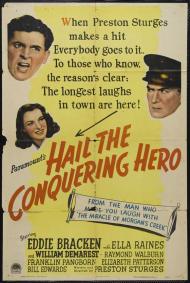 US Release Date: 08-09-1944
Directed by: Preston Sturges
Starring
▸
▾
Eddie Bracken

,

as

Woodrow Truesmith
Ella Raines

,

as

Libby
Raymond Walburn

,

as

Mayor Noble
William Demarest

,

as

Sgt. Heppelfinger
Franklin Pangborn

,

as

Reception Committee Chairman
Elizabeth Patterson

,

as

Martha - Libby's Aunt
Georgia Caine

,

as

Mrs. Truesmith
Al Bridge

,

as

Political Boss
Freddie Steele

,

as

Bugsy
Bill Edwards

,

as

Forrest Noble
Harry Hayden

,

as

Doc Bissell
Jimmy Conlin

,

as

Judge Dennis
Jimmie Dundee

as

Cpl. Candida
Reviewed on:
June 16th, 2011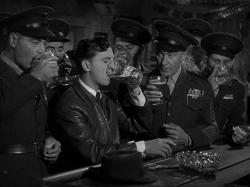 Eddie Bracken, William Demarest and fellow marines in Hail the Conquering Hero.
Although not remembered today aside from old movie fans, Preston Sturges was one of the screen's most talented comedy writer/directors. Hail the Conquering Hero was the seventh movie he wrote and directed in 4 years, following The Great McGinty, Christmas in July, The Lady Eve, Sullivan's Travels, The Palm Beach Story and The Miracle of Morgan's Creek. All of these movies are today considered classics and it remains one of the great achievements by any filmmaker.
Eddie Bracken plays Woodrow Lafayette Pershing Truesmith. As the story begins he is nursing the blues at a bar because he has been discharged from the marines for chronic hay fever. Enter six marines fresh from Guadalcanal. Between them they have just enough cash for a beer. After trying unsuccessfully to trade fake war memorabilia (in a clever scene) for drinks, they are bought a round by Woodrow.
They soon join him at the bar and quickly learn his story. It also turns out that the sergeant (William Demarest) served in the First World War with Woodrow's father, who died on the exact day Woodrow was born and who received the Congressional Medal of Honor. About the father Woodrow never met, the sergeant tells him, "He was a fine looking fellow. He didn't look anything like you at all."
Woodrow has always dreamed of following in his father's heroic footsteps. He can quote every battle the marines ever fought back to 1775 and does so to prove it. Anyway he has been fooling his mother back in his hometown into thinking he is off at war when in fact he has been working Stateside at a shipping plant for the past year.
To make a long story short the marines concoct a plot to get Woodrow home. They fabricate the idea that he was wounded in battle and is a returning hero. Woodrow goes along until - upon reaching his hometown - he is given a hero's welcome complete with marching bands and the key to the city from the mayor. There is also talk of a statue being erected in his honor and of Woodrow running for mayor himself.
Just how will our hero get himself out of this jam? You have to watch the movie to find out.
The supporting cast includes a funny turn by Raymond Walburn as the pompous, grammatically challenged mayor, "I accept the responsibility with a sense of both humility, satisfaction and gratitude." And Franklin Pangborn as the reception committee chairman with a penchant for drama, "Oh death where is thy sting?"
Hail the Conquering Hero is very funny and at the same time packs an emotional punch. Woodrow's climactic speech is guaranteed to put a lump in your throat and bring a burst of patriotism to your heart. Eddie Bracken gives the finest performance of his career as the frustrated and misunderstood Woodrow Lafayette Pershing Truesmith.

Photos © Copyright Paramount Pictures (1944)