Movie Review
The Guns of Navarone
Still! The Greatest High Adventure Ever Filmed!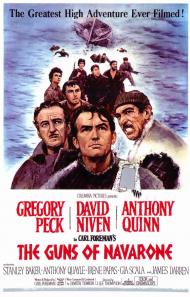 US Release Date: 04-27-1961
Directed by: J. Lee Thompson
Starring
▸
▾
Gregory Peck

,

as

Capt. Keith Mallory
David Niven

,

as

Cpl. Miller
Anthony Quinn

,

as

Col. Andrea Stavros
Anthony Quayle

,

as

Maj. Roy Franklin
James Darren

,

as

Pvt. Spyros Pappadimos
Irene Papas

,

as

Maria Pappadimos
Gia Scala

,

as

Anna
James Robertson Justice

,

as

Commodore Jensen/Prologue Narrator
Richard Harris

,

as

Squadron Leader Howard Barnsby RAAF
Stanley Baker

,

as

Pvt. 'Butcher' Brown
Peter Grant

,

as

British Commando
Bryan Forbes

,

as

Cohn
Allan Cuthbertson

as

Maj. Baker


Reviewed on:
August 15th, 2006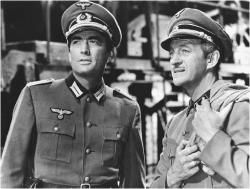 Gregory Peck and David Niven in The Guns of Navarone.
With a quick paced plot, interesting characters and some great on location filming, The Guns of Navarone is quite simply the best World War II action/adventure movie ever made!
Captain Mallory and Colonel Stavros lead a small group of men on a secret mission behind enemy lines, in occupied Greece, to blow up some huge guns that have been sinking ships in a channel of the Aegean sea. Mallory and Stravros have bad blood. They work to destroy their common enemy, The Nazi's, but Stavros is holding a serious grudge against Mallory. Also in the group is Corporal Miller who is an explosives expert. He has a complete lack of enthusiasm for the mission, as well as the military itself. Private Brown has the nickname of The Butcher of Barcelona but is he as good a killer as he is given credit? Youngest in the group is Private Pappadimos who is related to Greek resistance members. In Greece they are joined by Pappadimos's sister and her friend, Anna.
Shot in Greece, The Guns of Navarone makes full use of the landscape as well some ancient ruins. They filmed in a city and it appears as if half the town's population were extras. The characters jump from one action sequence to another. Several scenes play out with no dialogue. The director was smart enough to let the character's actions speak for themselves. The action scenes are not just there for action sake, but for a specific reason in advancing the plot.
The movie has the expected action climax but it likewise has a dramatic one. After Miller discovers someone has destroyed his explosives, he suspects someone in the group is a traitor. The scene is Niven's and Peck's best. The scene ends with, the usually cool headed, Mallory losing his temper with this memorable line. "You got me in mood to use this thing, and by God, if you don't think of something, I'll use it on you!"
Most action movies become quaint over time. Although made in 1961, The Guns of Navarone is still as exciting today as it ever was!
Reviewed on:
March 14th, 2014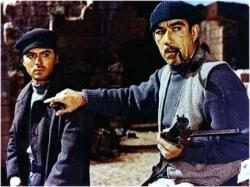 James Darren and Anthony Quinn in The Guns of Navarone.
The Guns of Navarone is that rare movie that actually surpasses the book upon which it is based. As Eric wrote, it has aged amazingly well. The same cannot be said about the book. Producer and writer Carl Foreman, the screenwriter of High Noon, who had been blacklisted in Hollywood for refusing to name names before the House on Un-American Activities in the early 1950s, took Alistair MacLean's straightforward adventure tale and beefed up the backstory and brought some small depth to the lead characters. He also introduced a couple of female characters, where the novel is completely populated by men, and added a note of war weariness to the characters that is absent from the gung-ho plot of the book. It is in every way superior and a terrific, epic action/adventure film even more than 50 years after its release.
At first glance the lead actors all seem too old for this movie. Peck, Quinn and Quayle were all in their forties, while Niven was around fifty during production. They're not exactly the image of hardened commandos that could climb cliffs during thunderstorms and take out large groups of Nazis in a gunfight. However, after seeing them in character, it becomes difficult to imagine anyone else in those roles. They make the action seem just believable enough, but more importantly, they spark off of each other brilliantly, particularly the main trio of Peck, Niven and Quinn.
One of the big improvements from the novel is the conflict Forman created between the characters. Peck's Mallory shares a dark past with Quinn's Andrea that is absent from the book where they are loyal best friends. And Eric already mentioned the scene between Peck and Niven where Niven unmasks the traitor and berates Peck for his actions earlier in the film that endangered another of their comrades. It's the film's most dramatic scene and it questions the nature of war and the blind obedience of orders. It's the type of scene you would never have seen in a war film just a few years earlier. Although I should add that even with this scene, this isn't an overly deep film. It's meant to be sheer entertainment and that's exactly what it is.
I am almost always the first person to accuse a movie of running too long. This one however, fully earns its 2 hour and forty minute (including a short intermission) running time. There's almost no filler and each scene sweeps you into the next, with plenty of action amidst the drama that keeps the pace moving briskly along.
The film was a huge hit when it was released, becoming the highest grossing film of 1961. It was also nominated for 7 Oscars, including Best Picture, although it would only take home one for special effects. It was Hollywood spectacle then and it remains so to this day. For pure adventure, it's hard to top this one.
Reviewed on:
March 29th, 2014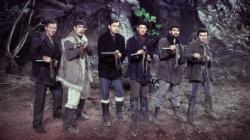 Anthony Quayle, Anthony Quinn, Gregory Peck, David Niven, Stanley Baker, and James Darren in The Guns of Navarone.
Not that it matters, but there is no real island called Navarone. On the surface, The Guns of Navarone is an old fashioned, gung ho, take no prisoners WWII adventure picture. It stars larger than life actors and features plenty of rousing action done with high production values. As Scott suggested, there is also an underlying antiwar message; most notably in that final confrontation between Peck and Niven, that Eric also wrote about. Gregory Peck publicly expressed his disappointment over the fact that so many members of this movie's vast audience failed to get this point. Or at least failed to acknowledge this aspect of the story. I think perhaps he was mistaken. I don't think they necessarily failed to get it but that they simply agreed with the movie itself which, although it gives permission to question the morality of war and the decisions we make under duress, ultimately reaches the conclusion that there are wars that must be fought for self-preservation alone. Sometimes there is no other choice but to stand and fight.
That said, The Guns of Navarone isn't the most realistic of war movies. It uses many Hollywood tropes of the genre and it is all a bit too colorful and stagey by today's standards. But it is also quite modern in the quality of the special effects and the scale on which it was made. I agree with Eric about the brilliant use of its historic locales. Picture it: 20th Century soldiers traipsing through 2,000+ year old ruins with the sun setting over distant hills on one side and its reflection rippling away in the blue waters of the Aegean Sea on the other.
Then there is the cast. Gregory Peck provides the dogged heart of the mission as Capt. Mallory, chosen for his rock climbing expertise. Anthony Quinn is in his usual rustic, macho, strongman mode as Colonel Andrea Stavrou, widowed soldier from the defeated Greek army. He's inwardly grieving for his lost family and possibly plotting revenge against Mallory, who he blames for their deaths. David Niven is underused, and definitely too old for the part of Corporal Miller, but he gives it his all and brings his own distinct brand of English panache to the proceedings.
The supporting cast isn't as well known as those big three are, but it's still impressive enough. Anthony Quayle spends most of the movie on his back on a stretcher, as their wounded leader Major Roy Franklin. He nonetheless has an important role to play in the execution of their mission. Stanley Baker, a major star at the time, surprised many with his decision to take the relatively small part of Butcher Brown, but his total commitment is demonstrated by his effectiveness in just a few short scenes. Lastly there is teen idol James Darren, attempting to transition his image into adulthood. He looks the part of Pvt. Spyros Pappadimos but he was entrusted with only a handful of lines. Even in his big scene, where he reunites with his sister (Irene Papas), she handles the majority of the dialogue and gets the most screen time.
This epic war movie tells a fictitious story that was based on similar true events. As Scott pointed out, it is long but well-paced. It gives the audience time to get to know these men as they gather together and begin their perilous journey on a decrepit fishing boat. The first exciting battle scene occurs quickly thereafter when they are stopped by a German boat and boarded. A skirmish follows and the action never really lets up after that, except for a few brief scenes of quietly intense conversations that allows the audience to catch their collective breath. Even though they never really existed, The Guns of Navarone is one helluva war picture.
Photos © Copyright Columbia Pictures Corporation (1961)
Related Review