Movie Review
The Guilt Trip
Get ready for one mother of a road trip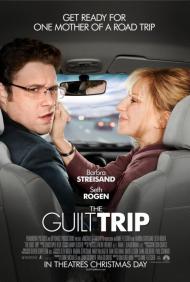 US Release Date: 12-19-2012
Directed by: Anne Fletcher
Starring
▸
▾
Barbra Streisand

,

as

Joyce Brewster
Seth Rogen

,

as

Andy Brewster
Brett Cullen

,

as

Ben Graw
Adam Scott

,

as

Andrew Margolis, Jr.
Ari Graynor

,

as

Joyce Margolis
Casey Wilson

,

as

Amanda
Colin Hanks

,

as

Rob
Yvonne Strahovski

,

as

Jessica
Jeff Kober

,

as

Jimmy
Miriam Margolyes

,

as

Anita
Kathy Najimy

,

as

Gayle
Dale Dickey

,

as

Tammy
Nora Dunn

as

Amy

Reviewed on:
December 20th, 2012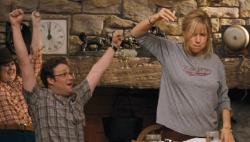 Seth Rogen and Barbra Streisand in The Guilt Trip.
The legendary Barbra Streisand hasn't had a starring role in a movie since The Mirror has Two Faces late in the last millennium. As a huge fan of more than 30 years it was with great anticipation that I went to see her latest film called The Guilt Trip. While it isn't her best movie it certainly is better than most reviewers are giving it credit for. But then Streisand has always been a polarizing force of nature. You either love her or hate her.
Directed by Anne Fletcher (The Proposal) from a script by Dan Fogelman (Crazy, Stupid, Love) based on a real life trip he took with his mother years ago, The Guilt Trip has Barbra Streisand playing Seth Rogen's mother. He's a nebbishy, thirty-ish inventor with an organic cleaning product he's trying to sell. After a quick stop to visit his fifty-something widowed mother in New Jersey, he invites her along on his cross country road trip. The two of them set off in a tiny rental car and neither of their lives will ever be the same.
The humor in the movie is gentler and more heartfelt than what has been shown in the various trailers. In fact several clips from the trailers are only included as outtakes during the end credits, including the slapstick moment of Streisand's daredevil driving. And other than one scene where Streisand mentions her son's penis once turning purple, the jokes stay above the level of frat boy humor expected in most Seth Rogen comedies.
The chemistry between Streisand and Rogen is where the movie sparkles. They have a natural rapport and make a believable mother and son. He's eternally embarrassed by her overbearing concern for his well being and she's constantly offering advice about his career and love life. As their trip continues the movie gathers steam. By the time they are having that heated argument in a motel room one night you will find yourself fully invested in their story. Both actors get to sink their teeth into this scene, especially Streisand, who seems to relish the chance to tell off her grownup son.
The woman may be 70 now but she looks years younger and she has lost none of her magnetism or comic timing. She has no equal in her ability to deliver a line and make it funnier than it looked on paper. And what's more she can convey genuine emotion with just a simple look. As Joyce Brewster she gives what is arguably her most natural and relaxed performance in any of her 19 movies to date. The casual attire of the character helps. This is a decidedly less glamorous Streisand than she usually plays onscreen.
Seth Rogen spends the movie reacting to his mother's inappropriate comments and antics. He is fine in the part but is also content to let Streisand carry the show. Among other humorous moments, she gets to play her first ever drunk scene, has to eat a 50 oz steak with all the trimmings in under an hour (see photo), and at one point hilariously gets in the wrong car after a quick pit stop.
The Guilt Trip is a nice little mother/son road trip comedy. It has plenty of heart and a feel good ending where everything is neatly tied up with a bow. It will make you smile and chuckle even if it doesn't have many truly gut busting moments. The script could have been funnier but Barbra Streisand and Seth Rogen manage to sell it in such a winning fashion that it doesn't really matter. The end result is a warmhearted comedy that should be seen together by mothers and sons everywhere.
Reviewed on:
December 23rd, 2012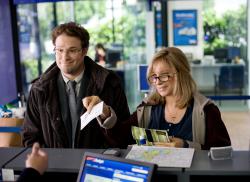 Seth Rogen and Barbra Streisand in The Guilt Trip.
I agree with pretty much everything Patrick wrote, only with slightly less enthusiasm. Streisand and Rogen do share a nice familial chemistry. The movie does get stronger as it goes along. And the humor is much less broad than the previews would have you believe.
The reason the movie gets better as it goes along is because the characters become more human as the story goes on. It isn't until Joyce and Andy start yelling at each other in the motel room that they stop being caricatures. Before that, Joyce is a rather dim, upbeat, stereotype of a Jewish mother, while Andy is simply grumpy. Once they open up to each other and start to get along, the movie warms up to a greater degree.
Watching the final result and comparing it to the previews, gives the feeling that the producers of this film weren't sure what to do with it. Was it a broad comedy or a heartwarming one? While the broad comedy is toned down in the finished film, there are still remnants of it. Joyce is unrealistically unaware of how much she embarrasses her son at the beginning and the idea that he would bring her along to his business meetings is silly. These leftover broad jokes mixed with the more heartfelt ones gives the movie a schizophrenic feel.
Like Patrick I had no problem believing Streisand was playing a 50 something mother. It's the fact that she's actually 70 that's hard to believe. I'm not the dedicated, hardcore fan of her's that Patrick is, but I am someone who appreciates her many talents and despite a few nice moments, this movie is a waste of them. The real tragedy of this film will be if the negative reaction to it prevents her from making another movie that is more worthy of those talents.
There are a few funny moments and by the end of the film I was glad to see a happy ending for Andy and Joyce, but the strongest feeling that I had was that this was a wasted opportunity. Streisand and Rogen are so good together that I couldn't help but wish the script had lived up to their chemistry.

Reviewed on:
December 25th, 2012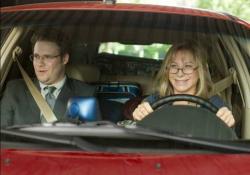 Seth Rogen and Barbra Streisand in The Guilt Trip.
Barbra Streisand refused to play the role of Joyce Brewster until all of her demands were met. This included keeping the shooting schedule to her preferred hours, with evenings and weekends off. Her biggest demand was that the studio build the film's sets in a warehouse closer to her home so the diva would not have to schlep her old ass all the way to the studio. Judging by the middling opening week box office returns, the efforts the producers went into making Streisand happy may not have paid off.
This is not to say that she does not do a good job in the role. As a Jewish mother of a single, middle aged son in real life, Streisand is easily convincing in the part. This makes for a sincere portrayal but not a particularly funny one. Everyone in the audience can likely see something of their own mother in Joyce as she attempts to be a part of her son's life. As my brothers wrote, she and Rogen make very believable relatives. The problem with The Guilt Trip is not in the cast, but the script.
Most of the film contains a level of realism and as my brothers wrote, we come to like the two leads. However, the script too often takes a side trip into the absurd. One time is when the practically shut in Joyce goes into a motel bar and makes friends with some men who are willing to kick her son's ass just for the chance to have sex with her. Another is the steak eating scene. I get that the joke is a play on the Jewish Joyce going to great length to get a free meal, but it really is a departure from the tone of the story. Not only does she get the whole restaurant to cheer for her, she ends up getting a date from a handsome Texan.
My wife and I liked the ending but it was not all that exciting. Mother and son develop a new understanding for each other. The son's business prospects improve and Joyce decides to take that date from the Texan once he comes to New York. Streisand does not travel far for work, she sure as hell is not going to go to Texas for a date.
Photos © Copyright Paramount Pictures (2012)