Movie Review
The Guardian
When lives are on the line, sacrifice everything.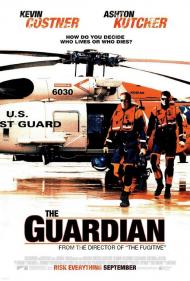 US Release Date: 09-29-2006
Directed by: Andrew Davis
Starring
▸
▾
Kevin Costner

,

as

Ben Randall
Ashton Kutcher

,

as

Jake Fischer
Sela Ward

,

as

Helen Randall
Melissa Sagemiller

,

as

Emily Thomas
Clancy Brown

,

as

Capt. William Hadley
John Heard

,

as

Capt. Frank Larson
Neal McDonough

,

as

Jack Skinner
Brian Geraghty

as

Billy Hodge

Reviewed on:
October 5th, 2006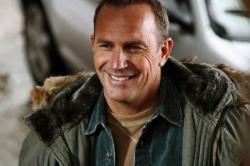 Kevin Costner in The Guardian.
Andrew Davis worked with Harrison Ford on one of his last great action flicks, The Fugitive. He also directed Arnold Schwarzennegger in his last decent one, Collateral. Now he directs the 50 year old Costner in what may be his last attempt at an action movie.
Costner plays Ben, seasoned Coast Guard swimmer. He rescues people from sinking ships and from being stranded in the ocean. The movie makes no excuses for his age. He just likes the job even though he is too old for it. He likes it so much that he spends too much time at it and his wife, played by The Fugitive alumni, Sela Ward, is divorcing him. After a disaster at sea, that ends up with lots of corpses, Ben gets transferred to a Coast Guard "A" School where they train Coast Guard recruits.
Kutcher plays your typical "A" personality type, Jake. He vows to break all of the school's swimming records, most of which were set by Ben when he was there several decades ago. Before you can say An Officer and a Gentleman, Costner and Kutcher are making like Richard Gere and Louis Gossett Jr. Costner rides Kutcher as they bond. There is even a scene, that Annapolis stole as well, from An Officer and a Gentleman, earlier this year. At one point Kutcher is in trouble and has to exercise to exhaustion while Costner sprays him with a hose. I am not sure how often the military actually uses that form of discipline but according to Hollywood it must be very common.
The movie moves along at a predictable pace. They each learn to like and respect each other. Both guys play by their own rules as much as they can and both have secrets. You just know they will end up in a tense rescue sequence together at the end.
Costner has always bounced around light dramatic roles. He fares very well here. He is never required to stretch anywhere outside his normal realm of acting. Kutcher has a scene where he actually has to shed some tears. I am not betting on an Oscar nomination, but he is good enough for what this movie asks of him.
The Guardian is book ended by a few good action sequences. The middle is all filler. Jake dates a local girl and has another An Officer and a Gentleman moment when he visits her at her place of work at the end of the movie. Add some side plots with other Coast Guard recruits and you have too much distraction from the true entertainment of the film, the water rescue scenes. They are tense and exciting. The character's drama and problems are less exciting than your average soap opera. If a movie is going to last 136 minutes, it better have lots more action than this.
Photos © Copyright The Walt Disney Company (2006)