Movie Review
Grumpy Old Men
A Fifty-Year Fight.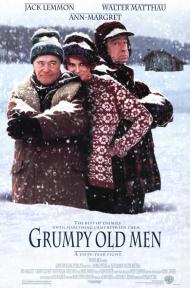 US Release Date: 12-25-1993
Directed by: Donald Petrie
Starring
▸
▾
Jack Lemmon

,

as

John Gustafson
Walter Matthau

,

as

Max Goldman
Ann-Margret

,

as

Ariel Truax
Burgess Meredith

,

as

Grandpa Gustafson
Daryl Hannah

,

as

Melanie
Kevin Pollak

,

as

Jacob Goldman
Ossie Davis

,

as

Chuck
Buck Henry

as

Snyder


Reviewed on:
October 19th, 2003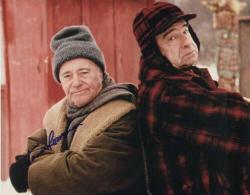 Jack Lemmon and Walter Matthau in Grumpy Old Men.
I remember as a child, my mother taking me and my brothers to visit some great aunt at a nursing home. What I remember most about the trip is looking in the rooms as we walked down the hall. Each room had an old occupant who looked expectantly at the door as we passed. I got the feeling that they hoped we had come to visit them. I don't dread old age. But it would suck to be all alone. Grumpy Old Men takes two ornery old farts who live alone and allows them to realize that they are anything but.
Jack Lemmon and Walter Matthau star as two widowers and rival Minnesota fishermen, John and Max. They live next door to each other as they have their entire lives. They fight on a daily basis and play many juvenile tricks. They address each other as 'Putts' and 'Moron'. At one time they each loved the same woman who ended up marrying Lemmon. When Ariel (Ann-Margret) moves in across the street, the rivalry hits a new stride.
The laughs come fast and often. John's father (Burgess Meredith) steals every scene he is in. His raspy voice adds much to such lines as, 'I'll tell you what's on my mind. It's butt cold out here.' Or when John tells him he should smoke filtered cigarettes, he replies, 'I'm 94 years old. What the hell do I care?' His big advice for John in matters of Ariel is to, 'Mount the woman.'
The loves story between John and Ariel is nice enough, however, it is the relationship between John and Max that gives this movie heart. In a brief, but immensely poignant scene, Max goes to visit John in the hospital and the nurse asks him if he is family or friend. Max pauses. Then he slowly answers, 'Friend.' It is a revelation for Max to actually say the word.
If there is anything to learn from this movie it is that growing old can be a hoot, as long as you can grow old with someone who can still get a rile out of you.
Reviewed on:
February 28th, 2009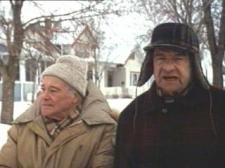 Jack Lemmon and Walter Matthau; two old pros who are dearly missed.
Eric, you are so right. Burgess Meredith is fucking awesome in this movie. I laughed until I nearly cried during the outtakes at the end of the movie when he's ad-libbing lines about what Walter Matthau is up to. And his funniest line in the movie is, "He's taking old one-eye to the optometrist." Something about the way he delivers his lines just makes me laugh. I also love how he refers to John and Max as "just kids."
The relationship between John and Max is a funny and genuinely touching one. Although they spend most of the movie fighting, without the other, each of their lives would be much emptier than it is. And the scene you mention at the hospital Eric is a great one. When Max answers the nurse's question you can see on his face as his mind struggles to even define what his relationship is to John and the surprise it registers when he realizes that he is in fact John's friend.
While there are some genuine emotions going on, this is first and foremost a comedy and it delivers plenty of laughs. Matthau and Lemmon are two old pros with a great sense of comic timing and a terrific chemistry that can only come after decades in the entertainment business.
This was actually the very first time I saw this movie. Somehow I missed it when it came out and I'm sorry now that it took so long for me to see it. I'm sadder still that Lemmon, Matthau, Meredith and Davis are all no longer with us, but at least we have movies like this to remember them by.
Reviewed on:
November 2nd, 2011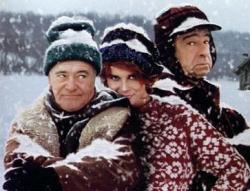 Ann-Margret comes between Jack Lemmon and Walter Matthau in Grumpy Old Men.
With last weekend's freak early snowstorm here on the East Coast it seems appropriate that I've been reviewing movies set in a snowy landscape lately. Ghost Story, The Thing and now Grumpy Old Men all take place in winter. Grumpy Old Men is a nice movie to welcome in the holiday season as it includes scenes set at both Thanksgiving and Christmas.
Although it's always more fun to disagree, I have to admit my brothers are exactly right. This movie is funny as hell and incredibly heartwarming. The talented cast keeps it from becoming schmaltzy. The universal themes of old-age, loneliness and friendship are all handled beautifully.
I was in my 20's the first time I saw it and the stage of life John and Max are in seemed incredibly distant to me then. Now nearly 20 years later it's a bit scary how fast the time goes. I'm sure this movie will only grow in poignancy for me as I get older.
Eric and Scott both mentioned Matthau's great moment at the hospital. The look on his face is brilliantly acted. It's touching and revelatory. Lemmon's best scene is when he breaks-up with Ann-Margret because he feels sorry for Matthau's character. He gets some righteous anger in his voice but you can also see how much pain it is causing him.
Eric, I remember those nursing home visits as well. As a kid I was always fascinated with old people. I loved talking with them about the olden days. Grumpy Old Men shows that just because you are older physically it doesn't mean you should stop living life to its fullest.
Just for the record my favorite Burgess Meredith quote is, "He's taking the skin boat to tuna town."

Photos © Copyright Warner Bros. (1993)