Movie Review
Grown Ups 2
They'll do anything for their families... except grow up.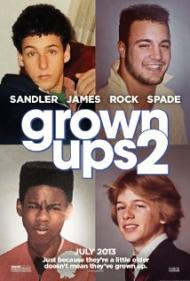 US Release Date: 07-12-2013
Directed by: Dennis Dugan
Starring
▸
▾
Adam Sandler

,

as

Lenny Feder
Kevin James

,

as

Eric Lamonsoff
Chris Rock

,

as

Kurt McKenzie
Salma Hayek

,

as

Roxanne Chase-Feder
David Spade

,

as

Marcus Higgins
Maya Rudolph

,

as

Deanne McKenzie
Maria Bello

,

as

Sally Lamonsoff
Nick Swardson

,

as

Nick
Steve Buscemi

,

as

Wiley
Colin Quinn

,

as

Dickie Bailey
Tim Meadows

,

as

Malcolm
Jon Lovitz

,

as

Squats Fitness Janitor
Shaquille O'Neal

,

as

Officer Fluzoo
Alexander Ludwig

,

as

Braden
Georgia Engel

,

as

Mrs. Lamonsoff
Taylor Lautner

,

as

Frat Boy Andy
Peter Dante

,

as

Officer Dante
Oliver Hudson

,

as

Kyle
Allen Covert

,

as

Hippie Teacher
Steve Austin

,

as

Tommy Cavanaugh
Milo Ventimiglia

,

as

Frat Boy Milo
Jake Goldberg

,

as

Greg Feder
Cheri Oteri

,

as

Penny
Dan Patrick

,

as

Gym Teacher
Norm Crosby

,

as

Kmart Employee
Andy Samberg

,

as

Male Cheerleader
Jorma Taccone

,

as

Male Cheerleader
Bobby Moynihan

,

as

Male Cheerleader
Akiva Schaffer

,

as

Male Cheerleader
Taran Killam

,

as

Male Cheerleader
Paul Brittain

,

as

Male Cheerleader
Erin Heatherton

,

as

Ginger (Head Cheerleader)
Patrick Schwarzenegger

,

as

Frat Boy Cooper
David Henrie

as

Frat Boy

Reviewed on:
July 18th, 2013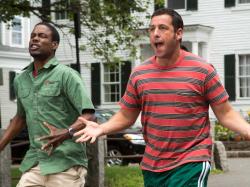 Chris Rock and Adam Sandler in Grown Ups 2
Adam Sandler and company will never be accused of maturity. Sandler's films will never be mistaken for intellectual comedy. His films are juvenile and he knows it. He revels in it. The Grown Ups films are not trying to be anything but childish humor. Accept that and you will not be disappointed.
In the first film, Sandler took his family to the small town he grew up in for a vacation. As this sequel opens we discover that he has moved his family there. The film never says exactly where "there" is. It is one of those Hollywood versions of a small town, where everyone knows everyone and no one seems to have any responsibility and no one takes anything very seriously.
The entire film takes place on the last day of school. It starts with Sandler's family waking up to find a deer in their home and it climaxes that night in their backyard where they throw an 80's themed party. There is no actual plot, just a series of skits with one-liners, some occasional punch lines and lots of running gags.
Although a plot is almost completely absent, plenty of things happen. During the course of this day, Sandler deals with a stoned bus driver, his wife going on about having another baby, a fraternity that wants to fight him and his middle aged friends. Kevin James is dealing with his wife and mommy issues. Chris Rock gets a pass when his wife forgets their anniversary while he does not. David Spade has another one of his children show up out of nowhere.
The role of their children is increased. Chris Rock's daughter has a date with his arch nemesis's son. Kevin James's son is stupid and they encourage it thinking it will build his confidence. His daughter likes Sandler's youngest son.
Sandler's oldest son is in love with the hot girl in school. Sandler calls him "Fugly" and says that should not stop him from getting a hot girl. Sandler points to the fact that he is married to Salma Hayek, which only makes sense in a Hollywood movie. Sandler never tells his son that it also helps that his character is notably rich. He goes on to advise his son to make the girl smile, compliment her smile and then tell her she has to go out with him that night. Of course it works, but then this film admits to not existing in the real world.
As long as you can enjoy Three Stooges type humor, you will find some entertainment here. There are plenty of sight gags. David Spade taking a ride in a large tire seems right out of a 1930s short. Kevin James and his wife eagerly pull into a college car wash given by cheerleaders but end up getting their car washed by the male cheerleaders in tiny tight shorts.
Most of the film's jokes are aimed at 12 year olds, with some of the better jokes coming courtesy of new players. The wanna-be rapper talks through his nose and has hair reminiscent of Larry Fine. Taylor Lautner has a decent moment with an elaborate fraternity hand shake. "We'll finish it later." "You promise?"
I enjoyed trying to keep up with all of the recognizable faces and cameo appearances. Most of the Sandler regulars show up, with the one notable absence being Rob Schneider. Making this movie must have seemed more like a party for this cast than actual work. There was no real "acting" required. It seemed as if they all just showed up, smiled, said a few lines and cashed their checks. Nice work if you can get it, but couldn't the writer have spent more time on the script? Hmmm, maybe there was no script.
Photos © Copyright Columbia Pictures (2013)
Related Review