Movie Review
How the Grinch Stole Christmas
You'd better watch out.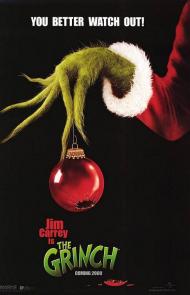 US Release Date: 11-17-2000
Directed by: Ron Howard
Starring
▸
▾
Jim Carrey

,

as

Grinch
Jeffrey Tambor

,

as

Mayor Augustus Maywho
Christine Baranski

,

as

Martha May Whovier
Molly Shannon

,

as

Betty Lou Who
Anthony Hopkins

,

as

Narrator
Taylor Momsen

,

as

Cindy Lou Who
Clint Howard

,

as

Whobris
Mindy Sterling

as

Clarnella


Reviewed on:
November 19th, 2000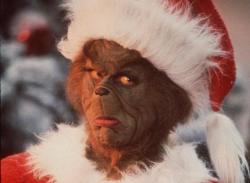 Jim Carrey in How the Grinch Stole Christmas.
The retelling of The Grinch Who Stole Christmas is more rousing than drinking San Miguel beer at a bullfight, more fun than singing along to a mariachi band after doing tequila shots, and more cheery than a game of Southern Comfort Risk. (you know, where you takes drinks every time you loose a piece.)
Jim Carrey is at top form here. This is a hammy role and other than perhaps Robin Williams, who better than Carrey to take on the part. He is hardly recognizable with the costume on. But he spouts one liners very quickly. They come so fast and casual that they all sound ad-libbed. "Blast this Christmas music. It's joyful and triumphant."
Ron Howard's direction is very faithful to the original. The very busy town of Whoville often seems lifted right off the illustrations from the cartoon. The people are different sizes and the houses just as abstract.
Howard takes a few liberties. The sled flies down mount Crumpit instead of sliding. Their is an entirely new preface added to show the history of the Grinch. It is sometimes entertaining, and sometimes tedious filler. The Grinch dancing around the Post Office seems a bit concocted, but Carrey is so animated that the scenes move right along. The slow Christmas song Cindy Lou sings stops the movie dead. I always skip it on DVD.
Carrey's performance keeps the film lively. My favorite in the entire movie is when The Grinch stands on the mountain hating the Whos. By the end of the movie you will be smiling with Christmas spirit. singing along to that unpronounceable who Christmas carol. If you're full of the holiday spirit or better yet, if you're looking for the holiday spirit, look no further than this entertaining movie.
Reviewed on:
November 22nd, 2000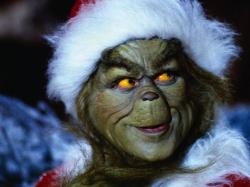 Jim Carrey in How the Grinch Stole Christmas.
Filled to the brim with Holiday cheer, The Grinch will most assuredly become a classic Yuletide tradition. Every child in the theater was laughing gleefully throughout most of the picture. Eric is right about Jim Carrey giving a great performance, he is wonderfully sinister, pitiful in a whimsical sort of way and frightfully funny. At different points in the story of course. He even manages to be heart-wrenching near the film's conclusion. Bravo!
I must also concur with Eric on the look of the movie being flawless. Watching it is like being inside of a snow-shaker.
Christine Baranski is very good as the Grinch's love interest. For an adult her participation is particularly rewarding. This movie is somewhat harder to watch for us grown-ups than either The Wizard of Oz or Willie Wonka. But I am old enough to know that movies like this always seem to improve with age. In ten years I will probably be at the head of the line calling this a classic. Anyway time will tell.
Ron Howard does his best to stretch this into a full-length movie, yet it seems a bit forced. The Who's were easier to care about when they were a little less real. The background story of his Greenness is unnecessary and adds little to the plot. Still this is nit-picky stuff that should not deter from most people's enjoyment of this most merry movie.
Reviewed on:
November 24th, 2000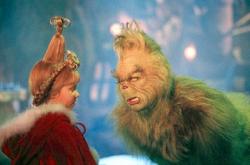 Taylor Momsen and Jim Carrey in How the Grinch Stole Christmas.
I agree with Eric that this movie is fun. And yet at the same time, it manages to be touching as well, and without ever being sappy or overly sweet. A rare feat these days.
I disagree with Patrick that The Wizard of Oz is easier for adults to watch. Whatever love I had for OZ, I left behind along time ago, but the Grinch, and this could simply be to it's newness, I enjoyed and can see myself watching it every year.
Jim Carrey, like many comics, has not been given the respect he deserves, which is a shame, because, as he does in this movie, he turns in great performance after great performance.
As both Patrick and Eric mentioned, the look is great, the sets are great, the movie is great.
True Christmas classics come along only rarely. It's a Wonderful Life, Miracle on 34th Street, A Christmas Story, and now I think you can clearly add The Grinch to that list.
Photos © Copyright Universal Studios (2000)