Movie Review
Grey Gardens
The original documentary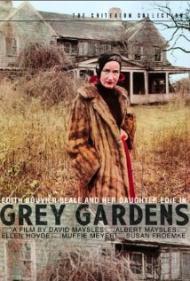 US Release Date: 09-27-1975
Directed by: Albert Maysles, David Maysles, Ellen Hovde, Muffie Meyer
Starring
▸
▾
Edith (Little Edie) Bouvier Beale

,

as

Herself
Edith Bouvier Beale

,

as

Herself
Brooks Hyers

,

as

Himself - Gardener
Norman Vincent Peale

,

as

Himself (voice)
Jack Helmuth

,

as

Himself - Birthday Guest
Albert Maysles

,

as

Himself
David Maysles

,

as

Himself
Jerry Torre

,

as

Himself - Handyman
Lois Wright

as

Herself - Birthday Guest
Reviewed on:
May 7th, 2013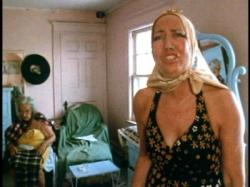 Big Edie and Little Edie in Grey Gardens.
Grey Gardens premiered at the New York Film Festival in September of 1975. This straightforward documentary by the legendary team of Albert and David Maysles (they had previously filmed documentaries on such luminaries as Orson Welles, Marlon Brando, and The Beatles, as well as directing Gimme Shelter chronicling the Rolling Stones' 1969 tour that culminated in the Altamont tragedy) tells the story of a mother and daughter both named Edith Beale.
Known as "Big Edie" and "Little Edie", they lived together for decades in their decaying mansion in the East Hamptons. They probably would have died in obscurity if not for the fact that they were aunt and first cousin, respectively, to former First Lady and reigning national treasure, Jacqueline Bouvier Kennedy Onassis. In the early 1970s The National Enquirer dug up the story of these fading former socialites living in opulent squalor in a cat, raccoon and flea infested 28 room mansion. They had an ocean view but no running water. Onassis paid to have the place restored and this film was shot several years later when it was already returning to ruin.
Grey Gardens simply turns the camera on these women and observes them as they go about their daily lives. They are both fascinating train wrecks. Big Edie spends most of her time in bed, with a hotplate within easy reach. In one scene she boils corn on the cob and serves it to her company, without getting out of bed. She was an aspiring singer and finds any excuse to suddenly break into song. Little Edie will usually join in until her mother starts criticizing every note she sings.
Little Edie is like a 56-year-old teenager. Living with her mother and never marrying or getting out on her own has made her the world's oldest adolescent. She is constantly complaining about how her mother ruined her life, as if she had no say in the matter herself. She flits around in a manic state as she fancies herself a dancer. She keeps her head constantly covered with anything handy including a bath towel or any other article of clothing. Her look has become quite iconic.
Grey Gardens has become a cult classic among documentaries. It spawned a hit Broadway musical as well as an HBO film about the Beale's starring Jessica Lange and Drew Barrymore. What makes their story so intriguing is their background and story arc. These women once moved with ease at the very pinnacles of American society but by the time of this film they were living like its poorest citizens.
Clearly these women have a tenuous grasp on reality. Oh but the stories they tell. Spending time with Big Edie and Little Edie is addictive. They are two idiosyncratic personalities who both clearly relish the spotlight. Their story is a sad one but it also illuminates the indomitable nature of the human spirit.
Photos © Copyright Portrait Films (1975)