Movie Review
The Greatest Story Ever Told
George Stevens presents The Greatest Story Ever Told!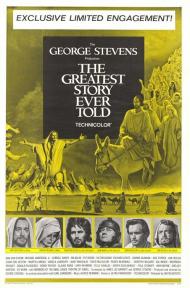 US Release Date: 02-15-1965
Directed by: George Stevens
Starring
▸
▾
Max von Sydow

,

as

Jesus
Michael Anderson Jr.

,

as

James the Younger
Carroll Baker

,

as

Veronica
Pat Boone

,

as

Young man at the tomb
Victor Buono

,

as

Sorak
Richard Conte

,

as

Barabbas
Jose Ferrer

,

as

Herod Antipas
Van Heflin

,

as

Bar Amand
Charlton Heston

,

as

John the Baptist
Martin Landau

,

as

Caiaphas
Angela Lansbury

,

as

Claudia
Roddy McDowall

,

as

Matthew
Dorothy McGuire

,

as

The Virgin Mary
Sal Mineo

,

as

Uriah
Nehemiah Persoff

,

as

Shemiah
Donald Pleasence

,

as

The Dark Hermit/Satan
Sidney Poitier

,

as

Simon of Cyrene
Claude Rains

,

as

King Herod
Telly Savalas

,

as

Pontius Pilate
John Wayne

,

as

Roman Guard
Shelley Winters

,

as

Woman of no name
Ed Wynn

,

as

Old Aram
Kyle Johnson

as

Young Simon of Cyrene
Reviewed on:
August 14th, 2004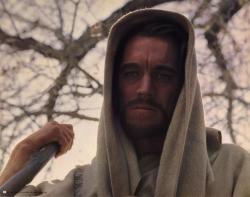 Max von Sydow in The Greatest Story Ever Told.
The Greatest Story Ever Told is George Stevens' epic version of the life of Jesus Christ. Various locales in Utah, California, Arizona and Nevada doubled for The Holy Land. Besides the draw of the story itself, the scenery and cinematography are the best things it has going for it. The David Leanish panoramic vistas, interspersed between long stretches of talking, are a welcome relief. The shot of the Last Supper is a sublime recreation of the painting and is truly a work of art that (literally) has to be seen in its original letterbox format to be appreciated.
Unfortunately - even for its subject matter - the movie takes itself far too seriously. Max von Sydow looks and speaks in a Jesus-like manner but he never really humanizes him. After a while his Jesus starts to sound like a stern teacher who really loves to hear himself pontificate. There isn't a sense of humor in sight. While this worked for Mel Gibson's Christ it doesn't here because this movie attempts to tell his entire life story. Such a task requires more of a developed character, representing a full human life, than we are shown.
Another problem is the fact that this movie is uneven in tone. Released in 1965 it was trying, on the one hand, to portray a more naturalistic and realistic world than in most previous Biblical Epics. Compared to The Ten Commandments for example, it's nearly a documentary. The one Hollywood trapping it didn't part with, however, was the inclusion of a big name cast and numerous cameos by famous stars. Charlton Heston plays John the Baptist as an overly earnest used car salesman and Donald Pleasence is Satan as a slob. And while this detracts from the overall quality of the movie it does add a bit of trivia fun in trying to spot all the familiar faces.
There's a famous story about the making of this movie that is more entertaining than the movie itself. John Wayne - in one of the greatest examples of "what-were-they-thinking?" casting in history - has one line as a Roman centurion. After Jesus is crucified and the tempest rages he says. "Truly, this man was the Son of God." After several takes George Stevens told The Duke to "give us some awe." The cameras rolled and the centurion spoke, "Awwww, truly, this man was the Son of God."
Photos © Copyright United Artists (1965)