Movie Review
Grease
Grease is the word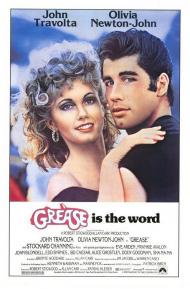 US Release Date: 06-16-1978
Directed by: Randal Kleiser
Starring
▸
▾
John Travolta

,

as

Danny Zuko
Olivia Newton-John

,

as

Sandy Olsson
Stockard Channing

,

as

Betty Rizzo
Jeff Conaway

,

as

Kenickie
Barry Pearl

,

as

Doody
Michael Tucci

,

as

Sonny
Kelly Ward

,

as

Putzie
Didi Conn

,

as

Frenchy
Jamie Donnelly

,

as

Jan
Dinah Manoff

,

as

Marty Maraschino
Eve Arden

,

as

Principal McGee
Frankie Avalon

,

as

The Teen Angel
Joan Blondell

,

as

Vi
Edd Byrnes

,

as

Vince Fontaine
Sid Caesar

,

as

Coach Calhoun
Alice Ghostley

,

as

Mrs. Murdock
Dody Goodman

,

as

Blanche, school secretary
Susan Buckner

,

as

Patty Simcox
Annette Charles

as

Cha Cha DiGregorio

Reviewed on:
January 14th, 2006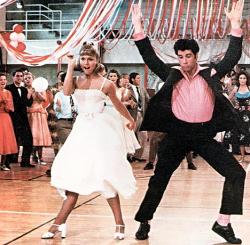 Olivia Newton John and John Travolta in Grease.
Grease is a great mix of music, dance, laughs and 50's nostalgia. John Travolta exudes tons of charisma as greaser Danny Zuko and Olivia Newton-John gives a memorable turn as good girl Sandy Olsson. Their on again/off again romance during their senior year at Rydell High School in 1959 makes for nonstop musical fun.
The supporting cast is also wonderful. Stockard Channing nearly steals the movie as Rizzo, the leader of the Pink Ladies, the reigning tuff girls of the school. Jeff Conaway of Taxi fame plays Kenickie, Danny's best friend. Of the rest of the main characters Didi Conn, as Frenchy, is the most memorable. Her beauty school drop-out scene is both touching and hilarious.
The movie also features many television and movie stars from the past, including Eve Arden, Sid Caesar and Joan Blondell. The 50's style vocal group Sha-Na-Na and even the real Frankie Avalon are along for the ride.
Song for song this is probably the most well-known musical ever, with the possible exception of The Sound of Music. From the title song, to "Summer Nights", to "Hopelessly Devoted To You", to "You're The One That I Want", this movie begs to be sung along to. The dance numbers are incredibly energetic and enthusiastically performed by the entire cast and crew. There isn't a cast member in sight that isn't giving it their all throughout the entire movie.
For me though, it is the central performance by John Travolta that elevates the movie to an even higher level. He is the perfect embodiment of the character. Dimwitted but cool, tough on the outside but lovable underneath. It doesn't hurt that his famous dancing was then at its absolute peak and though he is no great singer he does pull off the vocals well enough. Olivia Newton-John, for her part, is a good singer who manages the dance numbers with surprising ease. She and Travolta compliment each other and have good chemistry together.
Simply put, Grease is not only the word, it is one of the most purely enjoyable motion pictures of all time.
Reviewed on:
January 14th, 2006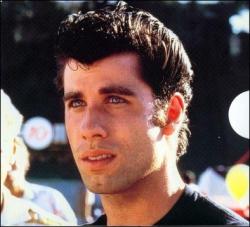 John Travolta in Grease.
Grease is memorable. As a kid I watched it dozens of times. I still know the words to every song in it by heart and can quote endless lines of dialogue. "A hickey from Kenickie is like a Hallmark card. When you care enough to send the very best." "If you can't be an athlete, be an athletic supporter." "It says right here that it is a dessert wine." "A lock of hair….from her chest!" I can even quote lyrics from the Mad Magazine (or was it Cracked?) version of the movie. "Summer Loving, sand up my ass…."
When I watch Grease now, I see a very different movie than when I watched it as a kid. Then I took the movie very seriously and loved it. Now, I see that it is much campier than I ever realized, but I still love it. Partly it's out of nostalgia, but also because the movie does contain some very funny parts as well as the catchy songs. One of my favorite characters from the film and one who provides several great laughs is the school secretary.
The most noticeable thing about this movie, particularly if you're seeing it for the first time, is that all of the actors are way too old for their characters. Stockard Channing was 34 at the time of filming. That means she actually was in high school during the 1950s! While this should hurt the movie, it really doesn't. As Patrick wrote, this movie is about fun and somehow the wide age gap between actor and character just adds to that.
Grease was also the last truly successful live action musical until 2002's Chicago. And to give you some perspective on just how successful it was, Grease made more than $10 million more than Chicago, and that was in 1978 dollars, when movie tickets cost much less than they do today. It's $181 million gross makes it the most successful live action musical of all time. Is it the best musical of all time? Probably not, but it could just be the most fun.

Reviewed on:
January 14th, 2006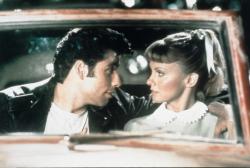 John Travolta and Olivia Newton John in Grease.
The most fun since Singing in the Rain at least. Like Gene Kelly's classic, Grease's songs are so damn catchy that you cannot help but sing along, and the dialogue is also memorable, as Scott wrote.
The one thing my brothers did not mention is what the film is really about. This is a bunch of high school seniors who drink, make out and go to dances. Grease is a celebration of youth. These are kids who are about to hit adulthood and are living it up one last carefree year. The entire film has the leads bouncing between teenage issues like who is going to the dance with who and adult issues like Rizzo's pregnancy.
In fact it is in Stockard Channing's performance as Rizzo that the film finds it's heart and emotional edge. Danny and Sandy have a sweet little romance but Rizzo is the one character that has the greatest story arc. At first she is just the abrasive, outspoken pink lady leader. As the movie goes along we see that she is sensitive, jealous and extremely insecure. It is Channing who makes this film even more than just a fun musical.
A few years ago I took my family to see a live production of Grease. Because of the movie I was able to sing along to every song. Grease is great musical theater. The movie added a couple of songs that are not in the stage version as well as the car race.
Patrick wrote about the energetic performances by the cast. So infectious are the songs and dances that Grease makes you feel young and carefree. You cannot ask for more than that from a movie.
Photos © Copyright Paramount Pictures (1978)