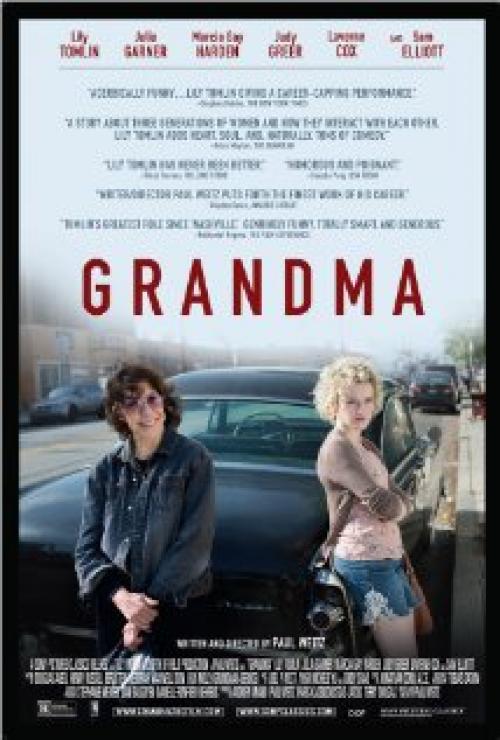 US Release Date: 08-21-2015
Directed by: Paul Weitz
Starring
▸
▾
Lily Tomlin

,

as

Ellie Reid
Julia Garner

,

as

Sage
Marcia Gay Harden

,

as

Judy
Judy Greer

,

as

Olivia
Laverne Cox

,

as

Deathy
Elizabeth Pena

,

as

Carla
Nat Wolff

,

as

Cam
John Cho

,

as

Chau
Sam Elliott

,

as

Karl
Mo Aboul-Zelof

,

as

Ian
Meg Crosbie

as

Protester's Child

Reviewed on:
August 25th, 2015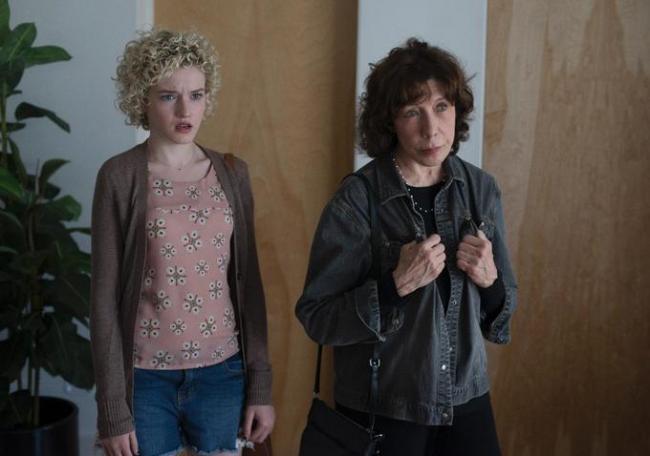 Julia Garner and Lily Tomlin in Grandma.
Lily Tomlin alone is worth the price of admission for her terrific turn as lesbian poet Ellie Reid, but Grandma has much more to offer than just a single great performance. It's a dark little comedy that has a lot to say about family relationships between grandmothers and mothers and daughters. A young woman's decision to have an abortion provides the plot's pivot. The script, by director/producer Paul Weitz, manages the difficult task of making a serious situation funny without being offensive in the process. The humor is caustic and sarcastic but it never treats the subject matter lightly. And did I mention that Lily Tomlin is terrific?
This is the role of a lifetime for the ageless comic/actress (she's 75). As the story begins she's recently lost her long time lover. She has just ended a short relationship with a much younger woman (Judy Greer) on the day her granddaughter Sage (Julia Garner) shows up pregnant. The two of them then spend the day trying to raise $600 bucks to pay for an abortion. The 1955 Dodge Royal that Ellie drives is owned in real life by Tomlin. She bought it in 1975 for $1,500 dollars.
The script tries to explain why Ellie doesn't have the money on hand and why the abortion has to happen that day but these details are best not over thought. The point is that Sage has turned to her Grandma for help. Grandma's first act of help is to beat the shit out of Sage's worthless boyfriend (Nat Wolff), all the while making foul-mouthed quips. Tomlin is a riot as this tough old broad. The real brilliance in her performance, however, is in the quiet moments, when she allows brief flickers of vulnerability to play across her face.
They also visit a tattoo parlor where Laverne Cox has a quick cameo. As the afternoon wears on and they become more and more desperate Ellie eventually rattles an old skeleton in her closet. Sam Elliott plays an old flame of hers in one of the movie's best scenes. Marcia Gay Harden rounds out the cast as Ellie's daughter and Sage's mother. By the end of this pivotal day all three of these women have a new-found understanding and respect for each other.
Grandma is a winner. It has a potent combination of humor and pathos, a witty and touching script, great acting all around and an Oscar worthy central performance by an American treasure. Go see it.
Reviewed on:
August 26th, 2015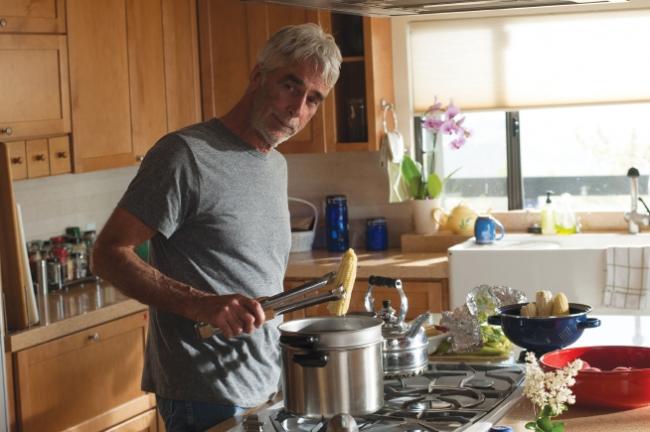 Sam Elliott in Grandma.
Patrick has summed up this indie comedy nicely. It's a dark little comedy that doesn't shy away from its subject matter and won't be warmly received by the Right to Life crowd. Mainly though, it's a showcase for its star, Lily Tomlin, to demonstrate that at 75 she's still a talented comedian and surprisingly skillful actress. We may have just seen the first guaranteed entry in the Best Actress category.
The film's setup is definitely its weakest point. The lack of $600 on the part of Ellie feels rather contrived, but is necessary to get the story going. It puts Ellie and her granddaughter Sage on their journey together. Ellie's relationship with Olivia is another weak aspect of the story, simply because it feels underdeveloped. Greer is fine as the younger lover, but is given relatively scant material to work with and remains a fairly blank slate.
I likewise agree with Patrick that the scene with Sam Elliott is the film's best. It's also the most serious sequence. What starts as a reunion of old friends spirals darker as slowly we learn exactly what Ellie's past relationship was with this man and how it ended very badly. Surely, Tomlin isn't the only name from this film who is bound to receive award consideration and I fully expect Elliott to be in the conversation for Supporting Actor.
Writer/director Weitz, who wrote the script with Tomlin in mind, deftly moves between the comedy and the drama. The film's comedic exclamation point comes from the hand (or should I say "fist"?) of a very young girl picketing outside the abortion clinic and it nicely and abruptly cuts off the only scene which I thought was about to get preachy.
Perhaps the best thing this movie has to offer, besides Tomlin's performance, is the demonstration that an older actor can anchor a film. I guess it's just something that happens as you get older, but I find I appreciate seeing a movie more now where the lead character has some real life experience, as Tomlin's character does here.
Photos © Copyright Sony Pictures Classics (2015)