Movie Review
Grand Hotel
Always the same. People come, people go. Nothing ever happens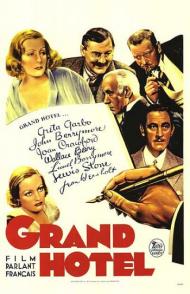 US Release Date: 04-12-1932
Directed by: Edmund Goulding
Starring
▸
▾
Greta Garbo

,

as

Grusinskaya
John Barrymore

,

as

Baron Felix von Geigern
Joan Crawford

,

as

Flaemmchen
Wallace Beery

,

as

Preysing
Lionel Barrymore

,

as

Otto Kringelein
Lewis Stone

,

as

Dr. Otternschlag
Jean Hersholt

,

as

Senf
Robert McWade

,

as

Meierheim
Purnell Pratt

,

as

Zinnowitz
Allen Jenkins

as

Hotel Meat Packer

Reviewed on:
April 12th, 2001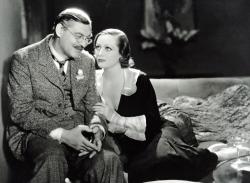 Joan Crawford in Grand Hotel.
"Grand Hotel... always the same. People come, people go. Nothing ever happens." Or so claims the disfigured Dr. Otternschlag (Lewis Stone) as he stands in the elegant art deco lobby of Berlin's most expensive hotel. This Best Picture Academy Award winner is the epitome of All-Star movie making. MGM claimed they had "More stars than there are in Heaven" and to prove it they cast several of the biggest names in the stable for this extravagant motion picture.
Five very different lives become entangled over an eventful weekend at the luxurious and fabled Grand Hotel; where virtually the entire movie takes place. Edmund Goulding directs with a constant eye on his big name stars. Some shots are set up, or so it seems, simply to get as many of them together as possible. Often two stars will be talking while a third approaches from behind, or they will pass each other unnoticed in the hallway, going into or out of an elevator or on the ornate stairs. The story jumps around between the main characters, weaving their lives together into one intricate celluloid tapestry.
Top billed Greta Garbo plays a depressed Russian ballerina. She is struck with a paralyzing stage fright and mutters the immortal line, "I want to be alone." That is until she discovers John Barrymore (a down on his luck Baron turned jewel thief), in her room late at night as she is contemplating suicide. These two desperate and lonely individuals find unconditional love in each other.
Meanwhile Lionel Barrymore, as Otto Kringelein, a terminally ill and rather nebbishy accountant, has come to the Grand Hotel to live his final days to the fullest. Also staying at the hotel is Preysing (Wallace Beery) a wealthy industrialist trying to pull off an important business merger. He also happens to be the owner of the company that Kringelein worked for.
The final star is Joan Crawford. She plays an ambitious stenographer hired by Preysing, before long he has made her his mistress.
These five strangers affect each other's lives in profound ways. All of them are shown as flawed yet noble individuals. My favorite character is Garbo's. She plays the first half of the movie depressed and lethargic. Once she finds love with the Baron she becomes instantly happy (the word manic springs to mind), rushing about the hotel lobby radiantly smiling and greeting passers by.
Of course Grand Hotel has its share of tragedy amid the high drama, also a few light-hearted moments as well. Grand Hotel is indeed grand entertainment.
Reviewed on:
March 2nd, 2009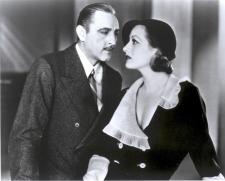 This movie puts the Class in Classic.
Grand indeed Patrick. I loved this movie! And I have to say that it has nothing to do with the fact that all of the cast are famous stars because not being as familiar with the stars of that time as you, I wasn't even aware that it was something special for all of them to be on screen at the same time. It just goes to show that they all were deservedly stars because without appreciating their fame I still thought all of them did an excellent job.
While you favored Garbo's character, I have to pick the Baron as my favorite. He's the center of the story and every other character is connected to him. John Barrymore plays him very smooth and suave. By the end of the movie you're really rooting for him to come up with the money he needs, but you also want him to do the right thing.
Joan Crawford is also good in a part that wouldn't even have been possible just a few years later following the Hayes Act. She's a typist who agrees to sleep with the businessman Preysing, for money. And they don't shy away from that fact or try to hide it. She also has great chemistry with Barrymore. Their flirting scene when they first meet is a great one.
This is also a movie that surprised me. Most movies telegraph their endings long before the finale, but I honestly didn't know how this one would end. It mixes enough comedy with the drama that it could easily end happily or tragically. I won't give the ending away except to say that it's a very satisfying one.
I also love how it was filmed. The entire story takes place in the Hotel and amongst the story of the guests there are little things going on with the staff of the hotel as the camera follows them around the lobby and down the hall. It's very sophisticated for 1932, although by that time movies had been being made for nearly 30 years so perhaps I'm wrong for being surprised.
As we both know Patrick, you're much the bigger fan of the old classics than I am. There are a few though, like this one, where I am in complete and utter agreement with you. This movie puts the Class in Classic.

Reviewed on:
September 24th, 2009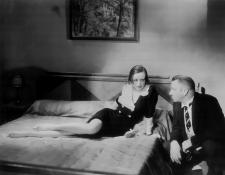 Joan Crawford and Wallace Beery.
Until I watched Grand Hotel, I had never seen a Greta Garbo movie. As a film buff, I have been curious as to what the fuss has always been about her. Now that I have seen her act, I still do not have a clue. As Patrick wrote, she is depressed the first half of the movie and giddy as hell the second. She over acts the entire time. She makes exaggerated facial expressions and needless poses. She over states her lines, "I'm not going to wait!" She was a big ham!
I prefer Joan Crawford. She is not as attractive as Garbo, but she says as much with her large eyes as Garbo says with her whole body. Like Scott, I enjoyed her first scene with Barrymore. Crawford says that she is a stenographer, to which Barrymore suggestively asks, "I don't suppose you'd, uh, take some dictation from me sometime?" Crawford is in a cleavage revealing, form fitting dress. No doubt is was considered a very adult scene at the time. The most shocking thing about it, by today's Hollywood standards, is that both Crawford and Barrymore are smoking cigarettes during the entire thing.
Grand Hotel stands as a major moment in movie history. I enjoyed most of it, but was not taken in by all of the story lines, and even a bit bored at times. I have come to appreciate Barrymore and Crawford more than ever. However, I never want to sit through another Garbo movie as long as I live. I will grant her the wish, and leave her alone.
Photos © Copyright MGM (1932)