Movie Review
The Grand Budapest Hotel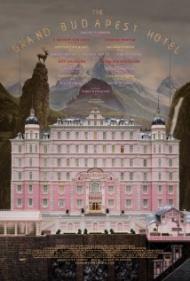 US Release Date: 03-07-2014
Directed by: Wes Anderson
Starring
▸
▾
Ralph Fiennes

,

as

M. Gustave
Tony Revolori

,

as

Young Zero Moustafa
Saoirse Ronan

,

as

Agatha
F. Murray Abraham

,

as

Old Zero Moustafa
Adrien Brody

,

as

Dmitri
Willem Dafoe

,

as

Jopling
Jeff Goldblum

,

as

Deputy Kovacs
Mathieu Amalric

,

as

Serge X
Harvey Keitel

,

as

Ludwig
Jude Law

,

as

Young Author
Bill Murray

,

as

M. Ivan
Edward Norton

,

as

Henckels
Jason Schwartzman

,

as

M. Jean
Lea Seydoux

,

as

Clotilde
Tilda Swinton

,

as

Madame D.
Tom Wilkinson

,

as

Old Author
Owen Wilson

,

as

M. Chuck
Bob Balaban

as

M. Martin

Reviewed on:
March 16th, 2014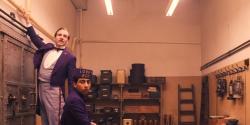 Ralph Fiennes and Tony Revolori in The Grand Budapest Hotel.
The Grand Budapest Hotel is Wes Anderson's latest cinematic whimsy. It's a period piece set in a fictional country in Eastern Europe in 1932. We arrive in that setting in increments. The movie opens in the modern era with a young woman visiting a writer's monument in a cemetery. She carries the writer's memoirs in her arms. Next the story stops briefly in 1985 where this author, as an older man (Tom Wilkinson), is filming an introduction to his work. Next we visit the year 1968 as a younger version of this author (now played by Jude Law) visits the no longer fashionable titular establishment. He meets the current proprietor (F. Murray Abraham) who regales him with tales of his adventures as a young lobby boy.
The aspect ratio employed by Anderson changes to the traditional square shape once the story proper begins in 1932. (Is it a coincidence that this is the same year that MGM's all-star Best Picture winner Grand Hotel was released?) As with all of Anderson's movies the visual effect is striking. The long shots of the hotel exterior look like something out of a picture book. He also makes good use of panoramic horizontal and zigzag lines involving railroads and other forms of transportation.
His usual troupe of actors show up in various roles. Some have mere cameos like Tilda Swinton (unrecognizable in old lady makeup), and Owen Wilson who gets just one brief scene. Bill Murray (in his seventh Anderson film) and Bob Balaban get just a bit more screen time. Adrien Brody and Willem Dafoe play baddies.
The stars of the movie are Ralph Fiennes and Tony Revolori. Together they make a memorable comic duo. Fiennes is M. Gustave, devoted concierge of the Grand Budapest Hotel. He is fussy in manner and speaks with a flowery elegance. He calls everyone -male or female- darling and is completely unflappable in demeanor. He is a walking billboard of Old World charm and grace in a world where such qualities are quickly dying out.
Gustave takes the new lobby boy, Zero (Revolori), under his wing and together they have many zany adventures that includes stealing a painting (entitled Boy with Apple). Gustave winds up in prison. Zero, with the assistance of his girlfriend Agatha (the hotel's pastry chef played by Saoirse Ronan), helps orchestrate a prison break. The story then speeds towards its delightfully quirky conclusion.
The old fashioned setting and storyline are juxtaposed with several modern flourishes. The "f" word is liberally sprinkled throughout the movie. Gustave himself uses it often and coming from him it sounds amusingly incongruous. Anderson once again uses the gimmick of a dead pet being played for laughs. In Moonrise Kingdom it was a dog and in this movie a cat gets thrown from a window to its death.
The story is definitely on the silly side of comedy but it manages to have a bit of heart as well. It leaves the viewer with a sense of nostalgia for the romance and glamor of a vanished world. A world that M. Gustave so desperately clings to and evokes in his everyday life. With the exception of The Royal Tenenbaums, The Grand Budapest Hotel is now my favorite Wes Anderson movie.
Reviewed on:
March 17th, 2014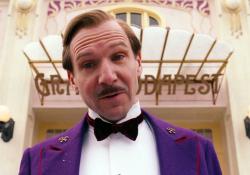 Ralph Fiennes in The Grand Budapest Hotel.
I'm not normally a fan of showy directors. Generally, I prefer my directors to remain invisible and to limit their actions to those that service the story. Wes Anderson is one of the exceptions to that rule. Maybe it's because he doesn't just put his mark on a movie, he goes all in and becomes the movie. The way he tells his stories are just as important as the stories themselves. I wouldn't want every film to be told his way, but I always enjoy his work.
Like Patrick, I would say that this is one of Anderson's best. The unique visual sense he has is on full display. I agree that the set's and scenery do look like something out of a picture book, but they also look like something out of an old movie. I doubt that it's just a coincidence that Anderson chose to set it in 1932. This film is a tribute to the past, when things were more colorful and glamorous, and giving a nod to a glamorous old movie fits very nicely with that theme. The low-tech sets and props bring a charm that fits in nicely with the mood and period of the story.
Another common aspect of Anderson's films is a sense of melancholy and often a depressed central character. The same is somewhat true here. In the framing device you have the elderly Zero who seems to be pining for the past in the decaying shell of his hotel. But in the past, everything is bright and colorful and often laugh-out-loud funny. The young Zero is upbeat and energetic. However, it's Ralph Feinnes as the indomitable M. Gustave who steals the show. His unflappable, old-fashioned elegance is something to behold. He fits in just as easily with the upper class who visit his hotel as he does with the convicts he is forced to spend time with for awhile and he does this without changing his own behavior one iota. He's part con man, part aristocrat, part unlikely gigolo, but always charming and funny and with dignity that remains intact no matter what the situation.
The comedy is silly, but that's one of the film's strengths. This is one of Anderson's warmest and funniest films. The jokes are often visual in nature. Patrick also mentioned the use of profanity, which Feinnes spouts brilliantly. There's also a few risque moments played for laughs.
People tend to either love or hate Anderson's direction. I don't think this film will change anyone's mind, but if you do do enjoy his work, I think that you'll really enjoy this one.

Reviewed on:
July 26th, 2014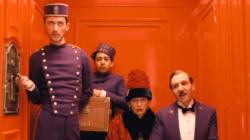 The Grand Budapest Hotel
The unflappable M. Gustave approaches every situation with the same amount of attention and dignity whether it is having sex with an old rich woman, committing a crime or getting into a fight. He never gets too worked up or stressed by anything. A grown up Zero describes M. Gustave as, "To be frank, I think his world had vanished long before he ever entered it - but, I will say: he certainly sustained the illusion with a marvelous grace!"
My brothers mentioned how he swore with shocking refinement. A couple of my favorite lines of his are, "You see, there are still faint glimmers of civilization left in this barbaric slaughterhouse that was once known as humanity. Indeed that's what we provide in our own modest, humble, insignificant... oh, fuck it." And, "This is van Hoytl's exquisite portrayal of a beautiful boy on the cusp of manhood; blond, smooth skin as white as that milk, of impeccable provenance. One of the last in private hands and unquestionably the best. It's a masterpiece. The rest of this shit is worthless junk."
When an angry Dimitri calls M. Gustave, "A fucking fruit," he responds with frivolous casualness, "How's that supposed to make me feel?" He truly is a character for the ages and one not often seen in recent films.
My brothers mentioned the look and style of the film emulating old black and white films and I was reminded of The Bell Boy from 1918 which found Arbuckle and Keaton playing bell boys at a hotel. Of course their rudimentary hotel set was nowhere near as glamorous as the department store in Germany used as a stand in for The Grand Budapest hotel. The way Anderson humorously poses everyone and moves them about is from an earlier Hollywood decade.
This is quirky fun, as so many of Anderson's films are. The characters are entertaining to spend time with but there is a sense of hollowness to it all. This movie does not take place in a world that has long vanished but one that never truly existed. It is almost as if the adult Zero, and/or the author he talked to, exaggerated Gustave as they each tell his story.
Photos © Copyright Fox Searchlight Pictures (2014)