Movie Review
Gosford Park
Tea At Four. Dinner At Eight. Murder At Midnight.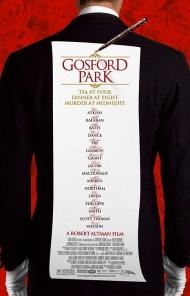 US Release Date: 12-26-2001
Directed by: Robert Altman
Starring
▸
▾
Maggie Smith

,

as

Constance Trentham
Michael Gambon

,

as

William McCordle
Kristin Scott Thomas

,

as

Sylvia McCordle
Camilla Rutherford

,

as

Isobel McCordle
Charles Dance

,

as

Lord Raymond Stockbridge
Geraldine Somerville

,

as

Louisa Stockbridge
Tom Hollander

,

as

Anthony Meredith
Natasha Wightman

,

as

Lavinia Meredith
Jeremy Northam

,

as

Ivor Novello
Bob Balaban

,

as

Morris Weissman
James Wilby

,

as

Freddie Nesbitt
Claudie Blakley

,

as

Mabel Nesbitt
Laurence Fox

,

as

Rupert Standish
Trent Ford

,

as

Jeremy Blond
Ryan Phillippe

,

as

Henry Denton
Stephen Fry

,

as

Inspector Thompson
Clive Owen

,

as

Robert Parks
Helen Mirren

,

as

Mrs. Wilson
Eileen Atkins

,

as

Mrs. Croft
Emily Watson

,

as

Elsie
Alan Bates

,

as

Jennings
Derek Jacobi

as

Probert

Reviewed on:
December 28th, 2001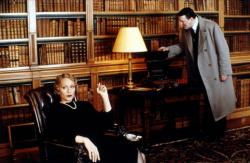 Kristen Scott Thomas and Stephen Fry in Gosford Park.
Robert Altman has been making movies with complex plots featuring huge casts for over thirty years now. With Gosford Park he may finally have peaked.
Set on an estate in the English countryside in 1932 this movie features no less than three dozen characters, divided between the guests and the servants, over a pivotal weekend. The highly intricate relations between the different players is slowly revealed in a series of many short scenes featuring intelligent and witty dialogue. Of course there is a murder but this is most certainly not a 'who-dun-it' in the traditional sense. But rather a study of the English caste system of the Victorian era seen here breathing its last breath.
Details of the master-servant etiquette of the day are fascinating; for example the servants are known by the name of the person they work for. Of course all is not as it seems at first and the story that unfolds is very engaging. The cast is magnificent. From Maggie Smith as a gossiping member of the elite to Emily Watson as a rather cynical maid and Stephen Fry as a bumbling detective they each inhabit their characters with complete naturalness and familiarity.
Attention must be paid to the dialogue or key points may be missed. So sit back and be prepared to experience a masterful motion picture full of lavish detail and wonderfully nuanced characters.
Reviewed on:
December 31st, 2001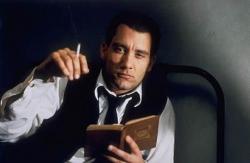 Clive Owen in Gosford Park.
Gosford Park is like an episode of Masterpiece Theater on steroids. It is filled with the sort of stiff upper lip, repressed emotions, high drama, superb acting, and biting humor that has been the hallmark of the much beloved, and long running, PBS anthology series. I half-expected Alistair Cooke to appear after the movie to tell the audience a little bit about the author and to wish us all good-night.
And the cast is a virtual who's who from British Television. You might recognize actors from such British Television series' as The Jewel in the Crown, Cracker, Are You Being Served?, Absolutely Fabulous, Prime Suspect, I Claudius, Blackadder, and even most fittingly, Upstairs Downstairs, among others. I had the most fun just recognizing the different actors. And recognizing them will help you remember them, because there are, as Patrick said, dozens of characters. It takes careful listening just to figure out who is related to whom and how each of the different characters affect each other.
Altman has made a career on these multi-story arcs and large casts. The problem with these sorts of movies is that sometimes they bite off more than they can chew. There are just too many characters to care about and only some will hold your attention. That was the case with this movie, as some of the smaller characters failed to engage my interest and only seemed to be making the movie longer. But, as Patrick implies, this is quite possibly Altman's best handling of so many characters and so many plots. Perhaps this is aided by the simple premise and single location. In any case, I found myself interested in nearly all of the characters, and was never bored.
It's all the more remarkable in a cast as large as this, that one of the actors should steal the movie, but veteran actress Maggie Smith manages to do just that, or at least she manages to steal every scene that she is in. Her character the countess has some of the best and funniest lines in the movie. Look particularly for the scene where she is trying to play Bridge while the actor plays the piano.
Perhaps a trifling longer than it needed to be, Gosford Park is still an Anglophile's wet dream of a movie.

Reviewed on:
January 2nd, 2002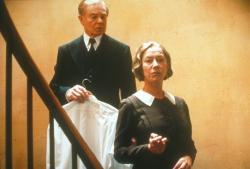 Derek Jacobi and Helen Mirren in Gosford Park.
I am not so much an anglophile as Scott is. That is to say that this movie was not a wet dream for me. The cast was far to large and it was a headache keeping up with who is related to who and how. Then there is the who is whose servant questions? Doing my taxes wasn't nearly this complicated.
A bunch of pompous rich people get together for a weekend of shooting pheasant. At least that is the premise. Actually they are all there to drink, dine, demand and most of all dish. As in dish some dirt.
Each rich fat cat has their own servant, and it is in their relationships to each other that makes this movie so interesting. The servants obviously rely on their employers for an income but the masters are completely dependent on the servants. Witness the scene where slightly distraught Kristin Scott Thomas hurries into the servants quarters to notify them that two other guests will unexpectedly be joining them. I imagine Churchill himself didn't get this quick a notice when the Germans started bombing. Anyway, Helen Mirren stands up and takes charge of this wrinkle in dinner arrangements and settles the matter. Much to Thomas's relief.
I whole heartily agree that Maggie Smith steals every scene she is in. Scott pointed out the bridge scene, but it starts with her first scene where she can't even open a simple thermos lid. To her last scene where she wonders if she will have to testify.
Hers and Ryan Phillipe's were the stand out performances in this movie. Smith's because it was so good and Phillipe's because his secret was a give away. I guessed he was an actor the moment they showed a glimpse of him in the passing car. Would a good British servant had stared so rudely?
A good film that I could probably enjoy watching again. It would definitely help to watch it a few times to actually catch all the goings on. Nice direction and a brilliant cast make this a movie that keeps your attention throughout its bloated length. I only wish the DVD I rented came with a guests and servants list. Sort of a scorecard for characters would have helped.
Photos © Copyright USA Films (2001)