Movie Review
Goon
Meet Doug, The Nicest Guy You'll Ever Fight.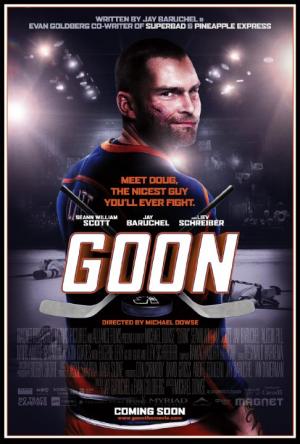 Canada Release Date: 02-24-2012
Directed by: Michael Dowse
Starring
▸
▾
Seann William Scott

,

as

Doug Glatt
Jay Baruchel

,

as

Pat
Alison Pill

,

as

Eva
Liev Schreiber

,

as

Ross Rhea
Eugene Levy

,

as

Dr. Glatt
Marc-André Grondin

,

as

Xavier LaFlamme
Kim Coates

,

as

Ronnie Hortense
Nicholas Campbell

,

as

Rollie Hortense
Richard Clarkin

,

as

Gord Ogilvey
Jonathan Cherry

,

as

Marco Belchier
Ricky Mabe

,

as

John Stevenson
George Tchortov

,

as

Evgeni
Karl Graboshas

,

as

Oleg
Larry Woo

,

as

Park Kim
Stephen Sim

,

as

Backup Goalie
Ellen David

,

as

Mrs. Glatt
David Paetkau

,

as

Ira
Mike Bell

,

as

Donovan
Jeff Strome

,

as

Oldfield
Jeff Wahl

,

as

Reg
Dave Wheeler

as

Sportscaster

Reviewed on:
February 21st, 2016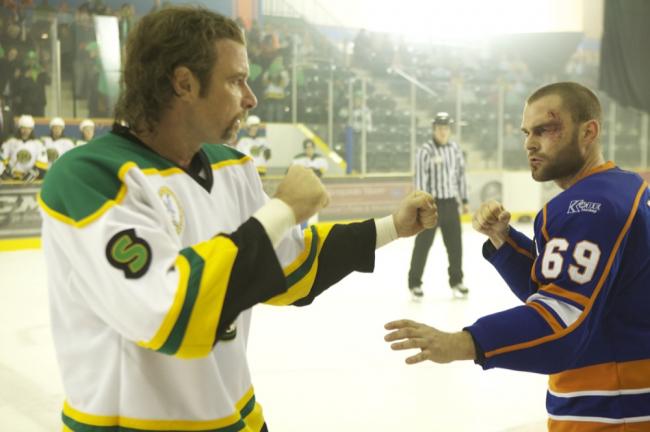 Liev Schreiber and Sean William Scott in Goon
Hockey fan, Jay Baruchel, along with writer, producer Evan Goldberg, adapted the book "Goon: The True Story of an Unlikely Journey into Minor League Hockey" by Adam Frattasio and Doug Smith, based on Smith's career in minor league hockey as an enforcer, into a film. It is more inspired by Smith's story, than based on but clips of the real Smith playing hockey are shown during the credits.
Sean William Scott plays Doug Glatt, a bouncer at a bar in Orangetown, Massachusetts. His life seems to be on stall, while his family only serves to remind him how he is going nowhere. His father and brother are both doctors. Baruchel plays Doug's best friend, Pat, a fanatic hockey fan who hosts his own low grade cable hockey show. While attending a local hockey game, to root for the Orangetown Assasins, Doug gets into a fight with a player and royally kicks his ass. The Assassins coach, Rollie Hortense, takes note and offers Doug the job of being the team's enforcer. The only problem being that Doug has never played hockey and has no idea how to ice skate.

Although he is brutal when in a fight, Doug is actually a very polite and well mannered guy, not at all the hot head you would think to be a personality trait required for the job of hockey enforcer. He meets and falls for a girl who is already in a relationship, but being so nice, Doug takes it all in stride. He learns to skate, becomes a decent player and even more importantly, he starts to inspire his team mates. He is charged with protecting the teams star player, La Flame, while on the ice. La Flame is a primadonna with a huge contract but ever since getting hurt on the ice by veteran enforcer Ross Rhe, he has become scared of physical contact during a game. The movie builds to an inevitable confrontation on the ice between Doug and Rhea.

Goon has plenty of hockey action and fights. It also has some hilarious lines. After a young woman butchers the Canadian National Anthem, the announcers states, "Well that was borderline treasonous, and a disgrace to our nation and its proud and storied history." When giving, what is supposed to be an inspirational speech to the team, a hockey player tells his teammates they have to play hard, " Greek fucking underground gay porn hard" When Doug's almost girlfriend calls him crying, he asks, "Hey...what happened? Did you just watch Rudy"
Goon was filmed in Canada and most of the cast Canadian. Scott is from Minnesota. It was made on a small budget. Scott explained, "We actually only got the rink at 11 o'clock at night, so we'd do all those fight scenes at three or four in the morning. It was brutal. Because it wasn't a big-studio budget, we never had any time to rehearse the fights and we did everything on skates. When there is a martial arts movie, they are choreographed three months before and and you'd do, like, three moves then cut. Here it would be a big thing like 'We're going to do right right, uppercut, then cross, hold on, boom, boom, boom, boom, boom, boom, throw him up against the glass and then knockout punch."
No matter the limited budget, Goon is an entertaining watch, especially if you are a hockey fan. My son has recently become a dedicated fan of our local hockey team and watching this movie was an easy sell for him. Although is was only given a limited release in the United States, and mostly follows the standard sports movie plot, a sequel has been made and is due out soon.

Photos © Copyright No Trace Camping (2012)
Related Reviews