Movie Review
Goodbye, Mr. Chips
At The Top Of The Year's Best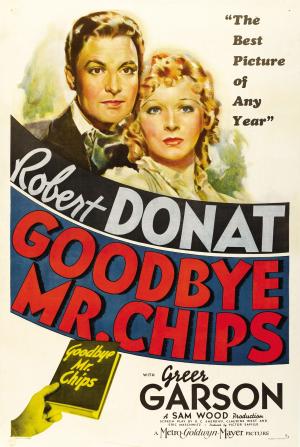 US Release Date: 07-28-1939
Directed by: Sam Wood
Starring
▸
▾
Robert Donat

,

as

Mr. Chips
Greer Garson

,

as

Katherine
Terry Kilburn

,

as

John Colley / Peter Colley I / Peter Colley II / Peter Colley III
John Mills

,

as

Peter Colley as a young man
Paul Henreid

,

as

Staefel
Judith Furse

,

as

Flora
Lyn Harding

,

as

Wetherby
Milton Rosmer

,

as

Chatteris
Frederick Leister

,

as

Marsham
Louise Hampton

as

Mrs. Wickett

Reviewed on:
August 24th, 2010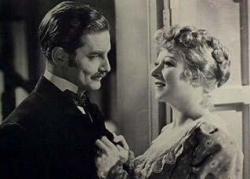 Robert Donat and Greer Garson.
Based on the novel of the same name, Goodbye, Mr. Chips is one of the most purely sentimental movies ever made. Everything about it, including its title, is meant to tug at the heartstrings with fond nostalgia for a romantic time and place in history. This is the story of Mr. Chipping, later to be known simply as Chips, and the 63 years he spends teaching at Brookfield School in England from 1870 to 1933.
Robert Donat won the Oscar for this role, beating out Clark Gable's Rhett Butler and James Stewart's Mr. Smith. He is great in the part but the real reason I think he won was because he ages from 25 to 88. Hollywood has always loved actors that physically change in appearance for a character. This movie marked the breakthrough performance for Greer Garson and she received her first of 5 consecutive Best Actress Oscar nominations for it. This was also one of Paul Henreid's first big roles three years before his one/two punch of Now, Voyager and Casablanca.
The movie opens with an 83 year old Chips on the first day of the fall term in 1928. We see that he is a lovable old institution beloved by teachers and students alike. When the Head Master introduces Chips to a new teacher he says, "Now you can say you've shaken hands with Chips of Brookfield." We then flashback to 1870, Chipping gets off on the wrong foot with his class and spends the next 18 years as a reliable but unremarkable, and not particularly liked, Latin instructor.
When he gets passed over for House Master he decides to go on vacation to Austria with a fellow teacher (Henreid). This is so out of the ordinary for him that another of his fellow teachers remarks, "Chipping, going abroad?" with incredulity. To make this quick, he meets Greer Garson, falls in love, gets married and returns a changed man. She is the one who dubs him "Chips", and insists that he invite his students over for tea and cake every Sunday afternoon.
I won't spoil the rest of the story (if you've seen many movies you can probably guess what happens next) but the final scene gets me every time. This classic movie was dedicated to the memory of Irving Thalberg and it received a total of seven Oscar nominations including Picture, Director and Screenplay. It has been remade several times, once as a musical. If you've never seen it you are in for a "reel" treat.
 
Reviewed on:
May 13th, 2016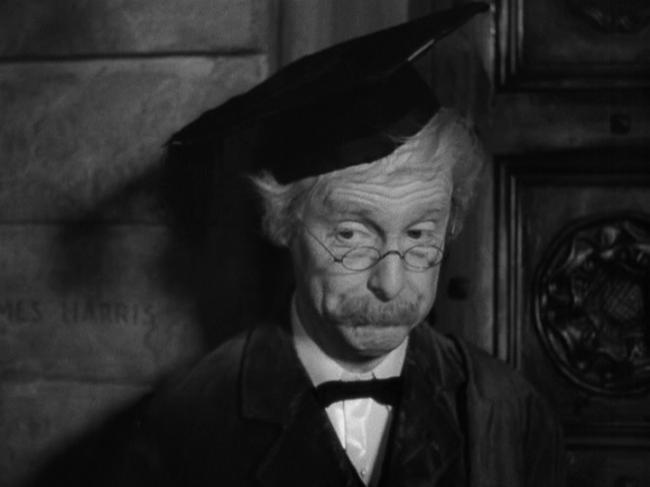 Robert Donat in Goodbye, Mr. Chips.
I completely agree that this is one of the most sentimental movies ever, but somehow it works without ever becoming excessively schmaltzy. Perhaps it's because it's played with so much sincerity and innocence. I also think that sentimentality is more forgivable in old black and white movies that, like this one, aren't trying to be realistic. This is a romantic, nostalgic, look back at the past through the lens of rose colored glasses.
Also like Patrick, I think Donat's Oscar win can be attributed to the aging process his character goes through. Not that Donat doesn't do a good job in the role, because he does. It's just the aging is done so well, both in terms of the makeup and in Donat's performance. It's an odd thing that since the film starts with Chips as an old man, it almost feels as if the young version of the character is the one in makeup  and the old version the true age of the actor, when of course it was exactly the reverse.
Garson is good as Katherine, but I was surprised to discover that she received an Oscar nomination for this part. Her character, while key to the story, is only on the screen for a relatively short time. Other teachers and headmasters come and go at the school and some of the child actors play multiple parts as different generations of the same family ("There's always a Colley at Brookfield."), but this is definitely a one man movie.
Tales of English public school life have been a genre since the 1857 novel, Tom Brown's School Days. As with many such novels, this is a very romantic, traditional, look at the institution that shows it in a good light. Funnily enough, audiences today, particularly non-English ones, will be most familiar with the trappings of the genre from the Harry Potter books and films.
The story moves quite quickly. One scene in particular shows the passing of decades in a matter of minutes. It's less of a plot and more of the highlights of Chips' life. He's an innocent and honorable man who develops a rapport and a sense of humor, mostly with the help of his wife. By the end of the film it's easy for an audience to have become as fond of him as the boys in the film.
Sure, the ending of this movie is a blatant play on the old heart strings, but when they're played by a virtuoso like this, who cares. Just sit back and let the sentiment do its work.


Reviewed on:
May 18th, 2016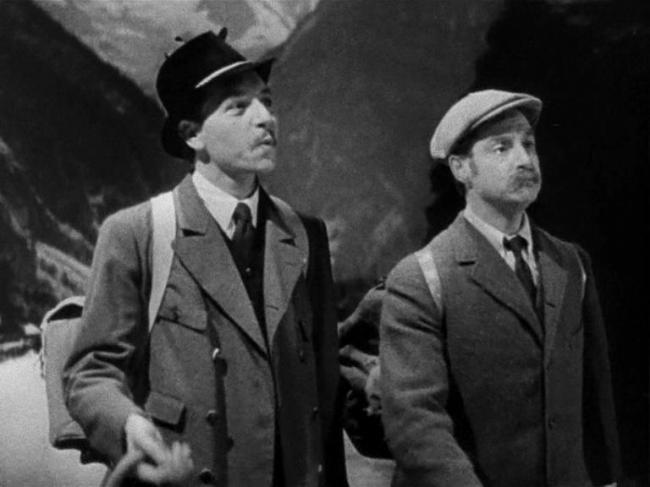 Paul Henreid and Robert Donat in Goodbye , Mr. Chips
Goodbye, Mr. Chips tells the story of a man who educates young male minds but it is Mr. Chips' education that is the heart of the story. He first arrives at Brookfield school nervous and quite socially ignorant. The boys he teaches seem more worldly than he. On that first train ride, a boy describes watching women bathing themselves in the sea, while on vacation. Later, when talking to his future wife, he confesses to being terrified of women. In the classroom, a boy tries to get a confused Chips to say the word, "Virgin". A word that clearly hits home with Chips. He is at this point socially greener than the young minds he is trying to connect with.
Chips soon learns, through trial and error, just how things work at the school but he still, for the most part,lacks a personal connection to the students. Note how they pretty much ignore him when leaving for vacation and how other instructors are liked, with one even getting a cake from his students. Chips makes some effort but is shy and holds in his feelings in true British tradition.
As Scott mentioned, it is his wife who brings him out of his shell. Not to be crude but nothing makes a man feel more like one than losing his virginity and getting sex on a regular basis. Not only that but she demonstrates just how to be social with the lads and to treat them with the respect he is trying to earn from them. Thus, he learns as much as he teaches.
Goodbye, Mr. Chips reminded me of It's a Wonderful Life. Whereas George Bailey is attached to Bedford Falls and most of its citizens, so is Chips attached to Brookfield and its students. Both men led lives they thought were unremarkable but both came to understand that they truly did affect many people in positive ways. Patrick called this the most sentimental film ever made, while I will add that It's a Wonderful Life comes in a close second.
What little story there is, is endearing as we can all see a bit of ourselves in Chips. Have we not all been in uncomfortable situations or clueless as to what we are doing wrong at some point in our lives? It is that connection with the audience that sells this movie and earns an emotional response from us. It is the film's greatest strength. Robert Donat does a seamless job but I think his old age makeup did half the work for him. For my money, that Oscar belonged to Clark Gable. Gone With the Wind was his finest work until The Misfits.
Photos © Copyright Metro-Goldwyn-Mayer (MGM) (1939)