Movie Review
Good Night, and Good Luck.
We will not walk in fear of one another.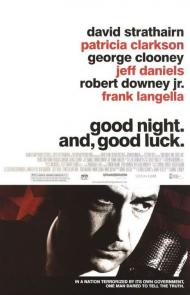 US Release Date: 10-07-2005
Directed by: George Clooney
Starring
▸
▾
David Strathairn

,

as

Edward R. Murrow
Robert Downey Jr.

,

as

Joe Wershba
Patricia Clarkson

,

as

Shirley Wershba
Ray Wise

,

as

Don Hollenbeck
Frank Langella

,

as

William Paley
Jeff Daniels

,

as

Sig Mickelson
George Clooney

,

as

Fred Friendly
Tate Donovan

,

as

Jesse Zousmer
Thomas McCarthy

,

as

Palmer Williams
Matt Ross

,

as

Eddie Scott
Reed Diamond

as

John Aaron

Reviewed on:
October 9th, 2005
David Straithairn in Good Night, and Good Luck.
Good Night, and Good Luck is a fascinating time capsule of a film that succeeds at entertaining and educating, but fails in its attempts at creating an analogy with today's relationship between politicians and the media.
Directed by George Clooney, and shot in black and white, the film takes you back to the early 1950s when the news game was almost exclusively male, everyone smoked (in the office, on the air), men wore suits and hats, and network news held an exclusive power that it has long since lost.
David Strathairn stars as the legendary newsman, Edward R. Murrow. In 1953, Murrow, who made his name by reporting from the rooftops of London during the blitz, decided to use his position to speak out against Joseph McCarthy's ruthless campaign against communism. It was a daring move because the power of McCarthyism was that to stand against him meant that to McCarthy, you were standing with the communists and the accusation was enough to have you blacklisted. McCarthy's defense against Murrow banked on the fact that a Senator would trump a mere newscaster, but the senator vastly underestimated the power of television.
Clooney filmed the movie with a "you are there" almost documentary feel to it. A feeling that is augmented by the use of extended footage of the real Joe McMarthy and even an amusing interview between Murrow and the real Liberace.
Sandwiching the main film are two sequences of Murrow accepting an award a few years after the events of the main film. During his acceptance speech he makes several pointed remarks that are clearly aimed, not at McCarthy, but George Bush and today's media. And while these comments evoked rounds of applause from the liberal Upper West-Siders that I watched this movie with, they really don't apply to today's political climate.
In 1953, if you wanted the news you either read a newspaper or watched the evening network news. This gave the network news anchors enormous power in influencing politics, and Murrow was the first to take advantage of it. Today, you've got literally hundreds of channels to choose from and of course, the internet. With such a plethora of choices it is not hard to find a news source that matches your personal political beliefs. It's certainly not hard to find news sites, blogs, or news shows that are critical of the current administration. If the network news isn't as crusading as the news of the 50s, maybe that's because they've lost their relevance in today's information age.
Good Night, and Good Luck also assumes a level of knowledge about its subject matter, which I applaud. Time isn't wasted by spoon-feeding you information about an era that frankly should be common knowledge. This keeps the pace of the movie up and prevents a feeling of talking down to the audience.
A fascinating look at a period of time, Good Night, and Good Luck works just fine so long as it stays off its soap box.

Reviewed on:
March 14th, 2006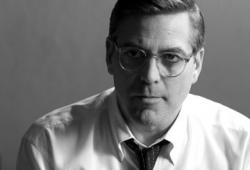 George Clooney in Good Night, and Good Luck.
To Clooney's credit he does make the point in Good Night, and Good Luck to show that people in the media often have an agenda. Whether it is the studio wanting to make money or Murrow wanting to start a fight, everyone has an end result and no one is actually after the complete and utter truth for truth's sake. The one person whose motives are never explained are Joseph McCarthy's. Was he really just a communist hater or did he enjoy the press coverage and fame? This movie never says.
The job of a newscaster is actually boring in that they are to just report the facts of a news piece. However, Murrow wanted to do more than that and that is what created problems with the integrity of the news media. He reports and makes a mini crusade on the serviceman who lost his job. When his reporting eventually leads to the man getting reinstated he and the news crew all cheer at their accomplishment. That is not reporting the news as is. That is taking up a cause and going in a particular direction with it. Even Murrow's boss catches him censoring his own editorials masked as news reporting.
Newscasters vote and have opinions like everyone else. I do not expect them to be completely unbiased, I just wished they would have the balls to admit that they have political and social preferences and that those opinions often slip into their reporting.
Murrow, as portrayed here, is the stereotypical newscaster. He is arrogant and self centered. People around him warn him of the dangerous ground he may be treading on but he goes ahead with his stories. Is it because he is after the truth? This movie makes it seem much more personal than that as if Murrow personally wants to bring McCarthy down. Again, Murrow seems more about following an agenda than simply reporting facts.
No matter what your political leaning, Good Night and Good Luck is a thought provoking film.
Reviewed on:
January 29th, 2013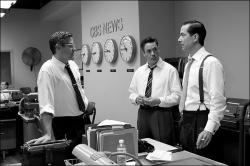 George Clooney, Robert Downey Jr., and David Strathairn in Good Night, and Good Luck.
Good Night, and Good Luck is one of those movies I never got around to watching when it first came out. Better late than never I guess. It is an informative and entertaining look at a specific blight on this countries history. Clooney wisely chose to present his story as a personal battle between two American giants of their day; a senator and a television journalist. It brings the McCarthy Era into sharp focus using a narrow cast of characters and sets.
David Strathairn gives the performance of his career as Edward R. Murrow. He lost the Oscar to Philip Seymour Hoffman for Capote. Three of the five nominees that year were honored for portraying actual historical figures. In addition to Murrow and Capote, Joaquin Phoenix was nominated for playing Johnny Cash in Walk the Line. The other two nominees were Terrence Howard for Hustle & Flow and, my personal favorite, Heath Ledger in Brokeback Mountain.
This movie received a total of six Academy Award nominations. In addition to Best Actor it was up for Best Picture, Best Director (Clooney), Best Original Screenplay (Clooney and Grant Heslov), Best Cinematography, and Best Art Direction. It went home empty-handed.
Edward R. Murrow was such an eloquent speaker. The screenplay combines actual quotes from the man as well as fictionalized dialogue. He was very precise in his syntax and elocution. Here are a couple of examples: "He was one of those civilized individuals who did not insist upon agreement with his political principals as a precondition for conversation or friendship." And, "It is my desire if not my duty to try to talk to you journeymen with some candor about what is happening in radio and television, and if what I say is responsible, I alone am responsible for the saying of it." People just don't speak like that anymore and it's really a shame.
I like how Clooney interspersed songs by jazz singer Dianne Reeves into the movie. I read that he intentionally placed these 23 minutes apart as that is how long a half hour television program lasts, minus commercials.
As Scott mentioned, the movie doesn't spoon feed background information to the audience. As a result there were a few unintentionally humorous reactions from test audiences. One common complaint was that the "actor" playing Joseph McCarthy was too over-the-top in his performance. They didn't realize they were looking at archival footage of the real man. What that says about your average American's knowledge of history is pretty depressing. All I can say is... Good Night, and Good Luck.
Photos © Copyright Warner Indepent (2005)