Movie Review
The Good Dinosaur
Little arms big attitude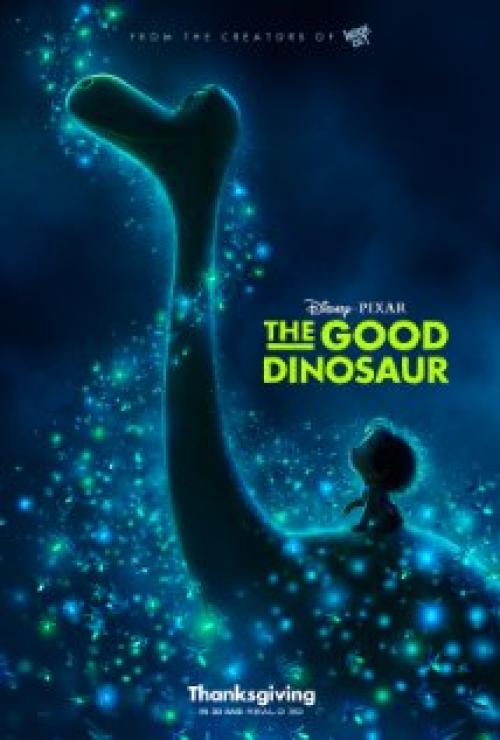 US Release Date: 11-25-2015
Directed by: Peter Sohn
Starring
▸
▾
Jeffrey Wright

,

as

Poppa (voice)
Frances McDormand

,

as

Momma (voice)
Maleah Nipay-Padilla

,

as

Young Libby (voice)
Ryan Teeple

,

as

Young Buck (voice)
Jack McGraw

,

as

Young Arlo (voice)
Marcus Scribner

,

as

Buck (voice)
Raymond Ochoa

,

as

Arlo (voice)
Jack Bright

,

as

Spot (voice)
Peter Sohn

,

as

Forrest Woodbush (voice)
Steve Zahn

,

as

Thunderclap (voice)
Mandy Freund

,

as

Downpour (voice)
Steven Clay Hunter

,

as

Coldfront (voice)
A.J. Buckley

,

as

Nash (voice)
Anna Paquin

,

as

Ramsey (voice)
Sam Elliott

,

as

Butch (voice)
David Boat

,

as

Bubbha (voice)
Carrie Paff

,

as

Lurleane (voice)
Calum Grant

,

as

Pervis (voice)
John Ratzenberger

as

Earl (voice)

Reviewed on:
January 6th, 2016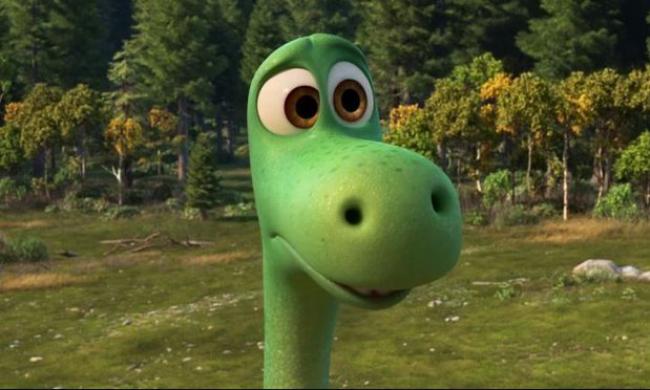 Arlo learns to be a good dinosaur.
It was only a matter of time before Pixar made a dud. The Good Dinosaur is a ridiculous mess from start to finish with several WTF moments thrown in to add even more confusion to a movie that has no idea what it is doing. The film opens with a large meteor missing the Earth, presenting the scenario of what would happen if the dinosaurs survived to be on earth at the same time as prehistoric man. Sounds like an interesting enough starting premise but it quickly goes over the edge.
We meet a couple of dinosaurs that resemble brontosauruses. They can construct buildings and have a farm that they plant and harvest to provide food for the winter. They talk to each other and other creatures, acting just like humans emotionally and rationally. They have three children, with one being the runt, Arlo, who is scared of most things. He is assigned by his father to guard their silo of corn from a scavenger that turns out to be a wild human boy who walks on all fours. After letting him escape, Arlo and his father chase after him. Before you can say Lion King, his dad is dead and Arlo is lost in the wilderness.
He and the human boy, whom Arlo names "Spot", eventually become best friends and decide to journey together to stay alive and find their way back to Arlo's home. They battle a weird looking snake and some raptors. They do some hallucinogenic drugs in the form of spoiled fruit. The weirdest moment is when they take up with some buffalo herding Tyrannosaurus Rex's. Seriously, suddenly music you would hear in a western starts playing and three T-Rexs are herding some prehistoric bison looking creatures.
The movie is about finding your inner strength but the story is just too out there to enjoy. I could not relate to these characters. Why did they not simply make a boy and his dog movie and have it take place in the old west? Replace the T-Rex with cowboys and the Raptors with Indians and we're good to go. It was just too disconcerting watching a giant lizard treating a human child like a cherished pet.
The background animation is gorgeous and realistic. It is some of the best cinematography to be found in a cartoon. However, the dinosaurs are all drawn to look obviously fake. These characters do not belong in this world.
The Good Dinosaur is not a good movie.
Photos © Copyright Pixar (2015)