Movie Review
Gone with the Wind
The Most Magnificent Picture Ever!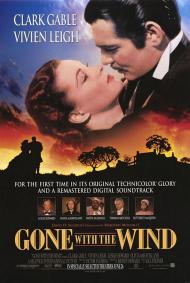 US Release Date: 12-15-1939
Directed by: Victor Fleming
Starring
▸
▾
Clark Gable

,

as

Rhett Butler
Vivien Leigh

,

as

Scarlett O'Hara
Leslie Howard

,

as

Ashley Wilkes
Olivia de Havilland

,

as

Melanie Wilkes
Hattie McDaniel

,

as

Mammy
Thomas Mitchell

,

as

Gerald O'Hara
Oscar Polk

,

as

Pork
Butterfly McQueen

,

as

Prissy
Everett Brown

,

as

Big Sam
Ward Bond

,

as

Tom (Yankee captain)
Laura Hope Crews

,

as

Aunt Pittypat Hamilton
George Reeves

,

as

Stuart Tarleton
Harry Davenport

,

as

Dr. Meade
Rand Brooks

,

as

Charles Hamilton
Carroll Nye

,

as

Frank Kennedy
Barbara ONeil

,

as

Ellen O'Hara
Evelyn Keyes

,

as

Suellen O'Hara
Ann Rutherford

,

as

Carreen O'Hara
Victor Jory

,

as

Jonas Wilkerson - Field Overseer
Howard C. Hickman

,

as

John Wilkes
Alicia Rhett

,

as

India Wilkes
Leona Roberts

,

as

Mrs. Meade
Jane Darwell

,

as

Mrs. Merriwether
Ona Munson

,

as

Belle Watling
Eddie (Rochester) Anderson

,

as

Uncle Peter - Coachman
Isabel Jewell

,

as

Emmy Slattery
Mickey Kuhn

,

as

Beau Wilkes
Eric Linden

as

Amputation Case


Reviewed on:
December 15th, 2001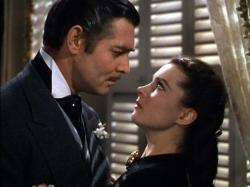 Clark Gable and Vivian Leigh in Gone with the Wind.
The landmark film of the 20th century. This love story between Scarlett O'Hara and Rhett Butler is to America what Romeo and Juliet are to England. A hopelessly tragic couple.
Scarlett and Rhett are very much in love with each other. The only problem is that it doesn't occur at the same time. Rhett finds himself immediately attracted to Scarlett. First for lust, then for spirit and finally for love. Scarlett finds herself repulsed by Rhett at first, then attracted to him out of boredom, then attracted to him out of convenience, then attracted to him for money and then finally for love. However, by the time Scarlett realizes her love and emotional need for Rhett it is too late. Thus the famous line 'Frankly my dear I don't give a damn.'
After several viewings of this film it can get a bit long and even a tad slow in places. Yet this movie has two of the most in depth, well developed characters ever!
Rhett Butler is an independent, confident man with a questionable past. When all the 'southern gentlemen' want to go to war, Rhett is not afraid to disagree, even though he's in the minority. He drinks, smokes, whores and gambles. He is a war hero and gets sent to prison. A real manly mans man if ever there was one. However he has a weakness. Of course it's the young, naive Scarlett. No it's not just lust. Watch the scene where Melanie attempts to console a crying Rhett who thinks Scarlett blames him for a miscarriage. Clark Gable gives his finest dramatic performance here and for the record, he deserved the Oscar.
Scarlett O'Hara is the most famous female American literary character. Due in a large part to this film and Vivien Leigh's interpretation. The most noticeable difference from the novel, by Margaret Mitchell, is that the first line begins 'Scarlett O'Hara was not beautiful..." Well Vivien Leigh's Scarlett most certainly is. She is though, far more than eye candy. Unlike the teenage girls in today's movies, who all act as if they have the sexual maturity of a divorced 40-year-old, Scarlett is very immature. She ignorantly flirts with every man in sight trying in vain to get the attention of Ashley. A man who does not fall for her flirting and does not love her. After surviving the fall of Atlanta and making the 'As god as my witness' soliloquy, she turns cold and manipulative. You can actually watch Scarlett grow and change as the film progresses. By the end of the movie she finally gains clarity in to her life and where love can actually be found. Right where it has been through most of the movie. In the arms of Rhett. But of course this is a tragic love story and these lovers just don't have good timing.
Reviewed on:
December 15th, 2002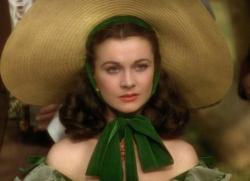 Vivien Leigh in Gone with the Wind.
First of all, Eric has done a good job summing up the characters of Rhett Butler and Scarlett O'Hara and their torrid, yet doomed, love affair. I agree with every major point he has made. Now let me just say that this movie is all that and so very much more.
This is a monumental, if highly romanticized, conjuring up of The Old South, immediately before, during and after the civil war as seen through the life of the volatile Miss O'Hara. It can be divided into three main sections. First there is the day of the Barbecue at Twelve Oaks where we are introduced to most of the main characters. This is highlighted by Rhett and Scarlett's first scene together where he responds to her charge that he is no gentleman by informing her that she is no lady either. After all, isn't she in love with Ashley Wilkes, who that very evening will announce his engagement to the meek Melanie Hamilton? As fate would have it, the war begins this very day and soon Scarlett finds herself leaving Tara to live in Atlanta.
Thus begins the second, and most spectacular section of the film, the siege and burning of Atlanta. Melanie gives birth to Ashley's child on the day the city falls to the Yankees, but of course Rhett shows up in time to save the day. Then he unceremoniously dumps them in the Georgia countryside and runs off to join the dying Cause. Scarlett makes it home to Tara only to find the Yankees have been there already and nothing is the same.
With the war's end and Scarlett's return to Atlanta we begin the third and final section of the movie. This deals with carpetbaggers and the KKK as well as her marriage to Rhett.
Four hours of pure soap opera. This movie is the definitive saga of all time.
The cast is outstanding but Hattie McDaniel deserves special mention for her wonderful role as the indomitable Mammy. She, in fact, became the first black actor to win an Oscar as best supporting actress.
This movie is still unparalleled in scope and grandeur.
Reviewed on:
December 15th, 2003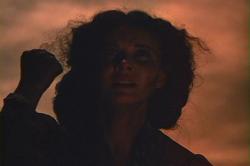 Vivien Leigh will never be tired or hungry again as Scarlett O'Hara in Gone with the Wind.
"Scarlett O'Hara was not beautiful, but men seldom realized it, when captured by her charms, as the Tarelton Twins were...." So begins Margaret Mitchell's love song to the Old South, Gone with the Wind, quite simply one of the greatest movies ever made, as my brothers have noted.
As Patrick pointed out, this movie is pure soap opera. But what a Soap Opera! And what Soap Opera ever had characters like these! Clark Gable and Vivien Liegh created, with this movie, two of the greatest characters ever presented in any film. And like all good Soap Opera characters they struggle to express their love for each other throughout the movie, never reaching the same point in their relationship at the same time.
And the love story of these two incredible people is told against the backdrop of one of the most turbulent times in American History, the Civil War. Sure, it's a romanticized version of the war, but if you're watching this movie for historical accuracy, you are watching for the wrong reasons.
Emotionally stirring, is another way I would describe this movie. If you can't feel, and feel deeply, for Scarlett as she raises that hand in the air, swearing that, "...she will never be tired or hungry again...", you must possess a heart made of stone. And again, when Rhett cries to Mammy when Scarlett is injured, or again when Scarlett finally comes to her senses and confesses her love to Rhett only to be told, in the film's most legendary line, 'Frankly my dear, I don't give a damn.' This is a movie that tugs at the emotions.
My only complaint with this movie is the lamentable Leslie Howard as Ashley Wilkes. What he possesses that could possibly attract Scarlett's love is never made clear in this movie, at least not as far as I am concerned, and certainly not when you compare him to Gable. Howard is not at all how I pictured the Ashley Wilkes from the original novel, where he is described as being, the best shot, best horsemen, and able to drink with the best of them....only he chooses not to do those things, but instead pursues more civilized hobbies. You just have to accept that Scarlett does love him.
I also can not complete any review of Gone with the Wind without commenting that one of my favorite writers of all time, F. Scott Fitzgerald, worked on the screenplay. Of course, he was just one of 12 writers working in true Hollywood fashion on the same movie, and he receives no screen credit, but he did work on it, mainly with the task of polishing the dialogue. The only scene of his which remains intact is the morning when Ashley leaves to return to the war and Scarlett presents him with a golden sash. It's not a particularly significant scene, but it does color it slightly differently when you think that the greatest prose writer of the 20th century wrote it.
There's no way to sum up this movie without becoming a cliché, so I won't even try, except to say, watch it.
Photos © Copyright MGM (1939)
Related Review