Movie Review
Goldfinger
Mixing Business And Girls! Mixing Thrills And Girls! Mixing Danger And Girls!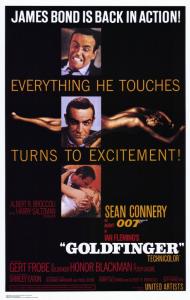 US Release Date: 12-25-1964
Directed by: Guy Hamilton
Starring
▸
▾
Sean Connery

,

as

James Bond
Honor Blackman

,

as

Honor Blackman
Gert Frobe

,

as

Auric Goldfinger
Shirley Eaton

,

as

Jill Masterson
Tania Mallet

,

as

Tilly Masterson
Harold Sakata

,

as

Oddjob
Lois Maxwell

,

as

Miss Moneypenny
Bernard Lee

,

as

M
Desmond Llewelyn

as

Q

Reviewed on:
December 25th, 2001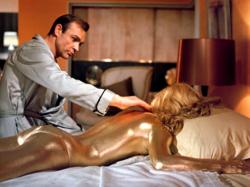 Sean Connery and Shirley Eaton in Goldfinger.
The Bond film. The one that all other Bond films must live up to, and the only one of the films that surpasses the book upon which it is based. This is the one that kicked the franchise into overdrive and really began the spy craze of the sixties.
Of course, there are two things that people always remember about this movie, Bond's gadget laden Aston Martin, and the girl covered in gold paint. With these two scenes, James Bond became an instant cinematic legend, indelibly stamped on the public consciousness.
In Goldfinger, we find everybody's favorite British secret agent, James Bond, hot on the trail of Auric Goldfinger, a gold smuggler and international terrorist. Bond's mission is to find out how Goldfinger is bringing his gold into Britain, but instead he uncovers a plot that goes much deeper, a plot that, if left unchecked, will destroy the entire gold reserves of the United States. But as usual in the Bond Films, the plot is really just a device that puts our hero into tense situations, in exotic locales, where he will meet beautiful women who will fall instantly in love with him, and where he will defeat the bad guy and his evil henchmen, all in spectacular fashion.
All of the newer Bond films contain set pieces. Scenes that we expect to see in every movie, a scene in which Q explains some new gadget to Bond, for example. Goldfinger is the film that created these set pieces. It is the first film in the series to have one of the Q scenes set in the basement with all sorts of gadgets in the background. It is also the first film to have a Bond girl with an innuendo-laden name, i.e. Pussy Galore. The Bond song, another staple, is sung over the opening credits for the first time. All of these things appear in nearly every Bond film since this one.
Sean Connery, with out a doubt the best of the Bonds, is particularly good here. He is still playing the part with deadly seriousness, and gives you a feeling of real danger, an element that is sadly lacking in many of the other films. The scene where he is strapped to the table by Goldfinger, with a laser inching its way towards his body, is one of the best scenes. He must save himself, not with a gadget, but with his mind. 'Do you expect me to talk?' he asks. 'No, Mr. Bond. I expect you to die,' Goldfinger replies.
The blueprint for all the Bond films which followed, this movie will standout long after many of the others, will hopefully, be forgotten.

Reviewed on:
December 25th, 2002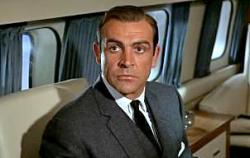 Sean Connery in Goldfinger.
I agree with everything Scott wrote. I do feel that another reason this one works so well, is that James Bond is in so much of the picture. It really follows him as he uncovers the plot. There are none of those annoying sidetrack scenes that show up in later Bond movies. The ones that go into great detail to show the criminals in the act of generally being up to no good. The thrill of a James Bond movie, is watching James Bond be his upper crust, chauvinistic, cocky, shaken not stirred self.
My personal favorite scene in this movie is where he plays golf with Goldfinger. It's Bond at his smug best.
Reviewed on:
December 25th, 2003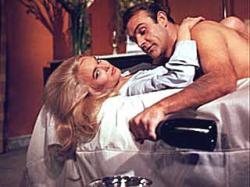 Shirley Eaton and Sean Connery in Goldfinger.
Scott's take on this movie is good and quite thorough. Eric's additional comments are accurate as well. I can only add what I think is another reason for the success of this seminal spy movie. The time of its release. America was still living the good life of the cocktail generation and the woman's movement had not kicked into high gear yet. Today's Bond is out of step with social attitudes and yet it does not make sense for him to be politically correct either. Sure the formula still works on some levels but not in the complete way it did in the swinging sixties.
Photos © Copyright United Artists (1964)