Movie Review
Gold Diggers of 1933
Your dream of perfect beauty comes true!
US Release Date: 05-27-1933
Directed by: Mervyn LeRoy
Starring
▸
▾
Warren William

,

as

J. Lawrence Bradford
Joan Blondell

,

as

Carol King
Aline MacMahon

,

as

Trixie Lorraine
Ruby Keeler

,

as

Polly Parker
Dick Powell

,

as

Brad Roberts
Guy Kibbee

,

as

Fanuel H. Peabody
Ned Sparks

,

as

Barney Hopkins
Ginger Rogers

,

as

Fay Fortune
Billy Barty

,

as

Baby in Pettin in the Park
Sterling Holloway

as

Second Messenger Boy with Hat

Reviewed on:
February 11th, 2010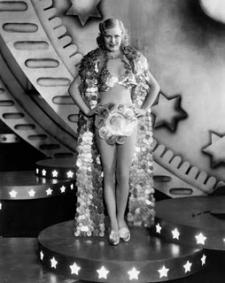 Ginger Rogers is in the money, literally.
Gold Diggers of 1933 is the quintessential Depression era musical. Although MGM would later become synonymous with the golden age of the Hollywood musical, Warner Bros., with the singing/dancing talents of Ruby Keeler and Dick Powell along with musical numbers conceived and directed by Busby Berkeley, was the king of the genre for a brief period in the early 30's. 42nd Street is more iconic and Footlight Parade boasts Jimmy Cagney in hoofer mode, but Gold Diggers of 1933 is the best of Warner's pre-code musicals.
The opening number is the most famous scene. A close-up of Ginger Rogers singing "We're in the Money". The camera pulls back to reveal Ginger and fellow chorus girls wearing costumes made from coins. The backdrop features giant coins. The lyrics are all about "spending, lending and sending money rolling along". The irony fairly drips from the stage. The final song is a blues number called, "My Forgotten Man". It features soldiers returning triumphantly from the first world war, then seconds later these same men are standing in a bread line.
Like all musicals of its day, this is a back stage musical. The songs and dances all take place in the context of a show. Characters didn't break into song to express their feelings until Showboat revolutionized the genre a few years later. Unlike many backstage musicals Gold Diggers has a clever plot involving mistaken identity and plenty of fast paced wise-cracks. One woman tells her heavy set dance partner that he is "light as a heifer, uh feather." A clearly middle-aged actor complains about being told how to sing a song by saying, "I've been playing the juvenile for 18 years, don't tell me I don't know how to sell a number."
Besides Keeler, Powell and Rogers the cast includes the under appreciated Joan Blondell. She is, in fact, the female lead opposite Warren William in one of his best roles. He plays Powell's snobby overprotective brother. He mistakes Blondell for Keeler and tries to keep her from marrying his younger brother as she is a show girl and they are Boston bluebloods. Sure you can see where it's going but the plot whizzes along.
The musical numbers are innovative. The song "Pettin' in the Park" would not have been filmed just a few years later after the enforcement of the Hays Code. Chorus girls are shown in silhouette behind a scrim. They are wearing bras and pantyhose but appear to be naked. At the end of the number Dick Powell uses a can opener to begin cutting a hole in the metal dress Ruby Keeler is wearing. The penultimate number is visually impressive involving neon violins and Berkeley's trademark camera on the ceiling.
Directed with gusto by Mervyn LeRoy and so popular that it spawned sequels in 1935 and '37, this is one of those movies I had seen clips from all my life. Whenever characters in movies set during the Depression go to the movies it seems as if Gold Diggers of 1933 is always playing. Now that I've seen it I understand why. It has a great cast, funny dialogue, memorable musical numbers and a patriotic finale sure to lift the most financially strapped heart.
Reviewed on:
April 25th, 2010
Joan Blondell and Aline MacMahon in Gold Diggers of 1933
Patrick, I was with you right up until the end where you remark on the patriotic final number. "My Forgotten Man" is hardly a patriotic number, but more of a protest song whose message is aimed at the government saying, "he fought the war for you but now you've forgotten him". Like a lot of things in this movie, it probably wouldn't have been allowed after the Hays Code began to be enforced. To me, the song also seems a bit of a downer way of ending a musical-comedy and doesn't really fit the mood of the rest of the film. Supposedly, the song "Pettin' in the Park" was going to be the original ending number, but Jack Warner and Darryl F. Zanuck preferred "My Forgotten Man".
Overall this is a funny and fast-paced little musical that captures an era perfectly. Pre-code movies are so refreshing to see and come across as so modern in their attitude compared to the movies made after. The humor and the plot is allowed to be risque and aimed at grown-ups. You certainly wouldn't see two girls putting a man into a bed so he'd wake up the next morning thinking he'd had sex with one of them, once the code went into effect.
The cast is terrific as a whole, but Joan Blondell and Aline MacMahon steal the show as the schemers teaching the two Bostonian millionaires a lesson. I love how they take offense at being called gold diggers but then proceed to try to get as much money out of them as possible. "...just the kind of man I've been looking for, lots of money and no resistance." as Trixie says.
Normally I'm not a huge fan of Busby Berkeley. His musical numbers, while impressive, always seem to go on too long and stop the plot completely. Here though they manage to be both novel and thankfully brief.
This is a great depression-era musical. Apart from ending on such a down note, it's a near perfect example of the genre and a delightful romp.

Reviewed on:
June 22nd, 2011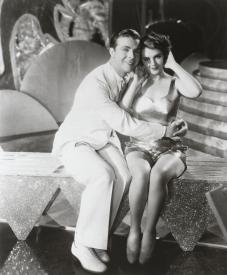 Dick Powell has plans if he can get that metal top off Ruby Keeler.
The only thing I knew of this film was the clip of 'We're in the Money" that Faye Dunaway and Warren Beatty watch in Bonnie and Clyde. As a bank robber, Bonnie Parker is shown loving the song. Gold Diggers of 1933 was extremely topical, socially and politically.
"My Forgotten Man" is very much a protest song. On July 28, 1932, less than a year before this film's release, the United States government ordered the U.S. Army to attack World War I veterans camping in Washington, D.C., who were demanding their bonus pay early. Several veterans were killed. It is a piece of U. S. history not often talked about. Forgotten men indeed.
I was a bit shocked by "Pettin in the Park." By today's standards it is tame, but in a film from so long ago it is rare to find a song that celebrates feeling up your girlfriend. As Patrick mentioned, the Hays Code quickly put a stop to it. The girls behind the screen do not just appear to be naked, they are naked. The silhouettes of their breasts could only be created by a woman not wearing a bra.
Gold Diggers of 1933 makes great tongue in cheek commentary on the times. My favorite line is when the funny girl asks the producer, "Isn't there going to be any comedy in the show?" and he responds, "Oh, plenty! The gay side, the hard-boiled side, the cynical and funny side of the depression! I'll make 'em laugh at you starving to death, honey. It'll be the funniest thing you ever did."
Photos © Copyright Warner Bros. Pictures (1933)
Related Review