Movie Review
Going in Style
Meet three guys with an outrageous plan to beat the system...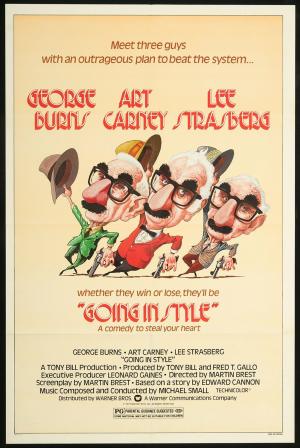 US Release Date: 12-25-1979
Directed by: Martin Brest
Starring
▸
▾
George Burns

,

as

Joe
Art Carney

,

as

Al
Lee Strasberg

,

as

Willie
Charles Hallahan

,

as

Pete
Pamela Payton-Wright

,

as

Kathy
Siobhan Keegan

,

as

Colleen
Brian Neville

,

as

Kevin
Constantine Hartofolis

,

as

Boy in Park
Mary Testa

,

as

Teller
Jean Shevlin

,

as

Mrs. Fein
James Manis

,

as

Hot Dog Vendor
Tito Goya

,

as

Gypsy Cab Driver
William Pabst

,

as

Bank Guard
Christopher Wynkoop

as

Bank Manager
Reviewed on:
June 13th, 2016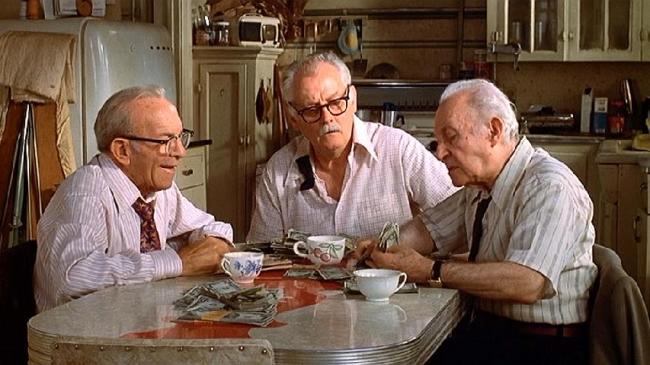 George Burns, Art Carney, and Lee Strasberg in Going in Style.
Although I believe that great movies can appeal to audiences of all ages, some of them are better appreciated at certain stages of life. Even though I'm still several decades younger than the characters in this film, I am old enough now to appreciate it in ways that I was unable to when I first saw it all those years ago when I was just a kid. The humorous moments are still as funny as they were when I first saw it, but now it was the heartfelt, dramatic moments that really affected me.
The film tells the story of Joe (Burns), Al(Carney), and Willie(Strasberg), three retired men, in the twilight of their lives, who all share an apartment in Astoria, Queens. They spend most of their day on a park bench watching the world go by and subsisting on their Social Security checks. One day Joe gets the idea of robbing a bank. In part, it's to provide them with some cash, but mostly it's to add some excitement to their fading days. Even just the planning of the heist is enough to lift their spirits and provides some of the film's lighter moments. Following the robbery itself however, things start to take a more dramatic turn.
George Burns was in the midst of his late career renaissance when he made this movie, following the success of The Sunshine Boys (for which he won the Best Supporting Actor Oscar) and the surprise box office hit that was Oh, God!. Although famous for his comedy, he delivers a surprisingly dramatic turn here. He has a particularly touching scene where he cries over a photo of his dead wife, which is made even more poignant by being an actual photo of a young Gracie Allen. He's the leader of the trio of robbers and the heart of the film.
Lee Strasberg and Art Carney are in the supporting parts, but they each do a good job. Strasberg has a dramatic scene where he expresses regret over his past, while Carney's role is a much lighter one. Although all three of the actors are playing close to the same age, in reality there was over 20 years between Burns and Carney, but it's not overly noticeable apart from the little extra energy Carney exhibits.
Although it was marketed as a comedy, as evidenced by the trailer which is still available on YouTube, and that's how I remembered it, it's really much more than that. It has a deeper meaning behind the laughs. It's about three guys near the end of their life who decide to take action instead of drifting into a passive grave. Both Burns and Carney were known more for their comedy than their dramatic acting chops, but they both deliver very solid and moving performances here. Although I shouldn't over emphasize the drama. There's plenty of it, but it's mixed with humor and packaged in a taut 90 minutes.
With a remake due out next year, now's a good time to revisit the original. The cast of the new version, which is comprised of Morgan Freeman, Michael Caine, and Alan Arkin, shows promise, but it will have to go a long way to surpass the original.

Photos © Copyright Warner Bros. (1979)