Movie Review
Gods of the Plague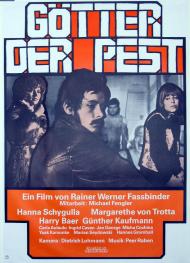 Germany Release Date: 07-24-1970
Directed by: Rainer Werner Fassbinder
Starring
▸
▾
Harry Baer

,

as

Franz Walsch
Hanna Schygulla

,

as

Johanna Reiher
Margarethe von Trotta

,

as

Margarethe
Gunther Kaufmann

,

as

Gunther (Gorilla)
Carla Egerer

,

as

Carla Aulaulu
Ingrid Caven

,

as

Magdalena Fuller
Jan George

,

as

Polizist
Lilo Pempeit

,

as

Mutter
Marian Seidowsky

,

as

Marian Walsch
Micha Cochina

,

as

Joe
Yaak Karsunke

,

as

Kommissar
Hannes Gromball

,

as

Supermarkt-Chef
Rainer Werner Fassbinder

as

Pornokunde
Reviewed on:
November 19th, 2012
Gunther Kaufmann, Harry Baer and Margarethe von Trotta in Gods of the Plague.
Rainer Werner Fassbinder was the leading figure in the New German Cinema movement. He was a controversial artist that worked at a frantic pace. Between 1969 and 1982 he directed an astonishing 40 films, while working as writer, actor, producer, composer, designer, editor and cameraman on many of them. He brought a distinctly gay perspective to his work and his movies often focused on social outcasts. He died of a drug overdose at the age of 37 in 1982.
Gods of the Plague (Götter der Pest) was just Fassbinder's third feature film. The simple plot tells the story of a criminal named Franz who is released from a prison in Munich as the movie opens. He looks up his old girlfriend Johanna, a nightclub singer with an obsession for Marlene Dietrich. Through her, Franz is able to eventually track down his old partner in crime played by Fassbinder's real life lover, and frequent leading man, Günther Kaufmann. The climax of the story takes place at a supermarket Franz and Gunther attempt to rob. The themes of the movie include homoerotic desire as well as betrayal.
As with most Fassbinder films the plot is secondary to these underlying themes and the style in which it is shot. Fassbinder took a variety of styles and genres and mixed them together to come up with something completely new in cinema. Gods of the Plague features elements of 1930's gangster pictures, 1940's film noir as well as bits of the French New Wave style from the 1950's and 60's. It was shot in black and white with an old-fashioned aspect ratio of 1.37 : 1. This is the way all films looked before the invention of the Widescreen process in the early 1950s.
Fassbinder always brought a gay sensibility to his work and he also pushed the boundaries in terms of sex and nudity. Where straight directors worship the female form, Fassbinder instead treats the male body as a sex object. Harry Baer, as Franz, shows the full-monty and Günther Kaufmann flaunts his naked butt, while the female characters stay fully clothed throughout the movie. It also features close-ups of pornographic photographs showing graphic sex acts, something that would never make it into a Hollywood movie even today, more than 40 years after it was made. Gods of the Plague didn't get shown in the United States until it had a brief run in New York City in 1977.
Gods of the plague (like most of Fassbinder's films) is not for everyone. It is highly stylized with a slow pace and limited dialogue. His camera work is always interesting and his shots are all carefully constructed. There is one memorable shot where Gunther, Franz and Margarethe are all in the front seat of a car. They carry on a conversation as the camera, mounted on the hood of the car, photographs them driving through the German countryside in one long take.
Gods of the Plague is an interesting film from this incredibly prolific director's early period. Like all Fassbinder films it offers a highly personal and unique perspective of familiar movie tropes. Harry Baer deserves recognition for his performance as Franz. He is an enigma from beginning to end. A man of few words and a consistently morose demeanor.
Although it's far from a great movie, Gods of the Plague is worth checking out for anyone interested in the films of Rainer Werner Fassbinder or art house cinema in general.
Photos © Copyright Antiteater (1970)