Movie Review
Gods and Monsters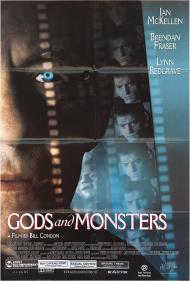 US Release Date: 11-04-1998
Directed by: Bill Condon
Starring
▸
▾
Ian McKellen

,

as

James Whale
Brendan Fraser

,

as

Clayton Boone
Lynn Redgrave

,

as

Hanna
Lolita Davidovich

,

as

Betty
David Dukes

,

as

David Lewis
Cornelia Hayes OHerlihy

,

as

Princess Margaret
Jack Plotnick

,

as

Edmund Kay
Rosalind Ayres

,

as

Elsa Lanchester
Jack Betts

,

as

Boris Karloff
Matt McKenzie

,

as

Colin Clive
Martin Ferrero

,

as

George Cukor
Amir Aboulela

,

as

The Monster
Marlon Braccia

as

Elizabeth Taylor


Reviewed on:
August 17th, 2009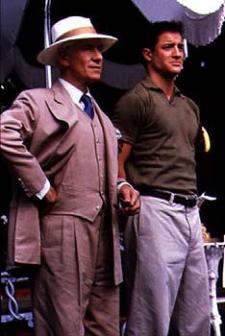 McKellen and Fraser in Gods and Monsters.
Gods and Monsters is a brilliant film with interesting characters, an intriguing plot, symbolism and some nice movie history.
The movie tells of the final days of James Whale. He was famous for directing Frankenstein and the sequel Bride of Frankenstein. He was openly gay and, according to this movie based on Christopher Bram's biography, quite blatant about it. With his long time companion recently moved out, he lives alone with his housekeeper. One day he notices a new gardener, Clayton, hired by his housekeeper. He is young and muscular, recently out of the Marines. Whale immediately approaches him and begins flirting, telling him he can use the pool and not to worry about wearing a bathing suit.
Being this is the mid 1950's, Clayton does not catch on that Whale is a homosexual. He just thinks he is eccentric. Clayton is straight and comes from a dysfunctional family. He lives alone and carries his own secret. He and Whale soon become friends. Although his discovery that Whale is gay creates some issues for him, they eventually come to an understanding.
Whale sees Clayton as more than just an object of lust. He reminds Whale of his first love. Whale was a soldier in World War I and he had a secret love affair with a fellow soldier. The end of that relationship is heart breaking. Whale also sees Clayton as his "Frankenstein's monster." Frasier often wears his hair in a flat top, resembling Karloff's flat head as the Monster in Whale's movie.
My favorite scene in the film is when Whale takes Clayton to a fancy Hollywood party thrown by George Cukor, and attended by movies stars like Elizabeth Taylor and a British princess. Whale spares no expense at exposing Cukor's homosexuality. When meeting the royal, he says to her, in front of Clayton and Cukor, "He has met many Queens but never a princess." referring to Clayton.
That night, alone at Whale's home their friendship takes a strange turn. After Whale tells Clayton his sad love story, Clayton feels sorry for him and decides to get naked as a distraction, so Whale may sketch him. He sincerely does it as a gesture of friendship, but Whale takes it to far. He has the naked Clayton put on a World War I gas mask. Thus turning him into both his first love and his movie monster. This freaks Clayton out and he ends up beating Whale up after Whale cops a feel.
The most unique thing about the movie is that the two main characters are very different, but come to need each other in ways they would never suspect. Both are lonely, and their friendship, no matter how unconventional, benefits them both. They share their stories with each other, and grow from the experience.
Reviewed on:
September 6th, 2009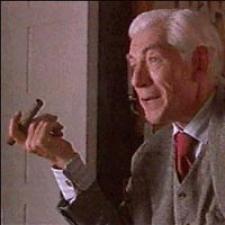 Ian McKellen delivers a great performance as director James Whale.
Clearly Whale isn't taking things too far when Clayton is naked at the end of the movie because he's trying to have sex with him. Whale is trying to anger Clayton enough so that Clayton will kill him and thus end the torment he feels his life has become.
Although I've liked Brendan Fraser in some of his lighter movies, I was actually surprised by his dramatic turn here. He has a couple of emotional scenes that he delivers quite well even if he doesn't quite bring the subtlety to the role that it requires. However, this is Ian Mckellen's movie and he carries it effortlessly. Along with some smart dialogue, good editing and direction, he brings James Whale to life in a real and sympathetic manner and creates a very memorable and completely fleshed out character. Also very good is Lynn Redgrave, who buries herself in the part of Whale's housekeeper.
While there are great performances and memorable characters, the overall story is lacking. You learn a great deal about Whale's background and you see the suffering that he's going through, but Clayton, apart from making a friend and finally having someone to whom he can reveal his secret, seems incomplete. The ending implies that he's changed and matured, but just how he was affected in that way isn't fully clear to me. I actually wanted to see more of both characters.
I also found the stories of old Hollywood to be interesting and fun. Why hasn't someone made more movies about that era? Is Hollywood still too afraid to tell tales about itself? It seems like a subject that is ripe for the picking.
Great performances and surprisingly fast-paced, this is a movie that feels like it could have been a play. I just wish it could have had a slightly stronger story-arc.
Reviewed on:
February 3rd, 2012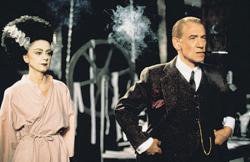 Rosalind Ayres plays Elsa Lanchester as Frankenstein's bride with Ian McKellen as James Whale in Gods and Monsters.
With its limited sets and small cast of characters Gods and Monsters certainly feels like a play. It was shot in just 24 days during the summer of 1997. The title comes from a line spoken in Whale's The Bride of Frankenstein, "To a new world of gods and monsters." Not that it hurts the dramatic impact of the story but one factual detail is missing from that fateful spring day in 1957. In real life James Whale left a suicide note assuring his loved ones that he wasn't depressed but merely wished to end his ongoing physical agony.
I agree the acting is good. Fraser gives his best dramatic performance and Lynn Redgrave steals a few scenes with her thick German accent. "All men, always pulling legs. Everything is comedy. Oh how very amusing. How marvelously droll." But I agree that Sir Ian McKellen carries the movie on his narrow but talented shoulders. He imbues the long-since-past-his-glory-days director with just the right mix of pathos, nostalgia and bitterness as he nears the end of his life. My favorite line of his is when he is asked if he misses directing. His wistful answer, "Making movies is the most wonderful thing in the world. Working with friends - entertaining people - yes, I suppose I miss it."
Although primarily remembered for the two Frankenstein movies he helmed, Whale left behind an impressive body of work. His films include such classics as the 1931 Waterloo Bridge, the gothic masterpiece The Old Dark House, The Invisible Man, the 1936 Show Boat and the 1939 version of The Man in the Iron Mask, among others.
Clayton represents the movie fan in all of us. He is star struck upon learning about Whale's past career as a big shot Hollywood player. Without the allure and glamour of fame he would never have allowed Whale to get as physically close to him as he does. Whale's reminiscences of his past are some of the best parts of the story. I also loved the flashbacks on the sets of his movies and the reunion between Whale, Elsa Lanchester and Boris Karloff at George Cukor's soirée.
Gods and Monsters is a well-acted cinematic paean to the Golden Age of Hollywood through the lavender prism of the final days of one of its greatest gay directors. It is also one of only a handful of movies to win the Best Adapted Screenplay Oscar without also garnering a Best Picture nomination. Scott, this is a character study about the final days in a celebrated and fascinating man's life. As such it has just enough story arc and, as Eric pointed out, it has the added benefit of some well-placed symbolism. Like so many of James Whale's movies, Gods and Monsters is a classic.

Photos © Copyright Lions Gate Films (1998)
Related Review