Movie Review
Goal
Every Dream Has A Beginning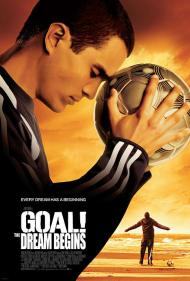 US Release Date: 05-12-2006
Directed by: Danny Cannon
Starring
▸
▾
Kuno Becker

,

as

Santiago Munez
Alessandro Nivola

,

as

Gavin Harris
Anna Friel

,

as

Roz Harmison
Stephen Dillane

,

as

Glen Foy
Gary Lewis

,

as

Mal Braithwaite
Sean Pertwee

,

as

Barry Rankin
Marcel Iures

,

as

Erik Dornhelm
Tony Plana

,

as

Hernan Munez
David Beckham

as

Himself

Reviewed on:
February 8th, 2007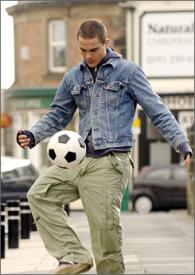 Kuno Becker in Goal.
In Goal, a family of Mexicans illegally enter the United States in one of the first scenes. Granted, the main character of the movie is a child, Santiago, so he is hardly responsible for the act. However, the fact that his father and grandmother took him and his younger brother across the border illegally is never put in bad light, although it eventually create some small inconveniences. Later in the movie, the now grown Santiago tells of having asthma and how he got his inhaler from a free clinic in Los Angeles.
I bring politics up because the entire point of the movie is to get the audience to root for and like Santiago. His mother has left the family and he lives with his brother, grandmother and father in a middle class house in LA. He is very hard working. He works with his dad in lawn care and he is also a dish washer at a restaurant. His dream though is to play professional soccer.
While playing soccer at a park with some friends, Santiago gets noticed by a former soccer scout from England, who is there watching his grandson play soccer nearby. After making a phone call to the Newcastle football club owner in England, the scout offers Santiago a tryout with the reserve team if he can find a way to England.
An excited Santiago begins working even harder to make the money for the trip. His father is against it, wanting Santiago to partner with him on their very own lawn business. With only a few hundred dollars to go to pay for the trip, Santiago's father takes his money and buys a truck so as to start the business. Father and son then have an argument that ends with neither speaking to the other. The religious Grandmother sneaks behind dad's back and gives Santiago the money. (Why are only minorities shown as good religious people in movies?)
Once in England, he goes through all the typical trials and tribulations of being the new guy. He has to make friends and over come a bad first day at tryouts. He meets a nurse during a routine physical for the team. They like each other but he lies about having asthma. A fellow teammate, who dislikes Santiago for no apparent reason, breaks his inhaler. Santiago then plays a horrible game and almost gets kicked off the team.
Santiago eventually makes it to the show and plays a match in London. He hangs with the star player and goes to the right night spots in London. Their he meets some real professional soccer stars like David Beckham. His picture gets taken with a bunch of girls wearing only their lingerie. Santiago apologizes to the nurse who is now his girlfriend and assures her that nothing happened with the girls in the photo.
Played by Becker, Santiago is a very likable guy. His is well mannered and quite conservative in his actions. His does not swear and it is never made clear that he and his girlfriend ever even have sex. They share a passionate kiss but the scene cuts away before it goes any further. What makes him stand out from the other players on the team is that they want all of the fame, girls and glory while he just wants his daddies approval, which in this case would mean having his father watch him play soccer.
So popular was Goal around the world that Goal 2 and Goal 3 are due out soon. My only hope is that they keep Santiago as clean and wholesome as possible as that is his only personality trait. This is a story of hope and determination. Santiago is chasing a dream and you cannot help but root for him. By the end of the movie, he is rich and famous. I wonder if he will pay any money back to the United States government for all of the charity it gave him?
Photos © Copyright Touchstone Pictures (2006)