Movie Review
Go for Broke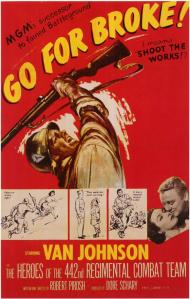 US Release Date: 05-24-1951
Directed by: Robert Pirosh
Starring
▸
▾
Van Johnson

,

as

Lt. Michael Grayson
Lane Nakano

,

as

Sam
George Miki

,

as

Chick
Akira Fukunaga

,

as

Frank
Ken K. Okamoto

,

as

Kaz
Henry Oyasato

,

as

Ohara
Harry Hamada

,

as

Masami
Henry Nakamura

,

as

Tommy
Warner Anderson

as

Col. Charles W. Pence

Reviewed on:
January 8th, 2006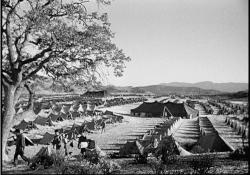 Go For Broke.
True war stories are always better than made up ones because you are watching history reenacted. Men really died, suffered and triumphed as portrayed on screen. Go for Broke is the true story of Japanese Americans who volunteered, some to get out of internment camps, for the army to fight in World War II.
Van Johnson stars as Lt Grayson who is put in charge of the 442 Regiment which is made up of Japanese Americans. Grayson has the typical racist attitudes of the time. He, at first, refers to the men as "Japs" but is quickly corrected to call them there chosen name of Nisei. He does the usual tough officer in charge routine and the men all get trained to be fine soldiers.
The movie could have used some more action. As a "war" movie the fighting is secondary to the film's political statement that Japanese Americans served valiantly and proudly during World War II. Go for Broke does not gloss over the fact that Japanese Americans were put in interment camps and were none to happy about it.
For whatever reason, it seemed that most actors of the first 40 years of cinema, like Clark Gable, Tyrone Power, Humphrey Bogart, James Cagney and Cary Grant all had dark hair. Johnson was one of the first male blond actors. His distinct voice, as well as his hair color, served him well in dramas, comedies and war pictures.
Many of the Nisei soldiers are portrayed by actual Nisei soldiers who served in the 442. Their acting is not always convincing but it was common then to have real soldiers in World War II movies. The marines who raised the flag on Iwo Jima have cameos in John Wayne's The Sands of Iwo Jima and of course, World War II hero, Audie Murphy went on to star in many movies.
The Nisei are shown wanting to fight in the pacific but they were only sent to Europe. The 442 is one of the most decorated regiments of World War II . Much like 2002's Windtalkers, Go for Broke is a nice way of honoring an often overlooked group of men who bravely served there country.
Photos © Copyright Metro-Goldwyn-Mayer (MGM) (1951)