Movie Review
Gnomeo and Juliet
An adventure like you have never gnome.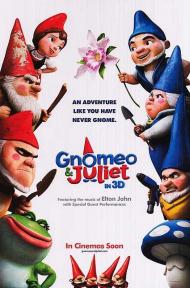 US Release Date: 02-11-2011
Directed by: Kelly Asbury
Starring
▸
▾
James McAvoy

,

as

Gnomeo (voice)
Emily Blunt

,

as

Juliet (voice)
Ashley Jensen

,

as

Nanette (voice)
Michael Caine

,

as

Lord Redbrick (voice)
Matt Lucas

,

as

Benny (voice)
Jim Cummings

,

as

Featherstone (voice)
Maggie Smith

,

as

Lady Bluebury (voice)
Jason Statham

,

as

Tybalt (voice)
Ozzy Osbourne

,

as

Fawn (voice)
Stephen Merchant

,

as

Paris (voice)
Patrick Stewart

,

as

Bill Shakespeare (voice)
Julie Walters

,

as

Miss Montague (voice)
Hulk Hogan

,

as

Terrafirminator V.O. (voice)
Richard Wilson

,

as

Mr. Capulet (voice)
Dolly Parton

as

Dolly Gnome (voice)

Reviewed on:
March 7th, 2011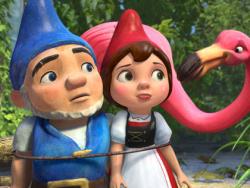 James McAvoy and Emily Blunt voice Gnomeo and Juliet.
This tale of star-crossed lovers is thousands of years old, being traced as far back as Ovid's "Metamorphoses", written in 8 A.D. Since then it has been told and retold hundreds of times, most famously of course by William Shakespeare. This cute little animated feature has to be one of the more quirkier versions. As the gnome who introduces this story says, "The story you about to see has been told before. A lot."
Based loosely, but still pretty closely, on Romeo & Juliet, it uses garden gnomes in adjacent gardens to retell the story of the Montagues and the Capulets. While it's not the greatest cartoon ever made, it is funny, filled with a who's-who of British actors, and is, if nothing else, a great way to introduce young kids to Shakespeare.
The red gnomes and the blue gnomes live next door to each other in the backyard's of Mr. Capulet and Mrs. Montague, respectively. There is a long standing feud between the neighbors and their gnomes, the origins of which no one can remember. Naturally enough Juliet, a red gnome, meets Gnomeo, a blue gnome, and they fall instantly in love with one another. Only, how can they ever live happily ever after when their families hate each other?
In the world of this story, all statues, dolls and gnomes come to life when human's aren't looking, but are turned back into their immovable state when someone looks at them. It's in a manner rather similar to the world of Toy Story.
While you don't need to be familiar with Shakespeare's play to enjoy this movie, it will certainly help you to get all of the references to both this play and Shakespeare in general. Take this soliloquy by the gnome version of Juliet as an example, "Oh, Gnomeo, Gnomeo, are we really doomed to never see each other again? Why must you wear a blue hat? Why couldn't it be red like my father, or green like... like a leprechaun... or purple like, ummm, like some weird guy - I mean what's in a gnome? Because you are blue, my father sees red, and because I am red, I am feeling blue. Oh, at any rate that shouldn't be the thing to keep us apart, should it?"
Along with the similar, but twisted lines from the play, there are little Easter eggs thrown in from other of Shakespeare's plays. Someone yells, "Out, out damn Spot!" to a dog named Spot. A Rosencrantz and Guilderstern Moving Truck passes by. And Gnomeo has a conversation with a statue of Shakespeare at one point, who comments on the similarities between Gnomeo's story and a play he once wrote. There are other references, but I won't give them all away here.
Half the fun to an anglophile such as myself was hearing so many great British actors in the same cartoon. Michael Caine plays Juliet's father (although how Gnomes are "born" is never really discussed). Jason Statham plays the villainous Tybalt. Comedian Matt Lucas is Benny. Even Ozzie Osbourne turns up playing a fawn while Patrick Stewart puts that commanding voice of his to good use as the Shakespeare statue. And that's just some of the many, many familiar voices you will hear.
This is one of those movies where the bad reviews it has been getting seem a bit of a mystery to me. It's currently rated Rotten on RottenTomatoes.com. True, this isn't the greatest cartoon ever made, but it's cute and funny. It's certainly not trying to be anything other than what it is, which is a lighthearted children's version of a Shakespearean classic. And there's plenty in it for grown-ups to enjoy, and the young children in the theater when I saw it certainly seemed to be enjoying it. Perhaps when it's released on DVD and for download, it will end up being appreciated more.

Reviewed on:
November 10th, 2011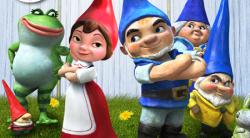 Gnomeo and Juliet
I too remember Gnomeo and Juliet not being well received when released in theaters, and for the life of me, I cannot understand why. It is based on one of the greatest love stories ever written. It has a truly inspiring cast of voices that get to deliver some truly witty lines. It also has some great pop songs by Elton John. I was singing along to "Don't go Breaking My Heart." They occasionally change some of the lyrics to good comic affect. Do you recognize this line, "Its a little bit runny, this pest-icide."?
I am a garden person. I am not sure why. Perhaps it is our British ancestry, but I find it very therapeutic planting and watering my flowers and bushes. I also own a couple of gnomes as well as other lawn decorations. I am not sure if this influenced my opinion, but I loved this movie.
I laughed out loud several times. At one point Juliet has to stand on top of her frog friend to see Gnomeo through a fence. As they are trying to kiss, the frog remarks, "You know he's going to ditch you when he finds out how much you weigh." I liked the lawn mower commercial for the Terrafirminator with Hulk Hogan as the announcer. When describing how powerful it is, he says, "Your lawn will be afraid to grow." It also has some creative sight gags such as the bra in the laundry and the use of a grill for smoke signals.
Gnomeo and Juliet is one of the most enjoyable animated films I have seen in a while. It has so much to offer. It has action in the form of lawn mower races. The scene where Tybalt gets destroyed and Gnomeo gets pushed into the street is truly tense for such a light weight animated film. I was anxious to see how this family film was going to deal with the tragic Romeo and Juliet ending.
Gnomeo and Juliet is an amazingly entertaining film. When the Terrafirminator arrives, one of the Gnomes says, "It has settings for edging, trimming, mulching and revenge." The head Gnome then shouts, "Release the dogs of war!" It is a reference to a line spoken in Julius Caeser by Marcus Antonius. You gotta love a movie that can make Shakespeare fun.
Reviewed on:
March 21st, 2014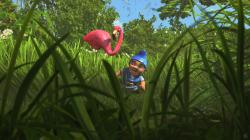 Featherstone and Gnomeo in Gnomeo and Juliet.
As of this writing, Rotten Tomatoes is now reporting 55% Fresh out of 117 reviews. Not that the critical reception of an animated kids movie has ever hurt it at the box office. This one grossed enough money that a sequel, titled Gnomeo and Juliet: Sherlock Gnomes, is already in the works. I think some of the negative reviews stemmed from a reaction to the overly cutesy premise. I mean the idea of garden gnomes coming to life and acting out Romeo and Juliet does sound a bit too precious.
But the truth is this is a fast-paced, colorful and quite silly cartoon with enough distractions aimed at adults to keep their attention. A big part of the fun was trying to see just how many Shakespearean references I could catch. Scott mentioned one of the moving vans, another one is shown that reads As You Like It Handled. The glue used to keep Juliet on her pedestal is called The Taming of the Glue.
My favorite character was the pink lawn flamingo. I'm almost embarrassed to say it but I found his back story to be quite moving. The poor guy had his soul mate taken away from him and was locked up all alone in a shed. The scenes of Gnomeo and Juliet frolicking with Featherstone in the overgrown backyard next door reminded me of childhood memories. We had an old lady neighbor whose backyard was equally overgrown and it was a magical place to play.
Like Eric, I found myself singing along to the Elton John classics. There is even a techno version of "Bennie and the Jets". And I enjoyed Dolly Parton's cameo as a country gnome. Sure a few of the jokes try too hard. "Who's your Gnomey?" comes to mind. But for the most part Gnomeo and Juliet's mix of self-reverential cleverness with silly slapstick antics makes for a fun time at the movies.
Photos © Copyright Rocket Pictures (2011)