Movie Review
Glory
Their innocence. Their heritage. Their lives. Nothing would be spared in the fight for their freedom.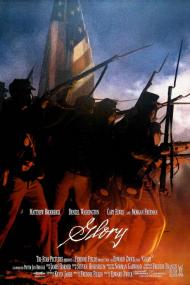 US Release Date: 12-15-1989
Directed by: Edward Zwick
Starring
▸
▾
Matthew Broderick

,

as

Col. Robert Gould Shaw
Denzel Washington

,

as

Pvt. Trip
Cary Elwes

,

as

Maj. Cabot Forbes
Morgan Freeman

,

as

Sgt. Maj. John Rawlins
Jihmi Kennedy

,

as

Pvt. Jupiter Sharts
Andre Braugher

,

as

Cpl. Thomas Searles
John Finn

,

as

Sgt. Maj. Mulcahy
Donovan Leitch

,

as

Capt. Charles Fessenden Morse
JD Cullum

,

as

Henry Sturgis Russell
Alan North

,

as

Gov. John Albion Andrew
Bob Gunton

,

as

Gen. Charles Garrison Harker
Cliff De Young

,

as

Col. James M. Montgomery
Christian Baskous

,

as

Edward L. Pierce
RonReaco Lee

,

as

Mute Drummer Boy
Jay O. Sanders

,

as

Gen. George Crockett Strong
Peter Michael Goetz

,

as

Francis George Shaw
Jane Alexander

,

as

Sarah Blake Sturgis Shaw
Raymond St. Jacques

as

Frederick Douglass

Reviewed on:
January 18th, 2011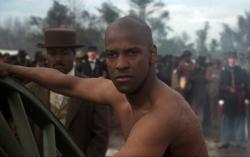 The scene that won Denzel Washington his first Oscar.
Glory is a glorious American Civil War picture that tells the true story of the all black 54th Regiment of Massachusetts led by Colonel Robert Gould Shaw. It was based on two different books as well as the actual letters Shaw wrote home to his wealthy and influential parents in Boston. It features an impressive cast led by Matthew Broderick, Denzel Washington and Morgan Freeman. Washington won his first Oscar for playing Pvt. Trip a runaway slave turned soldier.
This underrated movie also brought home the gold statuette for its Cinematography and Sound but was overlooked completely in the Picture, Director and Screenplay categories, failing even to be nominated. It certainly holds up better than Dead Poets Society which was nominated for Best Picture or even Driving Miss Daisy which took home the coveted prize that year.
It begins with a great battlefield scene. Captain Shaw is wounded and discovered still alive among the fatalities on the field. Then there is a scene showing the gruesome horrors of the medical facilities. There is a moment that is lifted from Gone with the Wind where a soldier is getting a leg amputated while still conscious.
Then in a scene that was filmed at the Savannah mansion that was featured in Midnight in the Garden of Good and Evil an announcement is made of the formation of an all black regiment. Captain Shaw is offered the job as commanding officer. He accepts and is promoted to Colonel. His best friend comes along as his second in command (Cary Elwes).
Next we meet the enlisted men as they get trained for combat. There is a kindly wise older gentleman (Morgan Freeman), a loudmouthed troublemaker (Denzel Washington), a college educated free man that grew up with Shaw and Forbes (Andre Braugher) and a stuttering crack-shot country boy (Jihmi Kennedy). Shaw brings in a tough old Irish drill sergeant (John Finn) to put them through their paces.
The acting is all around superb. This is, I think, Matthew Broderick's finest hour. He is simply sublime as Colonel Shaw. He is hard on his men but only because he is determined to turn them into first rate soldiers to show the racist brass he comes into contact with, and the world in general, that black men are the equal of whites in courage and discipline.
Denzel Washington, of course, steals the movie. The showpiece of his performance is the scene where he gets caught outside of camp and is whipped for desertion. The camera lingers on his face as he is being flogged, his back already crisscrossed with scars from previous beatings. He grits his teeth, and tries to maintain a defiant expression. Finally a tear trickles down his face. This moment won him the Oscar.
The men finally get uniforms and rifles but will they get to see action? If you haven't seen the movie I won't spoil the ending. There are some great battle scenes and a true emotional gut punch. You will get caught up in the adventures of the 54th as they prove their worthiness as soldiers and seek lasting GLORY.

Reviewed on:
February 8th, 2012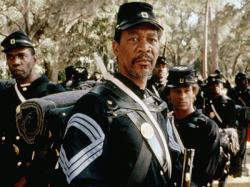 Morgan Freeman in Glory.
Patrick, I enjoyed this movie, but you are a bit effusive with your praise. It is a well made Civil War film with some exciting battles, but I disagree that all of the acting is superb.
Denzel Washington is a standout. His character starts off as actually quite unlikable. He's rude to everyone and has a massive chip on his shoulder that stays there for the entire film. While everyone else in the movie is either earnest, sincere and honorable to a fault or a cartoon racist, Washington is very human with flaws and all.
Where I disagree with you most Patrick is your assessment of Matthew Broderick's performance. He is adequate at best. I'm not sure what accent it is that he's doing. He's supposed to be from Boston, but that is like no Boston accent I've ever heard. It sounds remarkably like the almost English accent that he tried and failed to do in Ladyhawke. His worst moment comes when he goes to the supply depot and "angrily" demands that his men get supplied with boots and socks. He's supposed to be angry and intimidating, but fails to display much emotion at all.
The story of the four black soldiers is the most interesting aspect of the movie, but too often it takes a backseat to Broderick's character. Is the film told from his point of view because it would appeal to white audiences more? Obviously it's their story that makes the movie unique, so why not make them the stars instead of just the supporting players?
1988 was the 125th anniversary of the Battle of Gettysburg and a massive reenactment took place involving 15,000 participants. The opening battle scene of this movie features shots from that reenactment and is one of the best scenes in the movie. It is also the goriest, including one particularly gory scene of a soldier literally getting his head blown up. The movie also concludes with a battle scene, but it never quite equals the first.
This is a good movie. I certainly agree that it holds up better than Dead Poets Society, but I disagree that it's as perfect as Patrick claims.

Reviewed on:
February 13th, 2012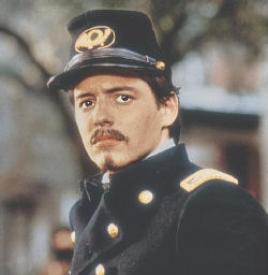 Matthew Broderick in Glory
Matthew Broderick was a huge star early on with a string of hits, War Games (1983), Ladyhawke (1985) and Ferris Bueller's Day Off (1986). In each film he showed a unique likable charm. In 1987 Broderick and then girlfriend Jennifer Grey, were racing down a road in Ireland. Broderick was behind the wheel and he struck and killed someone. In an interview with the San Francisco Chronicle, Grey stated that she never mentally recovered from the accident, "My head was never the same, my ambition was ever the same."
I am not sure how it affected Broderick personally, but it seemed to show in his films. Gone was the easy going charm and the twinkle in his eye. His career has never fully recovered. In Glory however, that personal experience may have served his performance. He plays the very serious Colonel Shaw. He walks among his peers and soldiers with a nervous calm.
Patrick wrote that, "He is hard on his men but only because he is determined to turn them into first rate soldiers." No offense Patrick, but that describes nearly every officer or sergeant in any war film ever made. The uniqueness of his situation is that he does not know how to approach them at first, as he does not want to treat them differently than he would if they were white, but he does not want them to think he is being abusive either.
That is not a problem for Sgt. Maj. Mulcahy. He sees them simply as soldiers and is not scared to be tough on them. "What the hell are you doing, boy? Don't you know your right from your left?" My son laughed out loud when he yelled at the regiment, "You are ugly Mexican-African fuckin' whores!"
Mulcahy actually gets Shaw to realize that he has to be tougher on the men and not worry about the perception of being abusive. After Shaw questions Mulcahy being tough on a soldier that grew up with Shaw, Mulcahy says to Shaw, "Let him grow up some more."
I disagree with Scott's assessment of Broderick's acting. This could be considered Broderick's last good role and performance. He has struggled to find his place in film since, but here he was right for the role and played it well.
Photos © Copyright TriStar Pictures (1989)